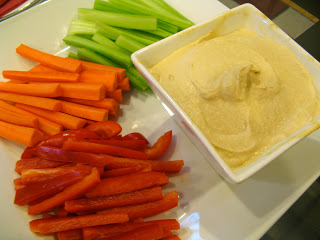 Whenever we're hosting people for dinner, one question we often ask ourselves is, "What food should we have on-hand to snack on during conversation before dinner?"  There are of course many, many answers to that question, but one which we return to often is hummus, a Middle Eastern dip made from chickpeas and tahini paste, plus olive oil, lemon, garlic and salt.  Our version uses enough garlic to give it a little "bite," and enough lemon to brighten the flavor.  It's naturally gluten-free to boot.  Here's how we make it:
2 15-ounce cans garbanzo beans (chickpeas)
1/3 cup tahini (sesame paste)
1/2 cup juice from the beans
juice of 1 large lemon
3 garlic cloves
1/4 cup olive oil
1 tsp salt
1. Add all ingredients to a food processor and blend until smooth.
Enjoy!
– Pete