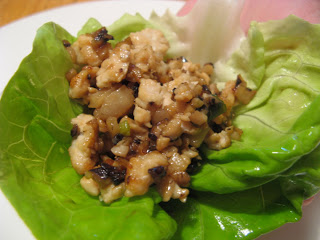 Chinese Chicken Lettuce Wraps is a dish we don't make often, but every time we do, we always seem to end up asking ourselves: "Why did we wait so long to make this again?"  Though our friends, Laurel and Chris, were the immediate inspiration for our recipe (they served lettuce wraps during a real estate showing at their condo…), I'll be the first to admit that the lettuce wraps at P.F. Chang's also served to get our creative kitchen juices flowing.
The result is the recipe found on pages 62-63 of our cookbook,
Artisanal Gluten-Free Cooking
.  Though it's cliche to say it, these wraps are delicious.  The chicken, mushroom and water chestnuts give a variety of textures to the hearty filling.  Tamari wheat-free soy sauce, sherry, sesame oil, garlic and ginger make it super flavorful.  In the cookbook, we call for iceberg lettuce.  More recently, however, we've taken to making this dish with Butter lettuce (also known as Boston lettuce or Bibb lettuce).  The vibrant green leaves are beautiful and the perfect size for hand-held wraps, and their slightly sweet flavor offers nice balance to the saltiness of the filling.
In addition to being gluten-free, this dish is naturally dairy- and egg-free, and you could easily make it vegetarian by omitting the chicken.  In its place, I'd increase the mushrooms by 50-100%, increase the water chestnuts by 50% or so, and double the scallions.
Be forewarned: prepping the filling is labor-intensive.  When I made this dish last night, I spent most of my time chopping ingredients into a fine dice – 8-10 shiitake mushrooms, 2 chicken breasts, 2 scallions, 8 ounces of water chestnuts, 3 garlic cloves, and some ginger.  Once the prep was finished, though, making the actual dish was a cinch.  Plus, the effort was totally worth the result!
– Pete
P.S. Those of you with excellent memories may remember that chicken lettuce wraps were also a Friday Foto in April 2009, more than a year ago.  We think this updated Foto is much more appealing, with some useful added info re: lettuce, the background of the dish, and options for making it vegetarian!