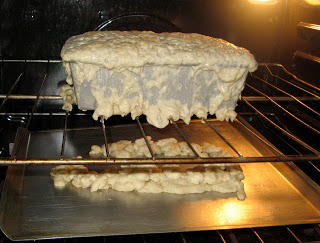 Usually, when we unveil a recipe, what you see is the (hopefully) beautiful and tasty end result.  But sometimes, the process of recipe development and testing can be so disastrous that it's funny.  Witness my bread bomb in the photo above.  Call it the ugly side of recipe testing no one ever gets to see…until now.  I couldn't resist sharing this flop.
For more than a month now, I've been working on developing a new recipe for sandwich bread.  By design, the yeast bread in our cookbook is quite hearty.  We love it, but it's also not the best when you're looking to smear some PB&J between two slices of fresh bread.  Hence, I set out to create a pretty drastic variation of our standard yeast bread, aiming to create something I'm calling "sandwich bread."
Versions 1.0 and 2.0 were steps in the right direction.  When tweaking a new recipe, we'll typically adjust only one or two variables in a recipe at a time, so that we have a clear understanding of how that change affected the final outcome.  But for version 3.0, pictured above, I decided to throw caution to the wind.  I changed 3 or 4 major variables, and not by just a little bit.  Curious to see what would happen, I basically pushed them to the opposite extreme of where they had been.
My intention was to create a very wet, loose bread dough that would rise easily and be light and airy once baked.  Well, it rose
too
easily, basically exploding over the top of the bread loaf pan.  After the photo was taken, it then completely collapsed back in on itself.  So in a sense, version 3.0 both exploded and imploded (no small accomplishment).  All I can say is, thank goodness I had the foresight to put a cookie sheet in the oven under the loaf pan.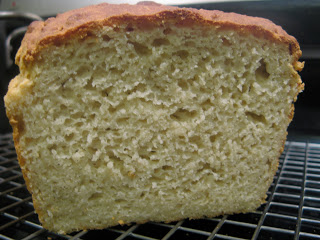 Version 5.0 is now complete, and as you can see, it's a huge improvement.  It was essentially a rush to the middle – a compromise between versions 1.0 and 2.0, and versions 3.0 and 4.o.  At this point, it's
very
close to being ready to share.  Version 6.0, and at the very latest, version 7.0 should be the final version posted here on NGNP.  Stay tuned!
– Pete