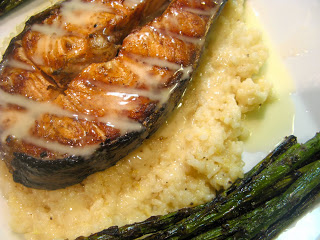 Today's Friday Foto is a combination of a craving (for lemon risotto) and an accident (the Atlantic salmon steak).  Last weekend, Kelli and I (and by default, Marin, too) were in the mood for seafood, and sea scallops in particular.  But at our local Whole Foods, where we almost always buy our fresh fish and such, the scallops were way too expensive to stomach ($23 per pound, as I recall).  However, this lovely salmon steak was on sale for $8 or so a pound.  We called an audible, switched gears, and soon enough, our sights were set on grilled salmon.
One thing I love about a fish steak as compared to a fish fillet, is that the meaty, hearty steak holds up really well to grilling directly on the grate.  You can get beautiful grill marks, AND you can flip it over, something I never do on a grill with a fish fillet (always skin-side down!).
We paired the salmon steak with a lemon risotto and some grilled asparagus, and topped it off with a rich beurre blanc sauce that really rounded out the flavors.  Risotto, for the uninitiated, is an Italian rice dish made using arborio rice, stock, and sometimes, cheese.  Beurre blanc, meanwhile, (which translates as "white butter") is a rich, French butter sauce traditionally made with a reduction of white wine and shallots.  We tweaked both to suit our preferences and available ingredients, and this Friday Foto is the result.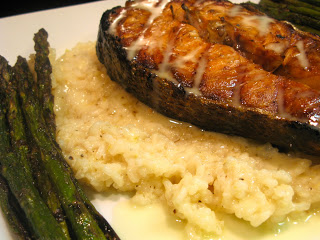 To Make the Salmon:
1. Rinse and pat dry the salmon steak.
2. Rub with olive oil on both sides, and season lightly with salt.
3. Place directly onto a preheated grill grate over medium-high heat.
4. For a 1.5-inch thick steak, grill for 10 minutes on the first side without disturbing.
5. Flip, and grill for 5 more minutes on the second side.
Keep in mind that the steak will likely have bones running down the center line.  When done to perfection, your salmon steak will flake easily with a fork, have moist meat, and smoky crispy edges and skin.  Delicious.
To Make the Lemon Risotto:
6 1/2 cups chicken broth
4 tbsp butter, divided
1 tbsp olive oil
1 small onion, small diced or minced
2 cups Arborio rice
1/2 cup dry white wine
zest of 3 small lemons
2 tbsp lemon juice
salt and pepper
1. Heat the broth in a saucepan.
2. In a separate heavy large saucepan, melt 2 tbsp of butter in the olive oil over medium heat, add the onion, and cook until soft, about 5 minutes.
3. Add the rice, and cook for 2 minutes.
4. Add the wine, bring to a simmer, then add 1 1/2 cups of stock, and cook until the stock is fully absorbed by the rice, stirring frequently.
5. Add an additional 1/2 cup of stock at a time, cooking until absorbed before adding the next 1/2 cup, again stirring frequently.  Repeat until all the liquid is absorbed, about 40-45 minutes.
6. Remove from the heat, add the remaining 2 tbsp of butter, the lemon zest, and lemon juice.  Season to taste with salt and pepper.
In today's Friday Foto, we took our risotto more toward the "mushy" side, but you can also cook the Arborio less, leaving it more al dente and preserving the individual character and texture of the grains of rice.  That's totally up to you.
To Make the Beurre Blanc:
1/4 cup lemon juice
1/4 cup dry white wine
1/2 small onion, minced
8 tbsp (1/2 cup) butter, divided
1. Combine the lemon juice, white wine, and onion in a small saucepan and bring to a simmer over high heat.  Reduce by 2/3 (leaving just 1/3 the total original volume…it should be almost syrupy).
2. Remove from the heat, and whisk in the butter a little bit at a time.  (If necessary, you can return the saucepan to the heat briefly in order to help the butter melt, but be cautious – too much heat will break the sauce).
Finally, to assemble the dish, start with a bed of risotto.  Plate your salmon steak on top.  Drizzle with the beurre blanc.  Enjoy!
– Pete