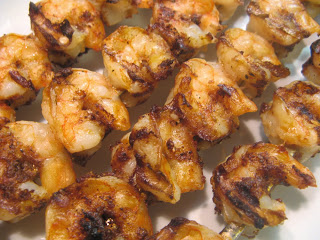 Today's Friday Foto is about as simple as a recipe can get – just three (3!) ingredients. All you need are raw, uncooked shrimp, olive oil, and seasoning. That's it.
As the recipe name implies, the seasoning in question is Old Bay. I have a bit of a love-hate relationship with Old Bay. When used over seafood, it's very easy to be too heavy-handed. I remember years ago, when I was on a vacation to Baltimore's Inner Harbor, I ordered soft shell crab from a renowned local seafood joint. To my dismay, the crab was served so covered in Old Bay that I couldn't even taste the crab meat. (The chef would have done well to follow Old Bay's current tag line: "Bold flavor. Sprinkle responsibly.")
Used in just the right amount, however, Old Bay can be a wonderful complement to a wide array of seafood flavors, including shrimp. To make our grilled Old Bay shrimp, you could use name-brand Old Bay, or you could do as we do…mix up your own seafood seasoning blend. (We provide a recipe on page 53 of our cookbook, to go along with our crab cakes…)
Then, to make the recipe:
Start with raw/uncooked, peeled and deveined shrimp. (For the photo above, I used 31-40 count shrimp, and grilled about 25, which yielded enough shrimp for dinner for Kelli and me, plus a few for Marin.) Then skewer the shrimp so that they're ready to grill.
Next, whip up a wet rub. Simply mix together equal parts Old Bay / seafood seasoning and olive oil. About 1-2 tbsp each will be more than enough to season 25 shrimp. Use less for more shrimp flavor and milder spice; use more for a bigger kick. Coat the shrimp.
Lastly, cook the shrimp over a preheated grill. When grilling shrimp, I like to do about 80% of the cooking on one side. Then I flip the shrimp once to finish off the cooking, which takes just a minute or two more. Delish.
Enjoy!
– Pete