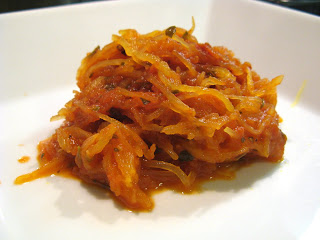 When it comes to making gluten-free pasta, the way I see it, you have four basic options: a) don't, b) make your own from scratch, c) use a storebought brand such as Tinkyada or Schar, and d) use a gluten-free replacement. GF replacements are an interesting thing… rather than try to create a gluten-free version of a familiar food (such as pasta noodles), you substitute a food that is naturally gluten-free to do the job in its place. Spaghetti squash is the perfect case in point. The strands of the squash, as its name implies, mimic spaghetti noodles. As such, it's a great stand-in for spaghetti. Plus, it's also a nutritious and tasty food in its own right.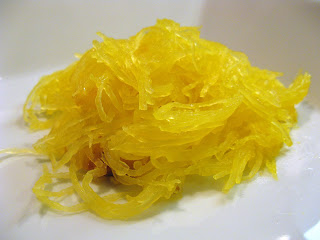 There are a variety of ways to cook spaghetti squash. This is our preferred method:
1. Preheat an oven or toaster oven to 375 degrees.
2. Cut the raw spaghetti squash in half lengthwise (from north pole to south pole, not around the equator, if you get what I mean…) and scoop out the seeds as you would with any squash. Please, when you're doing this, BE CAREFUL. Raw spaghetti squash is firm and tough and can be difficult to cut. Also, squash are round (or oval) and knives are sharp. This can be dangerous combo.
3. Lightly coat the bottom of a baking pan with olive oil, and place the squash halves face down (cut side down) in the pan.
4. Bake for 35 minutes, or until the squash becomes tender and you can easily pierce the exterior "skin" with a knife.
5. Scoop the flesh from the skin with a large spoon, and use a fork (or two) to tease apart the strands of squash. This step is a bit like making pulled pork.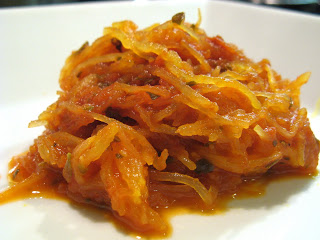 Once you have your naked spaghetti squash, it's up to you to dress it how you like it. I like to toss it in a tomato marinara sauce that I've doctored up with some red wine and a splash of balsamic vinegar. But of course, your imagination is the limit in this department!
– Pete