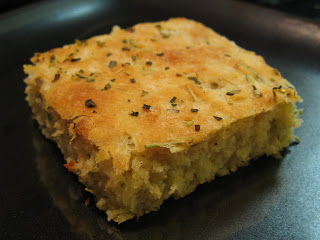 First, apologies. This Friday Foto is even more tardy than the last. Blogging while traveling for the holidays proved tougher than expected. I blame it on the five article deadlines I was working on, coupled with the desire to spend some quality time with family and friends. Now we're back in Colorado, and I'm already feeling back in my blogging groove.
Today's FF (or should I say the FF that should have posted two days ago, when it was actually Friday…) is of a Rosemary Focaccia. The recipe is in the same spirit as the flatbread, with a few differences that make for a delicious and quite different bread. Here's how to make it:
1 cup warm water
1 tbsp sugar
1 tbsp active dry yeast
1 1/2 cups Artisan GF Flour Blend
1 tsp xanthan gum
2 tsp dried rosemary
1 tsp salt
1 large egg
3 tbsp olive oil
sea salt
dried basil and oregano
1. Dissolve the sugar in the warm water, add the yeast, stir, and set aside until the yeast is nice and foamy.
2. In a separate bowl, whisk together the dry ingredients (flour, xanthan gum, salt, rosemary).
3. Mix the egg and 2 tablespoons of the olive oil together, and add it to the yeast.
4. Add the dry ingredients to the wet and mix until thoroughly combined. (You can use a stand mixer for this, though I just used a fork and some elbow grease.)
5. Butter a 9×9 pan and evenly spread the dough into the pan.
6. Brush the remaining tablespoon of olive oil over the top of the dough, and sprinkle the surface with a dash of crushed sea salt, as well as dried basil and dried oregano.
7. Cover with plastic wrap, set in a warm location, and let rise for 20 minutes, or until the dough roughly doubles in size. Meanwhile, preheat your oven to 400 degrees Fahrenheit.
8. Bake for 25 minutes, or until the top is golden brown and the bread pulls away from the sides of the pan.
9. Cool the bread in the pan, then slice and serve. Or, once cool, remove it whole from the pan before slicing to serve.
Enjoy!
– Pete