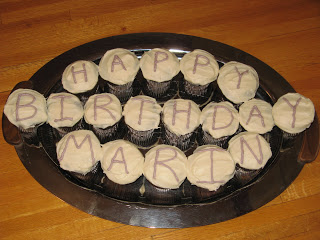 Those of you who've been reading NGNP long enough may remember a time B.M. – Before Marin. When we first started blogging about the gluten-free life, we were expecting our first child, and then, in December 2008, she arrived. This past weekend we celebrated her first birthday, and can hardly believe that a year has passed so fast. Marin, like me, is gluten-free, and so naturally, we baked a delicious gluten-free dessert to celebrate the occasion!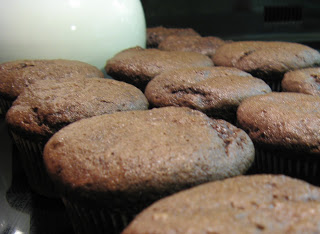 We thought it'd be fun to do individual cupcakes for everyone, and started with the recipe for chocolate cake from our cookbook (page 198). Obviously, instead of making a cake, we transferred the batter to a cupcake tin lined with paper sleeves. Then Kelli whipped up a batch of vanilla frosting and topped off the cupcakes. After we gobbled down (ahem…taste tested) one cupcake, we discovered that we were left with exactly enough cupcakes to write "Happy Birthday Marin." Kelli thickened some leftover vanilla frosting, added some coloring, and voila!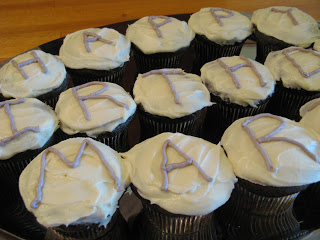 As we look back on the past year, I also wanted to you know about two updates to previous blog posts that appeared in the past few months. First, the review of New Planet Beer has been updated with photos and lots of new info. Second, the review of Mahogany Ridge Brewery & Grill in Steamboat Springs has been updated based upon a second visit to the restaurant.
Lastly, a reminder: we're doing the last giveaway of 2009…a copy of our cookbook, Artisanal Gluten-Free Cooking. It's free to enter, so if you haven't yet, what are you waiting for? You've got nothing to lose, and if you win, postage is on us!
-Pete