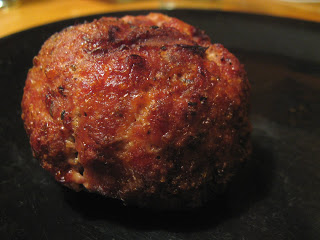 What can I say about today's Friday Foto? It's a super simple recipe…few ingredients, quick to make, quick to cook (or in this case, grill). You've got Cajun flavors, meatloaf texture, and hamburger patty-sized individual portions. 'Nough said. Here's how to make it:
1/2 – 3/4 pounds ground turkey
1 tbsp GF bread crumbs
1 tbsp Cajun spices (see our recipe for custom "Crejun-style" Jambalaya seasoning)
1. Combine and mix all ingredients in a large bowl.
2. Divide the meat in half and form each into a patty.
3. Grill (flipping halfway through) until the turkey is cooked all the way through the patty / mini-loaf.
Enjoy!
– Pete