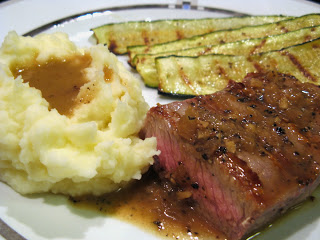 Most often when we're making a nice cut of steak for dinner, we'll keep the preparation pretty simple and let the flavor of the meat shine. Maybe a rub of salt on each side, and that's more or less it. But every now and again, I get a craving for something more…a red wine reduction, maybe, or in this case, a pepper sauce. As an added bonus, the pepper sauce goes great over mashed potatoes, so it's a double bonus. The pepper sauce is rich, with a complex layer of flavors, yet it's incredibly simple in its preparation. Here's how to make it:
3 tablespoons butter
1/4 cup onion, chopped
1 clove garlic, minced
1/2 teaspoon fresh cracked pepper
1 cup beef stock
1 tablespoon balsamic vinegar
1 tablespoon cognac
Saute the onion and garlic in the butter until the onions are translucent and the garlic is fragrant. Add the remaining ingredients, mix well, and cook over the stovetop until the sauce is reduced and thickened. Serve over beef/steak and mashed potatoes. Enjoy!
– Pete