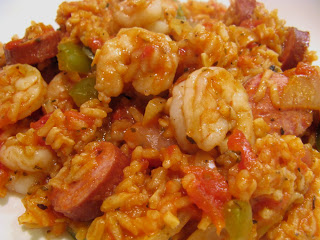 I've long been a fan of jambalaya. The blend of meat and seafood, rice and vegetables, and the way it all comes together in a heap on your plate just does it for me. In college, I'd frequent a place called Maxi's Supper Club in Ithaca, NY, largely because of their jambalaya. Lately, I've been talking to Kelli about making a jambalaya at home, and last we pulled the trigger.
Jambalaya is a dish with strong Louisiana roots, but there is some variability in its preparation, depending on whether your influence is Creole or Cajun. I'm calling this version our Crejun Jambalaya, because it blends the two styles. A strong tomato component is very much in line with the Creole style. But the sausage and spices speak to Cajun influence. Hence, Crejun.
First things first… preparing this dish starts with making a custom jambalaya spice mix:
1 tbsp onion powder
1 tbsp garlic powder
1 tbsp dried oregano
1 tbsp dried basil
2 tsp dried thyme
2 tsp ground black pepper
1 tsp cayenne pepper
5 tsp paprika
1 tbsp salt
Mix them together and store them in a spice jar or small, airtight container.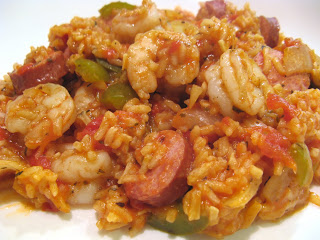 Then comes the recipe itself:
1 pound savory smoked/spicy sausage, cut into 1/2- to 1-inch thick discs
1 pound raw shrimp, peeled and deveined
1 1/2 green bell peppers, diced
1 onion, diced
5 garlic cloves, minced
1 14.5-oz can no-salt-added peeled and diced tomatoes
1 tbsp + 2 tsp jambalaya seasoning
5 shakes Frank's hot sauce
1 tsp Worcestershire sauce
1 cup uncooked long grain rice
water
1. In a large pot over medium-high heat cook the pepper, onion and garlic until the onions are translucent.
2. Add the sausage, 1/2 cup water, the tomatoes, jambalaya seasoning, hot sauce, and Worcestershire. Stir well, reduce the heat, and simmer for 10-15 minutes.
3. Add the uncooked rice and 1 cup water. Stir again, and continue simmering for another 15-20 minutes. (For this step, I like to simmer with the pot partially covered…I'll leave the lid slightly askew.)
4. Monitor the cooking. When the rice is al dente, add the shrimp. Again stir, and continue cooking just until the shrimp are done. Then remove from the heat and serve.
Enjoy!
* A note about the sausage. For the photos, we used a smoked turkey kielbasa, but you could substitute any savory smoked and/or spicy sausage, such as andouille.
– Pete