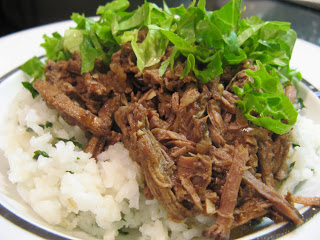 After a week spent covering a serious and heavy topic, I'm happy to end the week on a much lighter note…with the Friday Foto! Back in August, the FF was of a carnitas-style pork. Today's FF is of its step-brother: a barbacoa-style beef. Barbacoa has its roots in Mexican cuisine, and today the term can generally be applied to tender, slow-cooked meats. I'll admit, our version is inspired by Chipotle (not that there's anything wrong with that!). The result is a moist, flavorful, well-seasoned beef that has a good amount of baseline heat that provides a "slow burn" over the course of the meal. (In other words, it's perfect in my book…) Here's how we make it:
1 medium sweet yellow onion, diced (a rough chop is fine)
1/2 jalapeno pepper, diced very small (membrane removed, half of seeds retained)
6 garlic cloves, minced
1 tbsp ground cumin
1/2 tsp ground cloves
1/2 tsp ground allspice
3 chipotles in adobo sauce, rough chopped
1 cup chicken stock
1/3 cup apple cider vinegar
salt and pepper
water
3 lbs beef roast, cut into 1 lb chunks
1. Add all ingredients through and including the cider vinegar to a slow cooker. Add a generous dash of salt and pepper, and stir to mix well.
2. Add the beef, and add just enough water until the meat is covered.
3. Cook covered in the slow cooker on low for 7 hours, or until the meat shreds easily.
4. Remove the meat and shred using two forks, discarding any large pieces of fat. (You can also allow the meat to cool and shred/pull using your hands.) Set the shredded beef aside.
5. Transfer the "broth" from the slow cooker to a pot, and blend (to smooth out any large pieces of onion, chipotle, etc.) using a handheld immersion blender.
6. Bring to a boil and reduce in volume by about 50%.
7. Add the meat back into the pot with the sauce/broth, and continue boiling and reducing (to allow the flavors to meld, for the broth to reduce just a little more, and for the meat to soak up some of the moisture).
8. Serve over cilantro-lime rice and with your favorite toppings (i.e. salsa, shredded lettuce, cheese, sour cream).
Enjoy!
– Pete