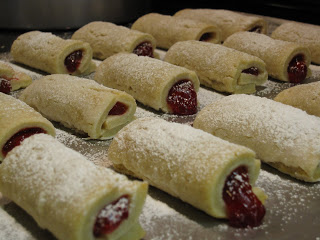 I'm pausing in my series about Going the Distance with gluten-free nutrition for today's Friday Foto…Kolachkis. When I wrote yesterday about for the most part avoiding sweets, baked goodies like these kolachkis are when I happily make an exception. (And hey, you can't adhere to a super strict training diet 24/7… you have to indulge, in moderation, occassionally – it's good for the soul and the psyche. That's the same reason why I – and other athletes – still drink beer and wine and other alcholic beverages.)
Kelli's family has roots in the Binghamton region of New York State (an area known as the Southern Tier…south of the Finger Lakes, but north of Pennsylvania). With a large Eastern European immigrant population, kolachkis are a popular local treat, and Kelli's family has been happily making them for a long time. The version above uses Solo brand cherry filling, though you should feel free to get wild and crazy.
1 cup butter (2 sticks), room temperature
8 ounces cream cheese, room temperature
2 ½ cups GF flour
2 teaspoons xanthan gum
Powdered sugar
1 can fruit or nut filling
1. Preheat the oven to 350°F.
2. Combine the butter and cream cheese in a mixer on medium speed until completely incorporated. Stir in the flour and xanthan gum.
3. Refrigerate the dough overnight.
4. Roll out the dough in a generous amount of powdered sugar to less than ⅛-inch thick and cut into 2 ½-inch squares. Put about one heaping teaspoon of filling in the center of each square.
5. Roll the cookie to enclose the filling, leaving the ends of the roll open. You can roll the kolachkis either edge to edge, or fold them corner to corner.
6. Place on an ungreased cookie sheet. (When working with the dough, do not let it get to room temperature. If it begins to get too soft, put it back in the refrigerator for a few minutes.)
7. Bake for about 15 – 20 minutes, until the edges just turn golden brown. (Don't let the prepared cookies set on the cookie sheets at room temperature for too long. Otherwise, they'll melt too much in the oven.)
8. Let rest for five minutes on the cookie sheet. Remove and sprinkle with powdered sugar.
– Pete