Just before the proverbial poo hit the fan in the Bronski household…with Kelli's car accident and Marin's eating challenges…I was out of town on assignment for Denver Magazine. My buddy, Dave, and I headed to western Colorado to do an unsupported ride of the 142-mile Kokopelli's Trail, a mountain bike route through the desert and canyons of western Colorado and eastern Utah from Fruita, CO to Moab, UT.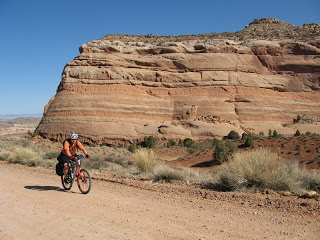 My buddy, Dave, on Day Three of our trip, past the halfway mark of the journey
My account of the trip will appear in the upcoming June issue of the magazine. Meanwhile, I wanted to offer a little insight into how I plan for and manage food on expedition-length trips like this one. From a food standpoint, one of the main challenges is how to meld my gluten-free dietary needs with a trip partner who adheres to a very different diet that's off limits for me. On short day trips, this isn't a big deal – everyone carries his or her own food. But on expedition-length trips, certain group gear is shared…tent, pot, stove, fuel. And when sharing cookware, that immediately brings up the concern about gluten cross-contamination.
The most common scenario, and the easiest to deal with, is when my trip partner(s) bring dehydrated backcountry meals (like those reviewed here). They only require boiling water, and they're "cooked" in their own bag. I'll boil enough water for my partner's meal and mine, pour one half of the boiling water into his or her bag, and use the remaining water to cook a gluten-free meal for myself – usually a rice noodle soup supplemented with extra goodies.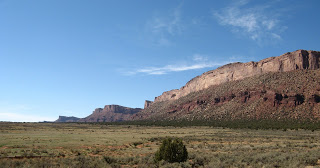 Arriving in the Fisher Valley, Utah
When planning for what foods to bring overall, I follow a maxim I learned years ago in my early days of high altitude mountaineering: sticks, twigs and logs. The analogy refers to how quickly and for how long a given fuel burns on your "fire." Sticks burn rapidly, providing immediate and quick bursts of energy. Twigs take a bit longer to burn, tempering the spikes of energy that can be associated with sticks. Logs take the longest to burn, providing sustained energy. The three types of fuel roughly translate to simple sugars, complex carbohydrates and some proteins, and proteins and fats.
How that works out in practice on a trip like the Kokopelli's Trail is that I brought: bacon, fresh apples and oranges, dried fruits (like raisins), nuts (like peanuts), GF chocolate, tuna fish, rice noodles, GF energy bars (the Balance Pure, which I reviewed here), and since this was an endurance trip, I also brought along some energy chews like those reviewed here. The combination of foods kept me feeling strong day after day.
As a final note, I wanted to offer some feedback about the gluten-free energy chews for endurance athletes (Sport Beans, Sharkies, GU Chomps, and Honey Stinger). While my previous posts about these chews talked about which ones are and are not gluten-free, what flavors they come in, etc., I hadn't yet had a chance to field test all of them. Now, I have, and I have some pretty strong opinions about which ones are best.
First, I rated them based on three criteria: performance (how well did they fuel my body), taste, and texture. Texture is an important component, because it varies with environmental conditions such as temperature. I've used the energy chews in conditions ranging from 80 degrees Fahrenheit and sunny (on the Kokopelli's trip) to 5 degrees Fahrenheit with a subzero wind chill (in ski mountaineering races this past winter).
My overall favorites are the GU Chomps and Honey Stinger. They offer the best combination of all three variables. Honey Stinger's cherry was the best rated purely for flavor. GU Chomps rated a close second. Some of GU's flavors are intensely sweet – too much so to be enjoyable if you tried them at home – but in the context of an endurance activity, you don't notice. Sharkies, while tasty, had a habit of sticking to my teeth, making it difficult to eat them, making me thirsty, and taking my focus off the race. Sport Beans got much too hard in the cold – their texture is too variable based on weather.
– Pete