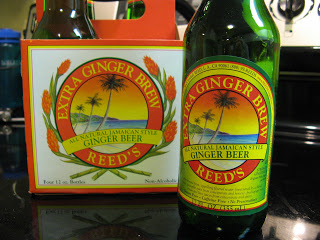 I recently had a chance to try a gluten-free beverage that was previously unfamiliar to me – ginger beer. The brand was Reed's, and the flavor was Extra Ginger Brew (the company makes 6 different flavors…all variations on ginger). The brews are non-alcoholic, and brewed directly from roots, fruits, herbs and spices. In the words of Reed's, the company is reviving "the lost art of brewing soft drinks." (As opposed to modern day soft drink production, which typically involves bottling, carbonation, high fructose corn syrup, colorings, and flavorings.)
As the name of the flavor implies, the Extra Ginger Brew has…you guessed it…extra ginger, for some added kick above and beyond Reed's regular formula. They weren't kidding. I found the ginger to be a bit overwhelming. It was too strong a flavor. But I saw potential, and suspect I'd really enjoy a cold bottle of toned-down ginger beer. (By comparison, a ginger ale – as opposed to ginger beer – would be more mellow than even the mellowest ginger beer.) In the end, it's a nice alternative to supermarket soft drinks, which I tend not to drink anyway.
Give Reed's a try, and if you happen to sample some of the other five flavors, please do weigh in and let us know what you think!
– Pete