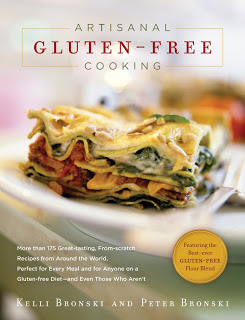 Kelli and I are very proud and excited to announce our forthcoming cookbook! It's called Artisanal Gluten-Free Cooking, and has been in the works for the last few months (we just submitted the manuscript to our publisher yesterday). The last two months in particular have been especially busy, with us feverishly developing and testing recipes (both new and old). The book is due out in September 2009, five short months from now, and is being published by The Experiment, a new publishing house in New York City. The Experiment was founded and is headed up by President and Publisher Matthew Lore, a 20-year veteran of the publishing business.
The subtitle for AGFC is "More than 175 Great-tasting, From-scratch Recipes from Around the World, Perfect for Every Meal and for Anyone on a Gluten-free Diet—and Even Those Who Aren't." That pretty much says it all, but here's some extra elaboration…
The book has more than 175 recipes, and more than 250 if you count variations and secondary recipes that support the primary dishes. The cooking style (in addition to being gluten-free, of course) is artisanal in the sense that the dishes are largely from scratch, often using fresh ingredients. The recipes span the gamut from breakfasts, to sides, to appetizers, to soups and salads, to entrees, to desserts, to drinks. The recipes also reflect both heirloom dishes from our combined family heritage, as well as our love for travel and diverse ethnic cuisine. As a result, you'll find dishes spanning a range from American comfort food to Italian, Belgian, Polish, Mexican, French, Andean, Cuban, Thai, Chinese, and Japanese (and a few more I'm surely forgetting at the moment). Throughout the book, you'll also find text boxes with all sorts of useful information, including "shortcuts," which offers ways to make the same dish using pre-made, store-bought ingredients (for example, using store-bought GF pasta instead of making your own fresh pasta from scratch at home).
For those that are interested, the book is already available for pre-ordering on Amazon.com!
To all of you – our readers and fellow gluten-free bloggers – we wanted to say a big Thank You. The mutual support and good cheer of the gluten-free community kept us inspired and motivated throughout this process. This will be my fourth book, and from experience, I can tell you that publishing a book is a lot like running a marathon – it requires determination, and stamina, and perseverance, and patience. When you cross the finish line at the end, there's a combined feeling of elation and exhaustion, but you also know that the journey was worth the effort. In this case, the journey was possible in part because of you, and for that, we say Thank You.
On a personal level, this has been a lot of fun for us as a couple. It's only the second time we've worked together as coauthors. Years ago we wrote an article for a small, regional magazine called Life in the Finger Lakes. Our article was titled, "Holiday Haute Cuisine," and was about using Finger Lakes wines in recipes to make a holiday meal (complete with soup, entree and dessert). We had always talked about "doing something together" related to our shared love of food, but that idea sat in limbo until this book project became a reality. Years after we first professed to collaborate, we finally did it!
– Pete