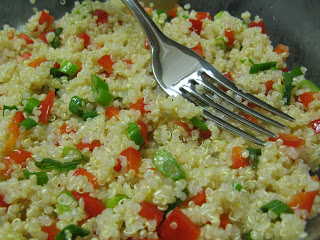 In 2007, Kelli and I traveled to Bolivia on a high-altitude mountaineering expedition. The trip took us high into the Cordillera Real, one of the dominant mountain chains in the country. In between attempts on various peaks, we returned to La Paz, our "home base" and Bolivia's de facto capital city. (In fact, it's the highest capital city in the world, with an average elevation of 12,000 feet above sea level!)
While in La Paz we discovered quinoa, a "grain" popular throughout Andean culture and cuisine. It's naturally gluten-free, and unbelievably good for you. The restaurant in our hotel in La Paz prepared quinoa as a cold salad, with diced red pepper and chopped green onion, and mixed with a basic red wine vinaigrette. The combination of flavors is unbelievably good, and the dish is really easy to make.
We've been making it ever since!
– Pete