For as long as Kelli and I have celebrated Christmas together, it's been a tradition that, at the beginning of the holiday season, we cut down our tree, and then set it up and trim it in the house that night with our own little tree trimming party. We look forward to it every year.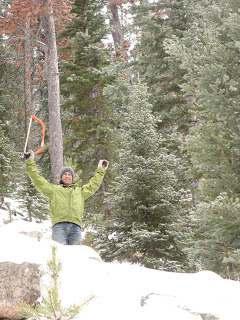 Back in New York, cutting down a live tree was as easy as heading to the local Christmas tree farm. You'll find them all over – out on the East End of Long Island, in the Hudson Valley, in upstate New York. When we moved to Colorado in 2004, we discovered that tree farms of that sort don't exist in the Rocky Mountains. But we also discovered the Front Range Christmas Tree Program, run by the US Forest Service, which has enabled us to continue our old tradition in a new and decidedly Colorado way – we buy a $10 permit, and head into the National Forest in search of a Christmas tree to cut down.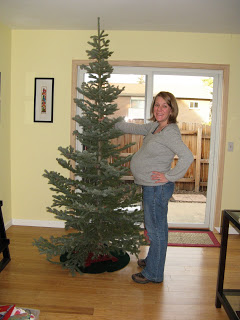 We usually go to the Elk Creek area near Winter Park, but this year we headed up into another area of Arapaho National Forest. There we found a beautiful stand of Colorado blue spruce, which we prefer head and shoulders over lodgepole pines. With bow saw in hand, I cut down our tree, and Kelli and I tied it to the top of the Jeep and brought it back to our house in Boulder.
There are lots of things I love about this tradition, and one of them is the food. The so-so photo above is the only one I took, mostly because I was too busy stuffing my face with what you see there. Some usual suspects crop up on the tree trimming party menu each year, and they made their predictable appearances this year, too. Shrimp cocktail, with a cocktail sauce made fresh (with some extra spicy horseradish this year!). Pigs in a blanket (to make them gluten-free, we used Coleman gluten-free hot dogs, cut them to length, and wrapped them with a modified version of our dough). And buffalo chicken bites (basically, it's chicken breast cubed and cooked in a spicy buffalo wing sauce, using the authentic
Frank's Original Red Hot Sauce
, which is conveniently gluten-free).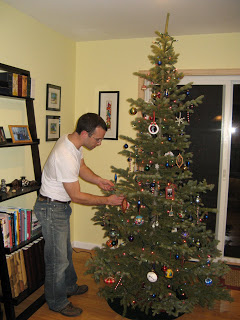 In between bites of food, we managed to string the lights and decorate the tree. Our ornaments are like a trip down memory lane – there are ornaments that have been a part of our relationship, but also ornaments that are family heirlooms in a way, contributed by grandparents, great aunts, parents, and other beloved relatives and friends. And placing each of those ornaments on the tree sparks a conversation about this person or that person. It's an especially nice way to remember those who are no longer with us for this holiday.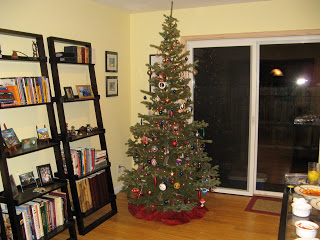 This is our fifth Colorado christmas tree, and Kelli and I unanimously agree that it may be our best (but we loved them all!).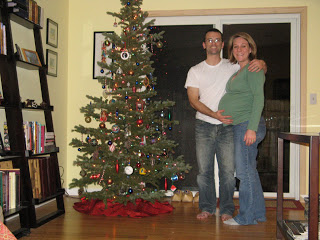 And of course, Baby Bronski is due on December 14, so unless he or she arrives exceptionally late, we're expecting this to be our first Christmas with a new addition to the family. It'll be a gluten-free Christmas, for sure, and so much more. But I'll blog about that when the time comes…
– Pete