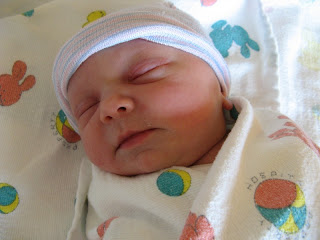 Here on the NGNP blog, I try to stay pretty focused and on-message, and that means covering all things gluten-free. But there are rare occasions when I permit myself to veer off, and this is one of those times when I'm taking the liberty to diverge, if slightly, off the gluten-free topic.
This past Friday, December 12, Kelli and I welcomed a beautiful baby girl into the world, Marin Concetta. She's now four days old, and adding her to our gluten-free family has been – as everyone said it would be – life changing (in the best of ways). She's months away from solid food, but before that day approaches, we'll have her tested to make sure that gluten (and other disagreeables) aren't the same problem for her that they are for me.
In the meantime, mom (Kelli) and baby are both doing well. While Kelli recovers from the rigors (to put it mildly) of childbirth, I've been in the kitchen, whipping up some of our old favorite GF meals… Kelli's parents are in town visiting and helping out, and we've introduced them to our margherita pizza, our Belgian waffles, and our chipotle chicken with sauteed peppers and onions.
That's enough about the food, though. At this point, my attention is centered on our new bundle of joy. Life will be different, for sure, but I'm already looking forward to an extra pair of hands in the kitchen, helping to make our recipes and enjoy some good old gluten-free cookin'.
– Pete