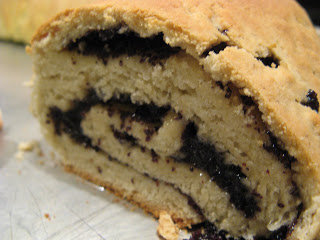 One of the things I look forward to most about Christmas is the food. Not just any food, but specifically the food traditions of my cultural heritage. Tonight – Christmas Eve – we'll have a seafood feast in the Sicilian tradition. And tomorrow – Christmas morning – we'll devour a loaf of mock cake, which comes down to us from my Polish heritage.
Mock cake is a Polish sweet bread with a poppy seed filling. The bread, as its name implies, is both sweet and moist. The poppy seed filling tends to be something that people either love or hate. I, for one, can't get enough of it! (Thankfully, we also make it for Easter, so I can enjoy it beyond just Christmas.)
Creating a gluten-free version of mock cake has proven a bit challenging in the past. We've been working on perfecting a recipe for nearly two years. Last year, Christmas 2007, we came close. When the loaf came out of the oven, it was perfectly browned on the top, perfectly moist on the inside, and delicious. But once the loaf cooled to room temperature, it set up like concrete. Back to the drawing board.
A few weeks ago, Kelli dove into the kitchen again, using our gluten-free flour blend and some additional recipe modifications. The result was what you see above – a perfectly formed mock cake! We believe we just may have successfully developed a gluten-free mock cake. Of course, the mark of any successful recipe is repeatability. Later this afternoon we'll be in the kitchen, whipping up another loaf of mock cake. And with any luck, by this time tomorrow I'll be feasting on a loaf of wonderfully gluten-free mock cake. Stay tuned, and happy holidays!
– Pete