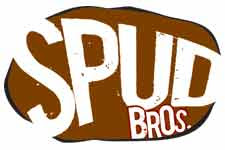 French fries. What does the term make you think of? McDonald's, Burger King and Wendy's? Perhaps. But french fries are so much more than fast food. They're so much more…respectable. And they go by many names – french fries, pommes frites, papas fritas, chips.
My earliest memories of french fries are not of a Happy Meal, but rather at home in my mom's kitchen. She, my younger brother, Mike, and I would hand cut the potatoes, fry them in a pot of oil on the stove, bake them briefly on a paper-covered tray in the oven, and then salt them. A basket of homemade french fries was the perfect side to any dinner we were having.
I had my share of fast food french fries over the years as well, primarily in my teens and college years. Now, I can't remember the last fast food fry I ate.
But I can remember some other notable french fry experiences. Like when Kelli and I went on a high altitude mountaineering expedition to Bolivia in 2007. Bolivia is a country that cultivates more than 200 varieties of potato, and boy do they know how to turn those potatoes into some delicious papas fritas!
Now, there's a new addition to the potato list, and it's much closer to home…right here in Boulder, CO. The name is Spud Bros., and it's located just off Pearl Street's West End. They specialize in making just one thing: french fries. Spud Bros. opened very recently – so recently, in fact, that their website doesn't yet have nutritional information. That page is still under construction.
Kelli and I stopped in recently, however, and were able to get the scoop from a surprisingly knowledgeable cashier. In short, the spuds are offered in three ways: fried, half-baked (partially fried and then baked to finish), or baked. You can order two types of potatoes: regular, or sweet potato. The sweet potatoes are breaded in flour, and are NOT gluten-free. However, the regular potatoes are perfectly safe (gluten-free), and Spud Bros. uses separate friers, mixing bowls, and serving utensils in order to eliminate cross-contamination.
You can also order a dizzying array of toppings and sauces for your fries, or order from a pre-set menu of options. I haven't confirmed that every topping and sauce is gluten-free, so check before ordering.
As for the fries themselves, we ordered a Naked small, fried basket (plain, old french fries). The potatoes were thick, but not too thick. Fried to a perfect golden color. And delicious!
A basket of french fries isn't exactly lunch or dinner (no matter how much you dress them up with toppings). But if you're in the neighborhood and craving a tasty snack, definitely stop by Spud Bros. They claim to make "just maybe the world's greatest fries." That's a pretty tall claim (and big shoes to fill), but the fries are fantastic, and you won't be disappointed.
– Pete