Elsewhere on this blog we've espoused the virtues of the Tinkyada brand GF pasta. In a word, it's great. You can find all sorts of GF pastas these days, made from brown rice flour, quinoa flour, corn flour, and other base ingredients. It'll be no surprise to our regular readers, though, that we think the best pasta is the fresh stuff made from scratch at home. Here, we'll show you how we do it.
First, a note: here, we've made a fettuccine-style noodle and paired it with fresh mussels in a white wine broth, but you can just as easily use this recipe to make linguine, lasagna, and other forms of pasta. Now, for the details…
For the flour, use equal parts tapioca flour and brown rice flour, mixed well together. Add 1 1/2 tsp of xanthan gum to every two cups of flour. As a rough estimate for how much flour and egg to use, ballpark between 3/4 cup and 1 cup flour to 1 egg, per dinner serving. For example, since in this recipe we were making dinner for two people, we used a little under 2 cups of flour, and 2 eggs.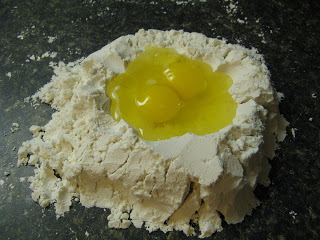 Begin by forming your flour into a mound on the counter. Then, hollow out the center of the mound in order to make a "well." Place your eggs into the well, and also add a generous dash of salt. Begin to work the eggs into the flour. I find it most effective to use the index and middle finger of one hand, swirling the egg and slowly pulling in dry flour from the perimeter.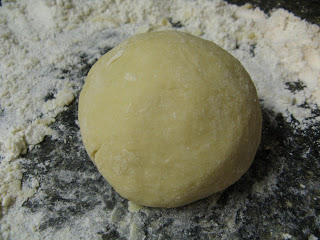 As the egg and flour incorporate, they'll form into a beautiful dough. It should have a smooth texture, and you've added enough flour when the dough looses its tackiness.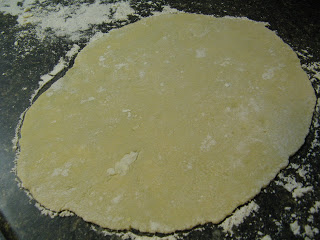 Make sure your counter is well floured (so the dough doesn't stick), and using a rolling pin, roll out the dough ball into a broad, thin sheet.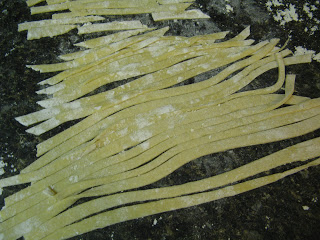 To cut the sheet of dough into pasta noodles, you can use a long chef's knife or a pizza cutter. Do not use a hand-cranked or other pasta machine. The GF dough won't cooperate the way a traditional pasta dough would. Let the noodles set on the counter for 5 or 10 minutes to firm up slightly.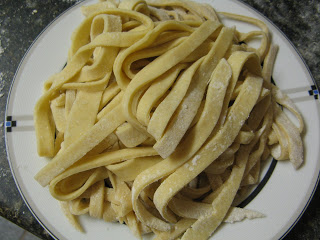 Once the noodles have set up, you can transfer them to a plate or bowl where they'll be ready to cook.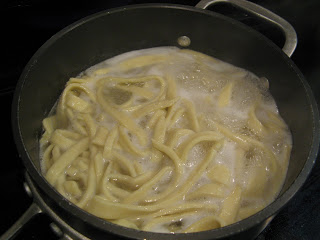 Because we're dealing with fresh pasta, the cooking time is very brief. Usually, only three to five minutes (in boiling, salted water). In this instance, we made a thicker, wider noodle, so they cooked for closer to five minutes. A thinner, narrower noodle will take less time.
Once you become proficient at making pasta from scratch, it really doesn't take any longer than using storebought pasta. Instead of taking 30 seconds to open a package, and 20 minutes to boil the noodles, you'll need about 15 minutes to make the noodles, and 5 minutes to boil them. And you'll have delicious, homemade, fresh pasta to boot!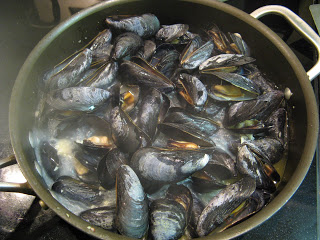 To make the fettuccine with mussels in a white wine broth, we first de-bearded and cleaned the mussels. In a pan, we sauteed several cloves of minced garlic in olive oil and butter. To that, add equal parts water and white wine, salt and pepper to taste, and the juice from half a lemon. Bring to a boil, add the mussels, and cover. The mussels should take about 5-7 minutes to cook. You don't want to overcook or undercook mussels. Remember: if they don't open naturally on their own during the cooking process, don't eat them!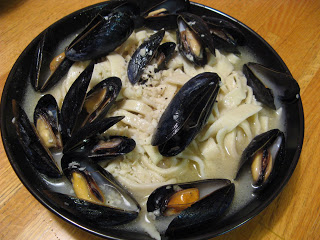 Lastly, strain your pasta and dish it out into a bowl. Add the mussels, and pour the white wine broth over the bowl. (For a more intense flavor, further reduce the broth over the stove top after you've removed the cooked mussels.) Enjoy!
– Pete