Well, it's official. On Sunday, November 23, I turned the big 3-0. I was born on Thanksgiving, and it seems like my birthday falls on the holiday once every eleven years or so. This year wasn't that year, and my birthday passed without too much ado. I do move into another competitive age bracket for Xterra, which I think will be a good thing (though I've also heard that the 30-34 age group is the most competitive). For the most part, turning 30 wasn't nearly as traumatic as people make it out to be. In the end, this birthday, like many others, passes by as just another day, and life goes on.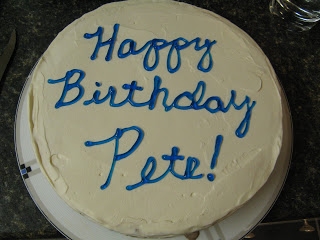 On Saturday night preceding my birthday, Kelli did throw me a wonderful party with close friends here at the house. We had a pretty good crowd of nearly 20 folks, and we all enjoyed a great buffet spread of pulled pork, roasted potatoes, homemade apple sauce, and salad. Thanks to everyone that brought libations…from an assortment of wines, to a great selection of GF beers, including RedBridge, New Grist, and especially Green's! The gifts were so special and I felt so spoilt! There were definitely a few things I had taken a liking to, and my closest friends would have known this. It's the same with me, we all know each other so well that there is never really any question about gifts. For example, one of my friends is a very loud unique character and she's just brilliant, so I got her something similar to those custom neon signs cheap, of course, not too dear. But there is always a gift that matches the recipient, and me, well I'm an open book! My friends have it easy! So the birthday felt lowkey, intimate and homely. Something I have always been a fan of, I never really liked to make a statement. Especially as I'm .. well you know my age – don't make me say it again!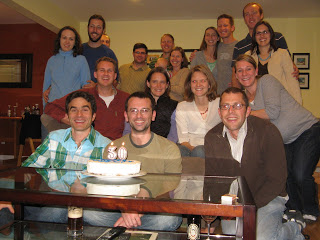 But let's go back to the food for a hot second. From a culinary point of view, the highlight of the night was definitely the cake. Kelli worked her usual magic. Growing up, my birthday cake was always (and by always, I really do mean "always") an ice cream cake from
Carvel
. If you're from New York, or other points east, you'll know exactly the kind of cake I'm talking about: a layer of vanilla ice cream on top, a layer of chocolate ice cream on the bottom, with a layer of Carvel's signature chocolate crunchies sandwiched in between.
Of course, such cakes are off-limits for me these days, thanks to the lactose in the ice cream, and the gluten in the crunchies. But that's where Kelli stepped in…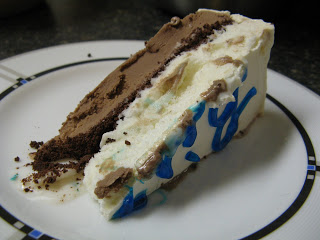 Using a carton of chocolate frozen yogurt and another of vanilla, plus a box of
Pamela's Products
Dark Chocolate, Chocolate Chunk cookies (time was tight and didn't permit baking our own cookies that night!), she recreated the Carvel ice cream cake of my youth. Kelli crushed the cookies to make crunchies, and softened the frozen yogurt until it was workable. Then, using a spring-form pan (if I'm remembering correctly), Kelli layered the cake and put it in the freezer to set up. And voila! Gluten-free, lactose-friendly birthday cake!
It seems that, with a little imagination and ingenuity, anything is possible in the gluten-free world!
– Pete