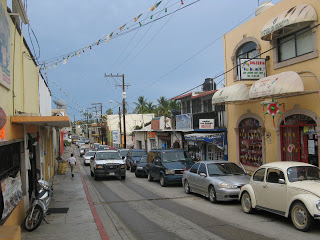 Last week, Kelli and I traveled down to Los Cabos, on the southern tip of Mexico's Baja California Sur. We were both craving some relaxation on a beach in a warm climate (especially since our last international vacation was a high-altitude mountaineering trip to Bolivia!). With our five year wedding anniversary coming up later this year, we had all the reason we needed to book the trip. But with Kelli due just one month after our anniversary, we went to Mexico early in the hopes of avoiding any pregnancy snafus.
We stayed at the Hilton Los Cabos, along The Corridor – the stretch of coast between Cabo San Lucas and San Jose del Cabo. It was a beautiful property with wonderfully attentive service.
During our first day, we took a bus into San Jose del Cabo for lunch (above photo). San Jose is the quieter, more artsy sister to the parties and crowds of Cabo San Lucas. We strolled through art galleries, and stopped for lunch at a local place (I wish I could remember the name) that served the most delicious chicken fajitas, complete with onions, peppers, and 100% corn soft tortillas.
Before hopping on the bus to ride back to the hotel, we slipped into a bodega to see what snacks might be on-hand. I'm not normally a soda drinker – I try to avoid the overdose of high fructose corn syrup – but many years ago, I developed an addication to orange-flavored Fanta while in Latin American countries. Don't ask how the association developed. I can't explain it. Regardless, U.S.-based Fanta contains Modified Food Starch, which can be a hidden source of gluten. As such, I don't drink it. But the Mexican formulation is gloriously free of MFS. It's mostly sugar. I couldn't resist picking up a 3-liter bottle (more Fanta than any one person should reasonably drink!).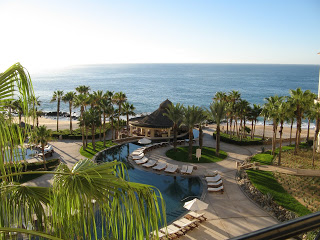 That same night, Kelli and I dined at
Fenicia
, a restaurant at the Hilton Los Cabos resort. Service was superb, and the food was outstanding. The waiters and chef were knowledgeable, asking about any food allergies or other needs. I was able to tell them about my need for no gluten, and they were happy to accomodate. Kelli and I started with scallops wrapped in applewood-smoked bacon, served over a mango chutney. For dinner, Kelli had grilled mahi mahi with senorita mushrooms and asparagus. I had Sea of Cortez sea bass with leek, tomato, pesto oil, and a sweet potato mash. Unfortunately, all of the desserts were off limits. But Kelli and I were pleasantly surprised when the wait staff brought a complimentary dessert of sorbet with chocolate-dipped rice crackers…a gluten-free delight made special just for us!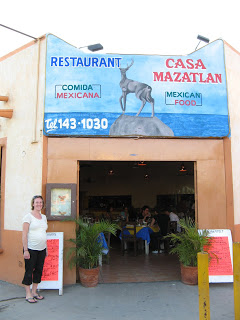 The following day we journeyed into Cabo San Lucas. That morning, I was on assignment visiting an orphanage in a neighborhood outside of town. My hosts at the orphanage – Roberto and Caballo – took Kelli and me out to lunch at a local spot in Cabo, well off the main drag. It's called Gardenias, and specializes in shrimp and fish tacos. We were very impressed! Our hosts know their lunch spots for sure!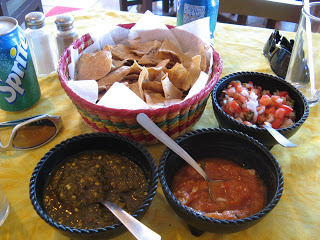 That night for dinner we strolled the streets before dinner, passing an outdoor taqueria – a taco stand with seating nearby – where a woman was making a pile of fresh tortillas in preparation for the dinner crowds. The smells coming off the mesquite charcoal barbeque were to die for! Then we walked around the block to Marisqueria Mazatlan, where we planned to eat dinner. The restaurant came highly recommended…by locals, and by our guide book.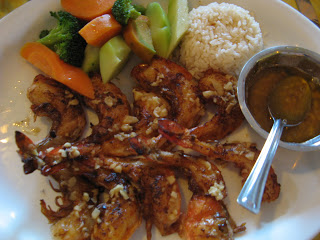 Mazatlan lived up to its reputation. The fresh chips (100% corn) with three different salsas were excellent. My garlic shrimp was delicious. And Kelli's chicken mole was deliciously smoky and chocolatey (that might be a made-up word).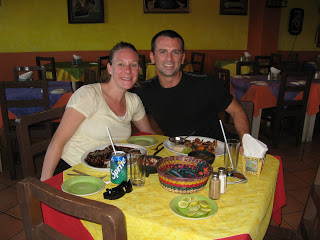 In the end we had to cut our trip short and return to Colorado because of complications with the pregnancy. Kelli and the baby are both healthy and doing well, but it was prudent to come home and be close to our doctors and hospital. But our time in Mexico was great, brief as it was. The vacation was a culinary delight, complete with oodles of gluten-free options that left our taste buds, and our stomachs, more than satisfied.
– Pete