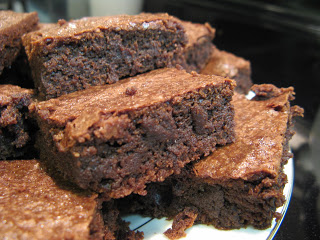 Brownies are one the easiest recipes to make gluten-free in a version that tastes just like the original – oh so tasty, moist, and chewy! And you can make them from scratch with basic ingredients!
For this recipe, Kelli and I have used a homemade gluten-free flour mix in the 4-3-2-1 ratio. 4 teaspoons Xantham gum. 3 cups Tapioca flour. 2 cups Rice flour. And 1 cup Sorghum flour. The ratio isn't quite right for other types of gluten-free baking, but for brownies it works great!
Here's the rest of what you need to know:
Ingredients
1/2 cups + 2 tbsp butter
6 tbsp cocoa powder
2 eggs
1 cup sugar
1 tsp vanilla
3/4 cups GF flour
Steps
Grease an 8-inch square baking pan. Set aside.
In a medium saucepan, melt butter over low heat and mix in cocoa powder. Remove from heat.
Stir in eggs, sugar and vanilla. Using a wooden spoon, beat lightly until combined.
Stir in flour.
Spread batter in the baking pan.
Bake in 350-degree oven for 30 minutes, or until your desired degree of "doneness."
Let cool and cut into bars.
Enjoy!
– Pete