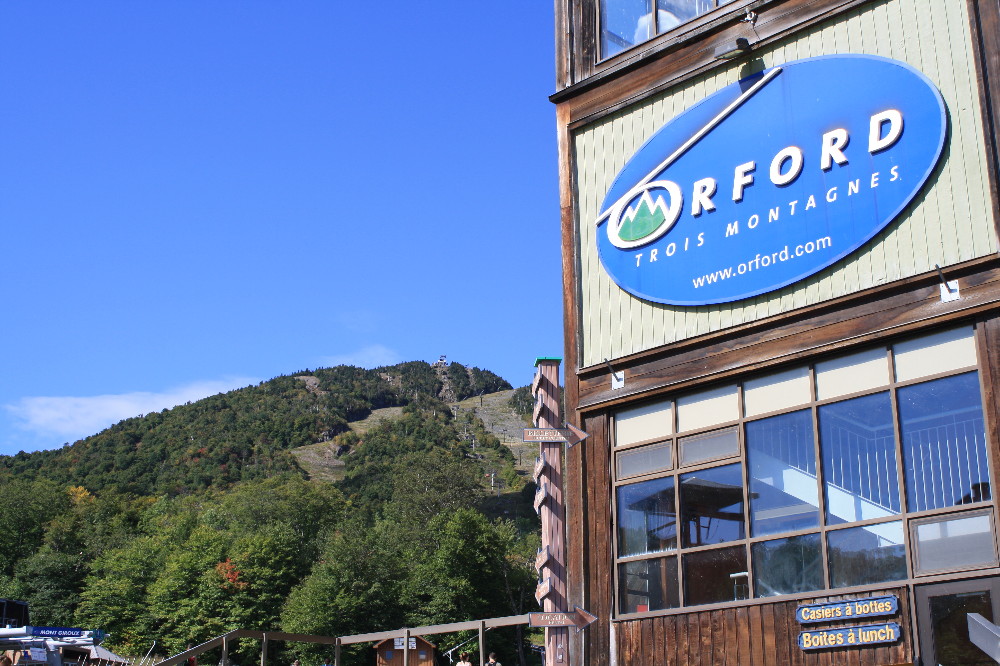 The Mont Orford ski station and the destination of our summit hike
From time to time, readers ask what kind of meals we plan when we're camping. And from time to time, we've answered that question here on the blog the best way we know how: with concrete examples of what we actually eat when we're camping.
Earlier this summer we shared some of our menu from a trip to New Hampshire's Mount Monadnock, which included turkey taco nachos with peppers, onions, and salsa, as well as corn on the cob and hot dogs with toasted gluten-free bread. Then there was last summer's trip to New York's Catskill Mountains, which included "pouch potatoes," bacon, and s'mores made with gluten-free chocolate chip cookies and roasted marshmallows.
For our recent trip to Quebec's Mont Orford National Park, we decided to change up the menu.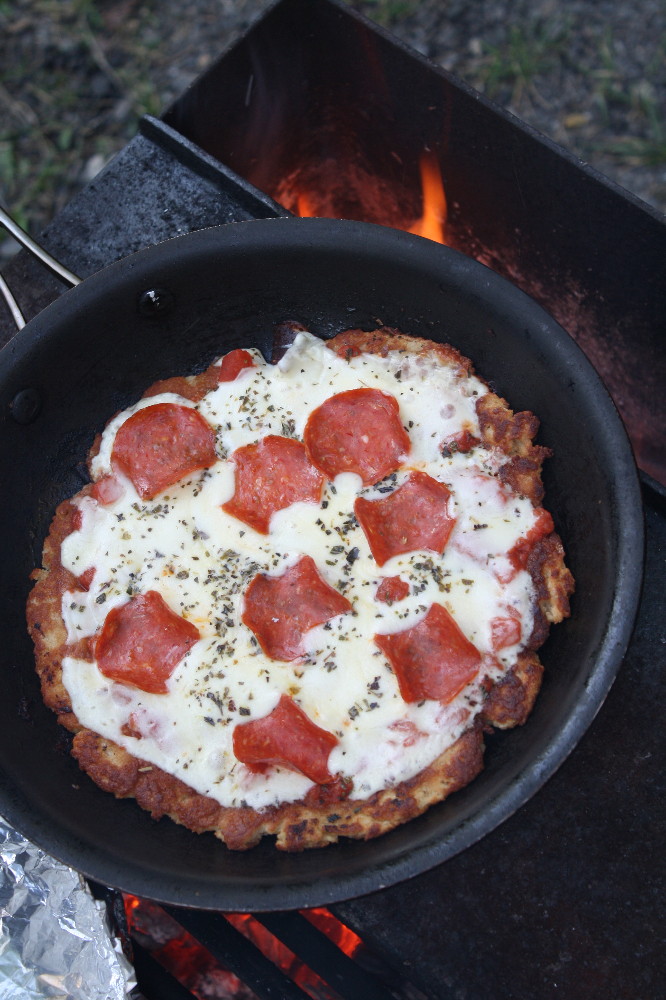 Pizza over an open fire
Since we have young girls, our camping has taken a definite turn, shifting focus from the backcountry to car camping … usually at national park, state park, and forest service campgrounds in the mountains. We're looking forward to getting back to backcountry camping with our expedition packs, but in the meantime, we're taking full advantage of car camping.
When you're car camping, you can pretty much bring the kitchen sink, and we nearly do. It probably won't surprise you—given that we're food bloggers and cookbook authors—that one place where we don't like to cut corners is with the food. That's certainly one area where car camping has a big leg up over backpacking. We plan our menu, then stock our large cooler accordingly, topping it off with bags and bags of ice. Yogurt? Milk? Meats? All of them, no problem.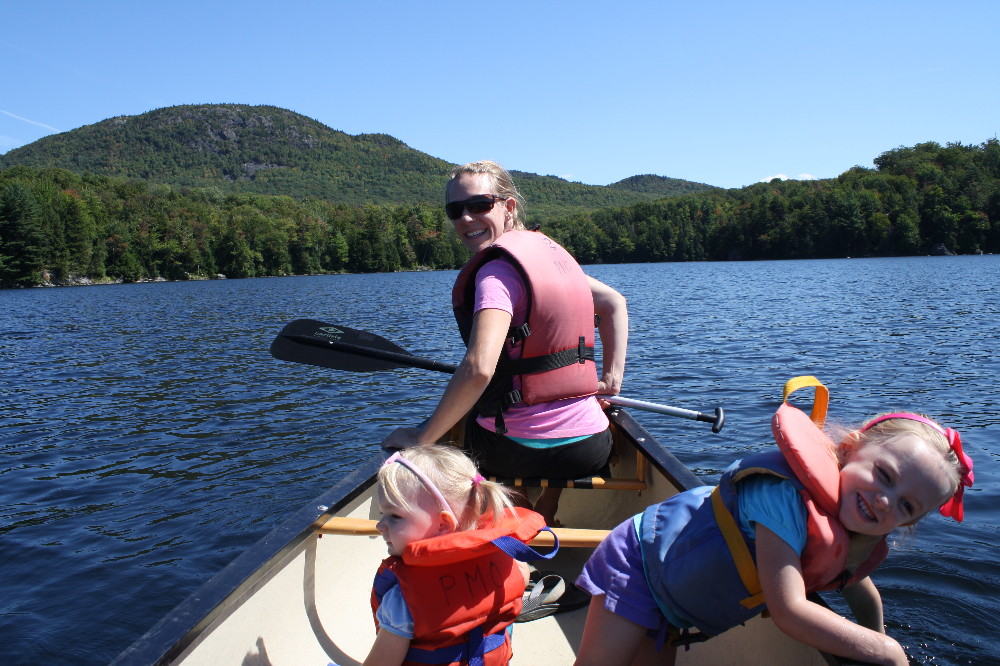 Canoeing on Lac Stukely, with a to-go picnic lunch stashed in the aft of our boat
For our first night at the campsite, we made pizzas over an open fire … from scratch. Oh yeah. I built a hot fire while Kelli and the girls mixed up a batch of dough in our small pot, using it as a mixing bowl. Then we portioned the dough into quarters. Each quarter got pressed into an oiled non-stick pan to par-bake on one side over the fire until golden brown. Then we flipped the crust, added the tomatoes, cheese, turkey pepperoni, and dried herbs, covered with aluminum foil to retain heat and cook/melt the toppings, and finished it over the fire.
Each pizza took about 30 minutes from start to finish, so it was something of a progressive dinner that lasted nearly two hours. But boy oh boy, it was worth it! Dee-licious.
For our hike earlier that day, we brought along a variety of easy, portable, munchables: gluten-free crackers, cheese, turkey pepperoni, fresh apples, dried mango, chocolate, a handful of GF Luna protein bars.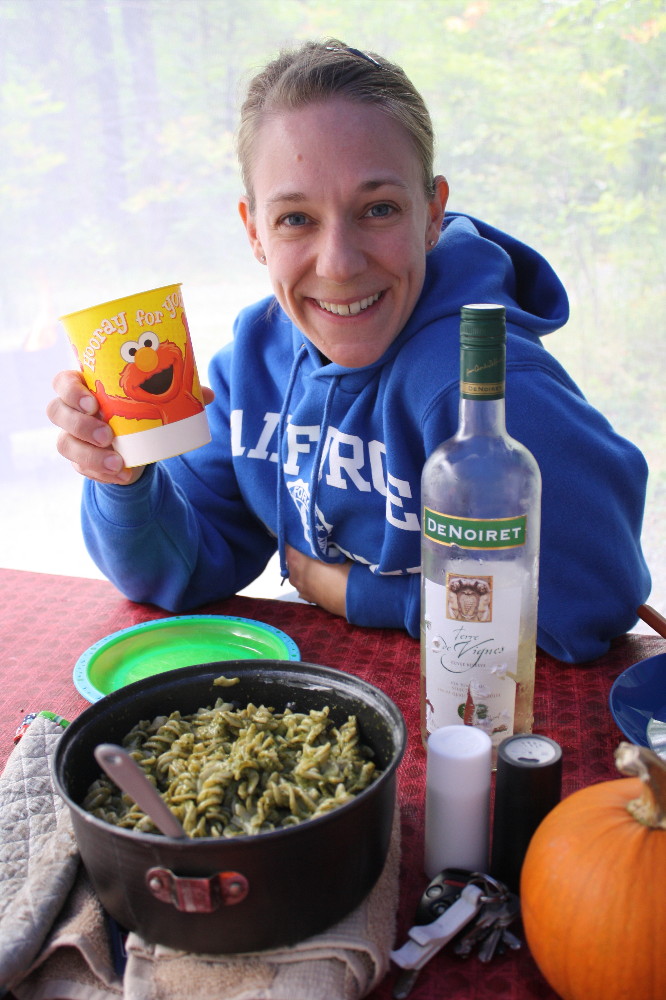 Whole grain brown rice pasta with basil pesto and a bottle of local white wine
Since the hike proved to be too much for my ankle, the next day we rented a canoe and set out on Lac Stukeley. We paddled across the lake from the national park beach to a tiny, secluded cove, brought our boat to shore, and had a picnic lunch in the shade of some pine trees beneath the slopes of Mont Chauve. Like our hike the day before, the meal included some familiar, portable munchables, plus a sandwich for each person, with the gluten-free bread lightly toasted over that morning's breakfast campfire. Easy.
With our trip drawing to a close—and our stash of gluten-free beer and naturally GF hard cider already depleted—we decided to finish with some class, picking up a bottle of local Quebec white wine. (Earlier that day—the same day that we discovered Boulangerie Owl's Head in Magog—we had gone wine tasting at a nearby vineyard.) Of course, to keep it classy we drank the wine from what we had on hand … bright yellow Elmo cups that we borrowed from the girls. No wine snobbery or pretense here!
For the meal, we went with whole grain brown rice pasta and a pesto made with basil from our garden. The pesto we'd prepared at home and brought along in a glass jar in our cooler. Although we cooked 90% of our meals over the open fire, for the pasta we opted to boil it over our small camp stove.
As you can see, the sky's the limit when it comes to planning gluten-free camping meals. When you're car camping especially, the possibilities are nearly endless. And since we're embracing this whole car camping thing with full gusto (we even invested in one of those canopies with screen walls you can erect over and around your picnic table!) we're considered investing in a Dutch oven. Just imagine the options that would introduce!
–Pete