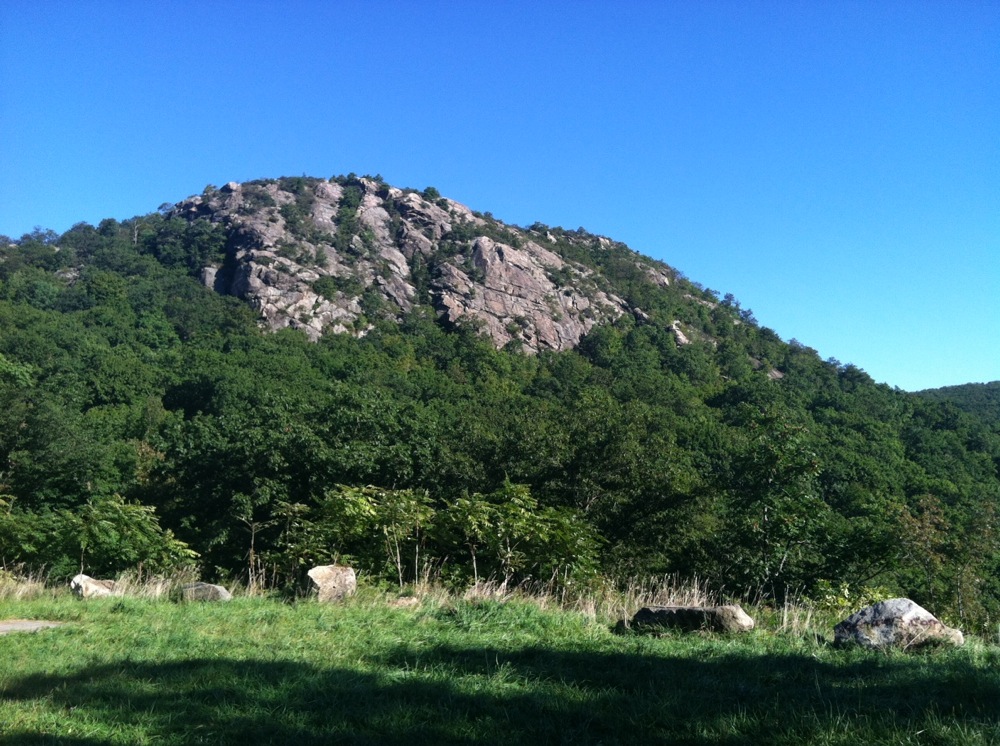 Butter Hill summit from the trailhead
As I write these words, the Virgil Crest ultramarathon and the 3rd Annual Gluten-Free Ultramarathon Challenge are five days away. Yikes! Where has the time gone? As you've probably read, recent weeks have been something of a roller coaster ride with my foot and ankle injury, and now the moment of truth is nearly upon me.
This time last week, I was lamenting some serious lingering pain following a test trail run on Schunnemunk Mountain. It left me with major doubts as to whether or not I'd be able to start the Virgil Crest race. I spent the entire past week giving my ankle complete rest, hoping that I'd experience some small miracle and see a turnaround in how it feels so that I can still run.
In the meantime, my spirits were buoyed by news to celebrate: thanks to a pair of recent donations, the three-year fundraising total for the Gluten-Free Ultramarathon Challenge has now surpassed $9,000 in support of the National Foundation for Celiac Awareness! A sincere and deep thanks to each and every one of you who has helped us collectively reach that great milestone.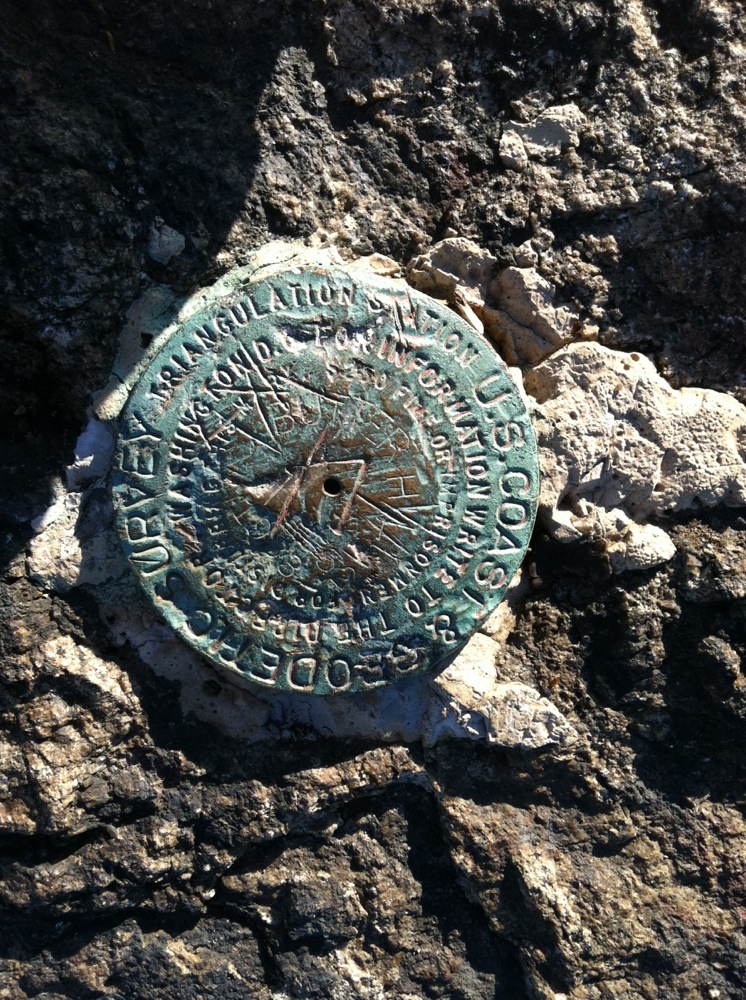 USGS benchmark atop the Butter Hill summit
Back in New York after a bit of travel late last week, I set out this past weekend for Storm King State Park for another test run to evaluate my ankle. I put it through its paces, running over Butter Hill and then a loop around and over Storm King peak, which looms high above the Hudson River.
Some sections were very runnable; others were quite rocky and technical. Although the roundtrip distance car-to-car was only 3.5 miles, it logged about 2,000 vertical feet of elevation change, so there were plenty of steep ups and downs (and not all that many flats).
I had planned on running a longer 9-mile circuit, which would have also included North Point, one of the summits of Crow's Nest, a mountain that straddles the border of Storm King State Park and the U.S. Military Academy at West Point, but I opted to keep the run much shorter. My ankle told me everything I needed to know, and there was no sense in pushing my luck and risking either re-injuring my ankle or delaying my current, ongoing recovery.
And what did my ankle tell me?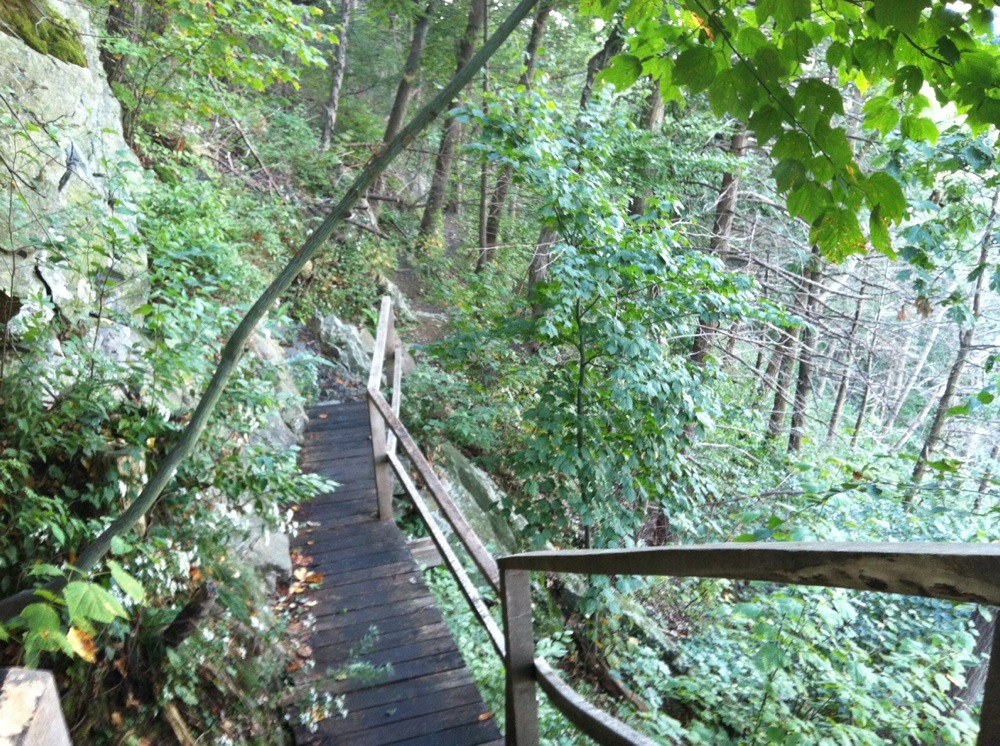 When the going gets tough, the tough … build boardwalks? On the steep northeast slopes of Storm King peak
I'm convinced that my initial diagnosis from the orthopedist was incorrect. It's not a lateral ankle sprain. The ligaments and tendons that would be implicated in such a sprain are strong and solid and pain-free. Running motions that test them cause me no problems.
The trouble comes when the trail gets very rocky and uneven and technical, forcing my foot and ankle to flex in particular ways that bring out the pain. To me, it feels much more along the lines of an injury to bones and/or nerves, which is consistent with the compression/impact nature of my original injury.
For those of you who, like me, want to geek out on the specific details: Based on a semester of sports medicine in high school, some diligent and copious internet research, and an unfailing willingness to self-diagnose, I suspect the problem actually lies in the subtalar joint and/or sinus tarsi. We'll see if I'm right or not.
The important thing is this: one week ago, I was highly pessimistic about my chances for starting the race. Now, I'm feeling cautiously optimistic that I'll be able to run. I'd be lying if I said that my ankle is 100%, or that it's even pain-free. It's not. But I saw marked improvement over the course of the past week, thanks in part to the deliberate rest I gave it, not to mention all of your prayers, well wishes, healing thoughts and energy, and even a get well card or two received in the mail! I remain hopeful that with this final week of rest, I'll see even more improvement so that I can start—and ultimately, finish—the race come Saturday.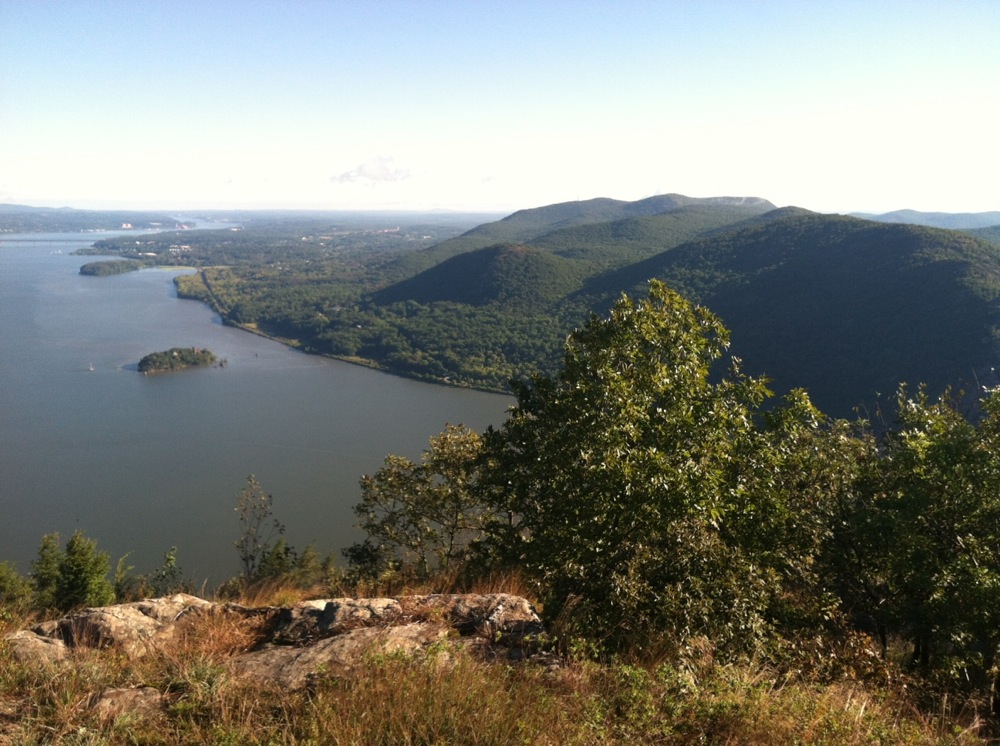 The eastern Hudson Highlands and river from a summit overlook on Storm King
Depending on how my body is actually feeling on race morning, I'll either take it easy and just run to finish, or—if I'm feeling good—I'll push and race and try to recapture a top ten finish. For now, I'm not entertaining any such thoughts.
I'm going into this race with more uncertainty about my potential performance than perhaps any race before. (Except maybe last year's Virgil Crest ultra, when I got pretty darned sick the week before the race… I'm starting to think this race might be cursed for me!)
I'll be relying almost entirely upon my fundamental base of endurance, and not on any recent training or other preparation, thanks to the injury and all the time off I've had to take to focus on recovery. By the time race day rolls around on Saturday morning, consider these facts: 1) It will have been a full month since my last long training run. 2) It will have been about 3.5 weeks since the ankle injury, I'm not yet back to 100%, and it has prevented me from doing any meaningful training. And 3) In those 3.5 weeks, I was on schedule to log about 140 miles of trail running training. Instead, I've managed just 16.5 miles of running, all of which were tentative runs to evaluate the condition of my ankle.
But that's okay. I've accepted that that's the hand of cards I've been dealt this time around. And I'm grateful for small miracles, for the fact that I'm even writing this blog post considering racing. My season could have been over, but for now, it looks like my body and my recovery are cooperating, and that there's more long-distance running and racing left in this 2012 season!
–Pete