Two weeks ago we reviewed Way Better Snacks. (Short version: we're fans.) This week, we're focusing our lens on The Better Chip (they provided some comp samples for this review). There was Way Better. Now there's Better. Are you sensing a trend? These new corn tortilla chip companies are trying to differentiate themselves from the plethora of corn chips that have preceded them, and they're doing it by offering up a product they claim is … um, better … than their predecessors in both taste and ingredients/nutrition. By our measure, Way Better Snacks succeeded. Did The Better Chip? Read on.
The Better Chip makes its chips on a common base of corn masa flour, sunflower and/or corn oil, and sea salt. Its entire line of four flavors is both gluten-free and non-GMO. Their claim to tortilla chip fame is that every flavor contains 40% fresh vegetables. For example, the Fresh Corn flavor has extra straight up corn. The Jalapeno flavor has jalapeno peppers and onions. The Red Pepper and Salsa Fresca flavor has—you guessed it—red bell pepper and onions. You can see the veggies right in the chip.
For the most part, the ingredients on each flavor are delightfully simple, though two flavors do use yeast extract or autolyzed yeast extract (flavor enhancers), which we're not particularly fond of.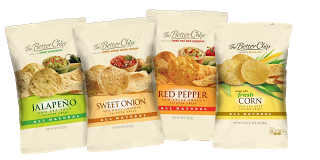 And what about the flavors?
First, these are undeniably corn chips. You can taste their inherent corn-ness.
In the Red Pepper and Salsa Fresca flavor, the red bell pepper was definitely perceptible. The aroma from the bag had genuine hints of salsa, though on the tongue the flavor became more a Doritos-esque blend of spices and spiciness. Overall, a nice chip.
The Jalapeno and Sea Salt flavor, like the other chips, sometimes tasted ever so slightly greasy. Some bites, depending on how much jalapeno the chip had, gave some very legitimate kick. Again, a very good chip.
Like Way Better, we'd give The Better Chip generally high marks. It's a high quality corn chip packed with actual veggies you can see and taste.
–Pete
Images courtesy The Better Chip