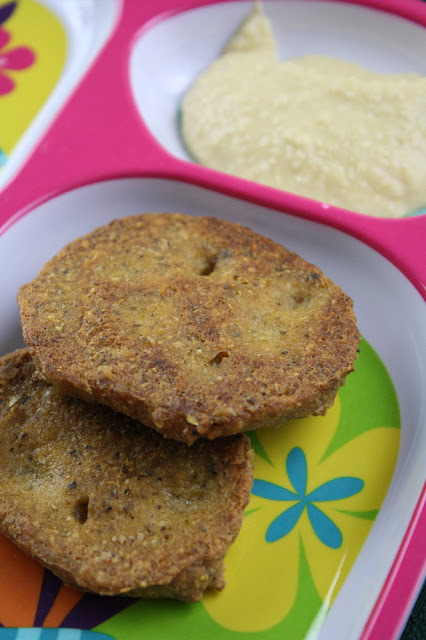 An admission: from time to time, I can be a picky eater when it comes to the texture of my food. There are certain textures that, for whatever reason, my palate finds a big turn off. The result is that I'll love a certain food prepared one way, but would rather leave it on the plate when it's prepared another.
Tofu is the perfect case in point. Grilled, marinated tofu? Great. Fried rice-flour-battered tofu? Love it. Small cubes of tofu stir fried until lightly browned and added to pad thai or fried rice or whatever? Super. But big chunks of bland, mushy tofu? No thank you…
You can imagine my skepticism, then, when I walked into the kitchen to find Kelli pulsing a block of tofu in the food processor to make a tofu paste. She asked me to withhold judgment. I warily obliged, as she added an assortment of spices and a touch of cornmeal and gluten-free all-purpose flour to bring it all together. That's when my opinion slowly started to turn. It smelled fabulous. But how would it taste cooked, and more importantly, what would the texture be like?
After Kelli formed the tofu paste into patties and pan-fried them in a touch of olive oil, I became a believer. Crispy exterior. Silky interior. Bold flavors. These patties were delicious.
They're also super simple to prepare, which makes them especially appropriate for this week leading up to Thanksgiving (and the week after). If you're like us (and many American families) you'll be doing no shortage of cooking and/or baking in preparation for the big Turkey Day. Which means that it pays to have easy recipes on hand, so you can save your kitchen stamina for the main event.
Finally, one additional admission: as you might guess from the plate in the picture, Kelli originally made these spicy tofu patties with the girls in mind. But I think we ended up enjoying the patties more than they did! Try them for yourself and see.
Spicy Tofu Patties
Makes 2-3 servings
Ingredients
7 oz extra firm tofu
1/4 cup (31 g) Artisan Gluten-Free Flour Blend
2 tbsp cornmeal
2 tsp tamari wheat-free soy sauce (or GF soy sauce)
1 tsp dried basil
1/2 tsp garam masala
1/2 tsp paprika
1/2 tsp garlic powder
1/2 tsp ground cumin
1/2 tsp ground coriander
1/2 tsp ground ginger
Salt and pepper (dash each)
Olive oil
Steps
1. Add all ingredients except olive oil to a food processor and pulse until combined and smooth.
2. Preheat a little bit of olive oil in a skillet on the stovetop.
3. Use a cookie scoop to drop balls of tofu batter onto the skillet.
4. Use a spatula coated with non-stick spray, or wet fingers (be careful of the hot oil!), to press the tofu balls down into round patties.
5. Pan fry until golden brown on the first side. Flip and repeat.
Enjoy!
This recipe is: gluten-free, dairy-free, egg-free, peanut-free, tree-nut-free, fish-free, shellfish-free, refined-sugar-free, vegetarian.


– Pete