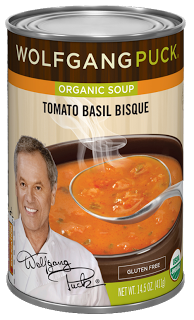 Image courtesy Bullfrog and Baum PR
Most of the time we make our soups from scratch. But from time to time, there's something to be said for the convenience of opening a can of soup, heating the contents, and simply eating. And when you do, you want that soup to be healthy, high-quality stuff. When the PR firm that represents Wolfgang Pucks Soups offered to send gratis samples for us to review here on the blog, we hoped the soups would meet that criteria. They were only partly successful. Read on.
The Wolfgang Puck brand makes a line of 17 soups, many of them organic. Seven of those soups are currently listed as gluten-free. They are: free-range chicken with white and wild rice, tomato basil bisque, signature tortilla, signature butternut squash, hearty lentil vegetable, black bean, and French onion. All of the gluten-free soups are tested to ensure they come in at or below 10ppm, half the proposed FDA GF standard of 20ppm, and matching the stringent standard of the Gluten-Free Certification Organization (though the soups are not GFCO certified). Good stuff.
The first soup we tried was the tomato basil bisque. It had very good base flavors. Both the tomato and the basil came through nicely. It had familiar natural ingredients, which we like. The flavor tended to be too salty and too sweet, however. It turns out there's a reason for that. The ingredients included evaporated cane juice as a sweetener. I would have liked to have seen the tomatoes alone give the requisite sweetness and sugars. Secondly, the ingredients included sodium…lots of it. As in 590mg (25% recommended daily value) per small 1 cup serving. (Other flavors have as much as 850mg (35%) per serving!) 1 cup is an awfully small amount of soup. Too small to be a meal. You'd likely eat more, maybe twice as much soup, plus pair it with some toasted GF bread. Which means that you'd consume half your recommended daily allowance of sodium (nearly 1,200mg) in a single bowl of soup. Yikes.
The second soup we thought we were going to try was the hearty garden vegetable. As Kelli prepared to take her first bite, she glanced down at the medley of vegetables in her spoon and remarked, "What do you think this is?" I looked to see what she was inquiring about, and recognized the culprit almost immediately: barley. A quick check of the ingredients label confirmed as much. The soup was NOT gluten-free.
Mind you, this was not a labeling issue. A check of the ingredients label on any given can of soup would reveal the gluten-free status, and it appears that only those Wolfgang Puck soups that are actually gluten-free bear the "GF" stamp on the can, as you can see in the bottom right of the picture above.
Instead, what was at work here was human error. Again. If you remember from last week's review, GoPicnic sent us two supposedly GF product samples to review, but one of those products wasn't GF. Amazingly, that scenario has repeated itself for the second time in as many weeks. A company sent us two supposedly GF product samples to review, but one of those products wasn't GF. Seriously?
In the case of the Wolfgang Puck Soups, what makes matters worse is this: the press release accompanying the GF soups is titled, "Chef Wolfgang Puck's Organic Soup Line Features Gluten-Free Options." The press release then goes on to list 9 soups. But if you're an astute reader, you'll remember that above I noted there are 7 GF soups. The press release touting a line of GF soups lists 2 soups that aren't GF, including the hearty garden vegetable variety I almost ate.
As an objective reviewer, I'm trying my hardest to separate the product from the people, to evaluate the soup and not the people making mistakes by writing misleading press releases and sending gluten-ous product samples to gluten-free bloggers. But I can't. Because every product has people behind it, and when egregious errors like these are made, it undermines my confidence in the product. It leaves a bad taste in my mouth, and leaves me potentially, literally, sick to my stomach.
In the end, I do believe that Wolfgang Puck Soups offers a quality product, with wholesome ingredients, and labeling and manufacturing processes that ensure a gluten-free product. But they have too much sodium, and the snafu with the press release and the product samples have turned me off. I'll stick to my from-scratch soups, or look elsewhere for a canned option.
– Pete