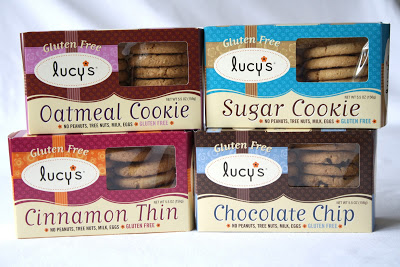 The full line of Dr. Lucy's cookie flavors…
As you know, we've been doing a lot of cupcaking lately. (I'm talking about baking cupcakes, not the Urban Dictionary form of cupcaking, which is a totally different thing…) Naturally, we were happy to change it up and focus on cookies, if only briefly, in today's review. The generous folks over at Dr. Lucy's Cookies sent us some gratis samples to review here at No Gluten, No Problem.
Unlike Aunt Jemima, Betty Crocker, and Mrs. Butterworth, Dr. Lucy is a real person – Dr. Lucy Gibney, an M.D. who started gluten-free (and allergen-free) baking after discovering her child had severe food allergies. She knows first-hand the concerns of the gluten-free community, and that's evident in how she runs her business. The cookies are made in a dedicated bakery, and they contain no gluten, milk, eggs, peanuts or tree nuts. They are certified gluten-free by GFCO, as well as certified vegan, kosher, and handful of other certifications. We like.
They're available from select Whole Foods, Stop and Shop, Kroger and other supermarket retailers, as well as from select online retailers such as Amazon. The cookies are sold in two sizes – small 1.25-ounce "grab and go" snack packs (4 cookies in each) and larger 5.5-ounce boxes (about 15 cookies in each). These puppies aren't cheap. Based on prices on Amazon, you'll pay more than $7 per box for the cookies (about $0.50 per small cookie). The smaller grab and go bags are more affordable, at roughly $1.10 per bag (about $0.27 per small cookie).
The cookies come in four flavors: Sugar Cookie, Cinnamon Thin, Oatmeal Cookie, and Chocolate Chip Cookie. (More on taste and texture in a bit…)
All the cookies are made from a similar cookie "base" that consists of the in-house flour blend (garbanzo, potato starch, gluten-free oat, tapioca, sorghum and fava), evaporated cane juice, soy milk, several oils (palm fruit, soybean, canola and olive), filtered water, flavoring and citric acid from corn, crushed soybeans, soy lecithin, non-dairy lactic acid, beta carotene, baking powder, baking soda, salt, xanthan gum, calcium carbonate, annatto extract color, sodium carboxymethylcellulose, and methylcellulose.
As you can see, there are a few SAT words in there, and we'd prefer a cookie with a more familiar set of ingredients. If you're a stickler for the 8 major allergens, you'll note that the cookies contain soy.
And while I'm on the subject of information found on the ingredients and nutritional information panel… The smaller grab and go packs list a serving size as 3 cookies, but the packs contain 4 cookies. Really? Why not just make the serving size one full package and make deciphering the nutritional info that much easier for consumers. Grumble, grumble.
That said, let's move on to texture and taste…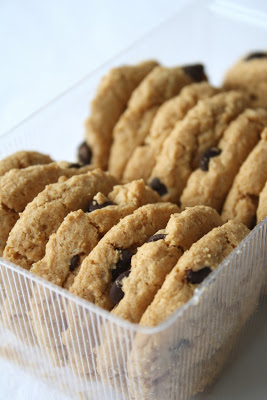 The chocolate chip cookies
Texture
The Dr. Lucy's website describes the cookies as "crispy, crunchy," and they hit the nail on the head. There's not a chewy bit to be found on these cookies. They're seriously crunchy throughout. If you like your cookies crunchy, you'll love these from the first bite to the last bite (which is often one and the same bite… since the cookies are pretty tiny, you can pop a whole cookie in your mouth all at once…). It's as if the cookies were popped into a dehydrator. (Would that make them cookie jerky?) And yet, they resist crumbling or falling apart. Mostly. As a crunchy cookie, they're successful. Par for the course for the category.
Taste
Kelli and I were sharply divided on the subject of taste. If Dr. Lucy's Cookies were on trial, we'd be a hung jury. Our difference of opinion came down to the use of bean flours. Neither Kelli nor I have historically been fans of bean flours in gluten-free baking. They can result in "off" textures and a distinctly bean-y taste or aftertaste. However, in Dr. Lucy's Cookies I didn't mind the bean flour (although it was noticeable). Kelli, on the other hand, found it objectionable.
We did agree on several points: 1) The Cinnamon Thin cookie was our favorite flavor. It tasted like a crunchy Snickerdoodle. 2) The Oatmeal Cookie did the best job of masking the bean flour flavor. 3) The Chocolate Chip Cookie was good. I likened it to a (very distant) cousin of a crunchy Chips Ahoy chocolate chip cookie. And 4) The Sugar Cookie was our least favorite, and in our opinion, the least successful.
Bottom Line
Dr. Lucy's Cookies can be a bit on the pricey side, and depending on your taste sensibilities when it comes to gluten-free flours (especially of the bean variety), you may like them…or not. If you're not afraid to roll up your sleeves and do a little baking in the kitchen, making cookies like these from scratch at home is no big deal (and in my opinion, much tastier). However, if what you're looking for is a store bought gluten-free, dairy-free, vegan crunchy cookie, Dr. Lucy's are worth a try.
– Pete
P.S. Giveaway Winner! Thank you to everyone who entered your names to win the Tovolo pancake pen from last week's Bisquick review. Karen W in Pennsylvania, you're the lucky winner! We'll contact you via email to get your mailing address and send the gadget your way.