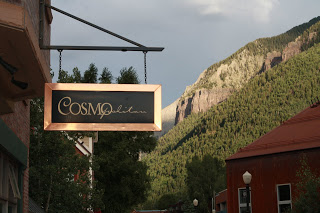 Cosmopolitan Restaurant, in the Hotel Columbia, steps from Telluride's gondola
After some 22 years in the restaurant biz, chef/owner Chad Scothorn opened
Cosmopolitan
in Telluride to rave reviews in 1996. Nearly 15 years later, his cuisine – with a heavy emphasis on local produce – is still justifiably popular. Porcini mushrooms from the surrounding mountainsides. Tomatoes from Montrose. Chicken from Indian Ridge Farms in Norwood. Palisade peaches. Colorado's bounty abounds on this menu.
So do gluten-free dining options. While Cosmo doesn't offer a separate gluten-free menu, much of the
menu
naturally tends in that direction, and the knowledgeable servers can work with the kitchen staff to accommodate gluten and other dietary restrictions.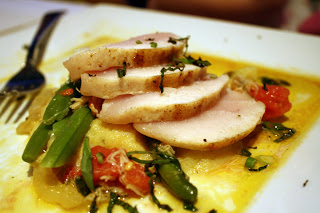 Our dinner one recent evening began with tomato soup with basil and shredded chicken. Divine. My entree, the grilled beef fillet, was tender and cooked perfectly medium, with sour cream mashed potatoes and a porcini mushroom ragout. Kelli's entree was a special of Hawaiian fish (pictured) complemented by a medley of seasonal vegetables.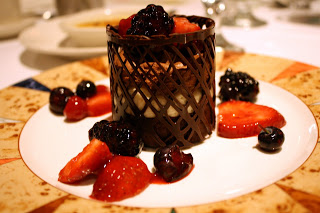 Dessert was as delicious as it is beautiful – triple chocolate flourless cake with fresh berries. The three layers of chocolate were more akin to a mousse than a flourless cake, which was just fine by us. A vanilla bean creme brulee was another delectable GF option.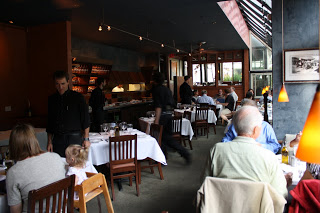 Cosmo proves why it has remained a mainstay among locals, tourists and skiers alike for nearly a decade and a half, and based on our experience, that popularity can extend to the GF set as well.
– Pete