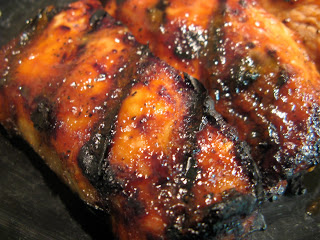 In honor of Memorial Day Weekend, when the vast majority of America is sure to be grilling, today's Friday Foto is tailor-made for your barbeque: Boneless Country-Style BBQ Pork Ribs.  They're thick, and meaty, and as ribs go, quite a lean cut with not much fat.  Plus, as boneless ribs, you can pretty much eat the whole darn thing.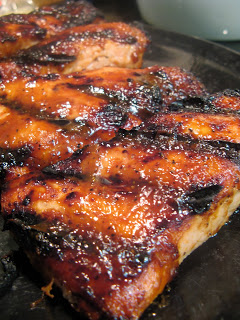 To make these beauties, whip up a batch of our
homemade BBQ sauce
.  Divide the sauce in half.  Use one half to marinate the ribs, and to baste while grilling.  Once the ribs are done, use the other half of the sauce (which should have never touched raw meat) to give 'em a nice wet rub.  
When grilling the pork, as with the
grilled Atlantic salmon steak
, about 10 minutes on the first side (make sure your grill is nice and preheated to get those great grill marks) and 5 minutes on the second side should do it.
If these were traditional bone-in ribs, I'd call 'em bone suckin' good.  But since they're boneless, I can't say that.  Instead, I'll just say they're delish.
– Pete