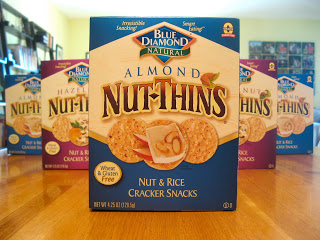 Blue Diamond Growers, the makers of Nut-Thins, is a heavy hitter in the gluten-free world these days.  However, most people might be surprised to find out that the company's roots – and main focus to this day – is almonds.  The company is 100 years old this year, and its cooperative of nearly 3,000 California almond growers makes it the largest tree nut processing and marketing company in the world.
The company's Nut-Thins were one of the first GF products I tried after I went gluten-free, and in the years since, I've returned to them from time to time.  Strictly speaking, I place Nut-Thins into the rice cracker family of foods.  For my money, Nut-Thins are some of the better tasting and better textured rice crackers to be found.  Part of what sets them apart is the prominent use of nuts in the ingredients.
On the average, they're quite good.  For my taste buds, they tend to come across slightly salty, but when I check the actual sodium levels on the nutrition panel, they're not especially high in salt.  Bonus.  To date I've sampled four of the six available flavors: almond, pecan, hazelnut, and cheddar cheese.  The almond, pecan and hazelnut flavors are all very nice, but for me, they're largely interchangeable.  The flavor of the particular nut isn't so pronounced that there are striking differences between the three.  I'll eat any of them, any time.  I'm not as much a fan of the cheddar cheese flavor.  Rather than integrate the cheddar cheese into the cracker itself, it seems as if the cracker has merely been dusted with cheddar cheese powder.  It comes across a bit out of balance, and I think the cheese could be better integrated into the cracker.
Blue Diamond is a strong supporter of both the
Celiac Disease Foundation
and the
National Foundation for Celiac Awareness
.  Plus, although the Blue Diamond facility also processes wheat, BD tests every batch of Nut-Thins to make sure that gluten levels are below the 20ppm threshold.  (On top of that, their website indicates they're
GFCO
certified as well.)
Recently, an entire case of Nut-Thins showed up on our doorstep.  (That's 12 whole boxes of the stuff!)  The funny thing was, I received no advance notice, the box contained no cover letter, and I received no follow up communication.  It was as if the Nut-Thin fairy made a special delivery, courtesy of UPS, direct from the BD headquarters office in Sacramento.
Looking for a way to use some of those Nut-Thins in an unconventional way for the sake of this review, I decided to take an entire box of the almond flavor and make it into bread crumbs.  I pulsed it in the food processor until I got a fine crumb, then added ground black pepper, garlic powder, dried basil, and dried oregano, and pulsed just a little more to mix.  Then I used the Italian-seasoned Nut-Thin breadcrumbs to make meatballs.  They were delicious.  (I've since used three other boxes in other ways, including an updated taste test.)
As you know, we have a policy of not accepting more product samples than we use for a review, and so that leaves us with a surplus of 8 boxes of Nut-Thins that we're passing along to you in the form of a giveaway!  (6 are almond, 2 are pecan.)  We'll run the giveaway through Friday of next week (that's June 4, for all you calendar junkies…).  To enter, simply send an email to pete@peterbronski.com and include Nut-Thins Giveaway in the subject line.  We'll randomly select 8 winners and send you a box!
– Pete