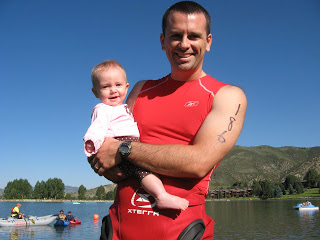 At Nottingham Lake in Avon, CO before the start of the one mile swim
Saturday morning, July 18, dawned cold – about 45 degrees or so – but the clear, sunny day quickly warmed once the sun rose over the mountains and illuminated the valley. I was feeling good, and had high hopes for the Xterra Mountain Cup at Beaver Creek. I had competed on this course last year, in 2008. I knew what to expect, and I set my sights on improving my time.
A friend and his family graciously offered for us to stay at their condo in the nearby town of Eagle, which was awesome – it not allowed me to get a good night's rest; it also allowed us to bring food from home and to cook a well-rounded and safe dinner the night before the race so I could ensure there'd be no gluten poisoning from restaurant food (which has happened before, including before the COSMIC Snowmass ski mountaineering race a while back).
My pre-race nutrition looked like this:
Night before dinner = spicy carnitas pulled pork with salsa over Jasmine rice on homemade corn tortillas
Morning of breakfast = two yogurts (one blueberry, one cherry) and a serving of Rice Chex
Immediately pre-race = GU energy gels, water and Gatorade
The race started off great. I set a personal best on the one mile swim (28:10), which was more than 4 minutes better than my swim at Buffalo Creek in June, and more than 10 minutes faster than my swim at Beaver Creek in 2008. Sweet. The bike leg of the race also got off to a good start. At Buffalo Creek, I left my GU behind sitting on my towel in my haste to get out of transition. Not this time. Before the race, I taped my GU packets to the handle bars on my mountain bike so that a) I wouldn't forget them, and b) they'd be easy to tear off and suck down while I raced. That tactic worked like a charm. Less than a mile into the bike I had the first GU, and 45 minutes later, downed a second.
But that's about when my race started to unravel. I had a mechanical on the bike. It was relatively minor, but still forced me to stop and fix it. Then I ran out of water (not good for staying hydrated!). By the time I set off onto the first of two major ascents on the run, my thermostat was redlined and I felt like I was fending off heat stroke (heat and exertion don't mix well for my body). My pace grew slower and slower. I wanted to go faster, but just didn't have it in me. It's hard to peak for every race, and this time, things didn't fall nicely into place as I had planned.
In the end, my time was marginally better than last year, but still well shy of where I was planning to finish. It was disappointing, for sure, but still a great race and a good learning experience. No sense crying over spilled milk. I'm instead using it as motivation to train harder for the next race, which is coming up in just two weeks. I'll be taking a brief break from the Xterra off-road circuit and will compete in the Cayuga Lake Triathlon, an Olympic distance on-road tri outside of Ithaca, NY. Kelli, Marin and I will be in town for her dad's birthday, and I couldn't resist this fun event in Kelli's hometown and our shared stomping grounds from college. Should be exciting!
– Pete