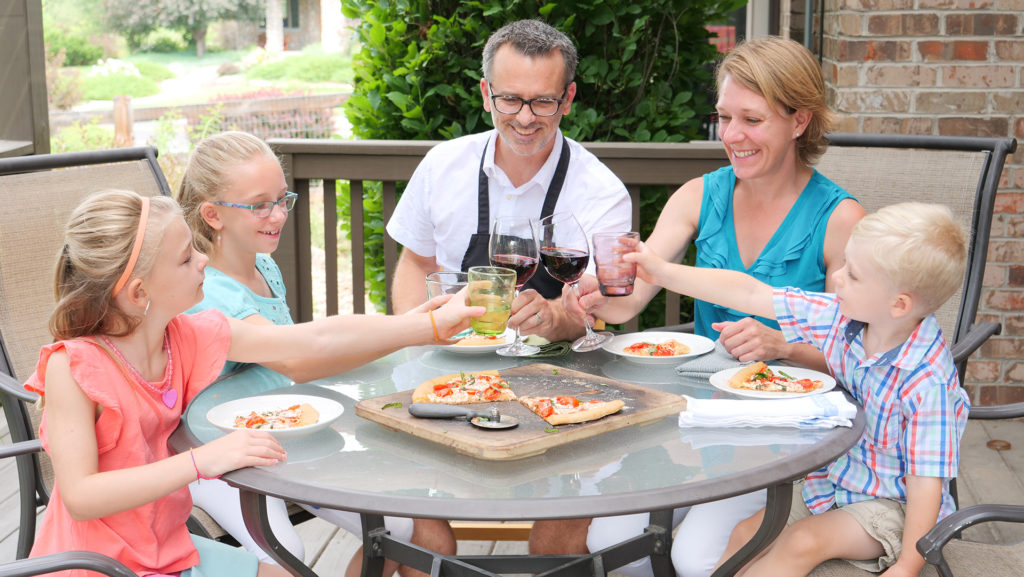 Few foods are as beloved—and versatile—as pizza. From traditional Italian and Italian-American flavors and styles, to international influences to breakfast pizzas to dessert pizzas, there's never not a time when pizza could be on the menu! For our family, it's what's for dinner every Sunday, which is "Bronski family pizza night" each week.
Yet sadly, most gluten-free pizza falls into one regrettable category: a thin, bland, cracker-like crust. Whether your GF pizza comes from the frozen foods section of your supermarket, a local pizzeria that outsources a pre-made GF crust, or a make-at-home crust that gets partially baked before adding the toppings, these alternatives simply don't stand up against the measure of great pizza, GF or not. You deserve better gluten-free pizza.
That all changes in 2019, with the forthcoming release of our latest cookbook, The Big Book of Gluten-Free Pizza. It promises to be nothing short of a revolution in making truly great, pizzeria-quality pizzas in your home kitchen and home oven! We're teaming up with our long-time publisher, The Experiment Publishing, and literary agent, Union Literary, to make it happen.
This isn't gluten-free pizza. This is pizza, gluten-free.

More Than a Decade of Pizza-Making Experience, Informed by the Best
We've been making gluten-free pizzas for more than a decade, since Pete was diagnosed with celiac disease in early 2007. Our previous cookbooks—including Artisanal Gluten-Free Cooking and Gluten-Free Family Favorites—include recipes for GF pizzas. Those were good. The recipes in this new cookbook will be great. We've traveled throughout America and Italy tasting some of the world's best gluten-free pizzas and learning from some incredible pizzaioli (pizza makers). We're taking their collective knowledge, and our own collective experience across more than a decade of gluten-free pizza making, to reinvent gluten-free pizza for the home oven from the ground up.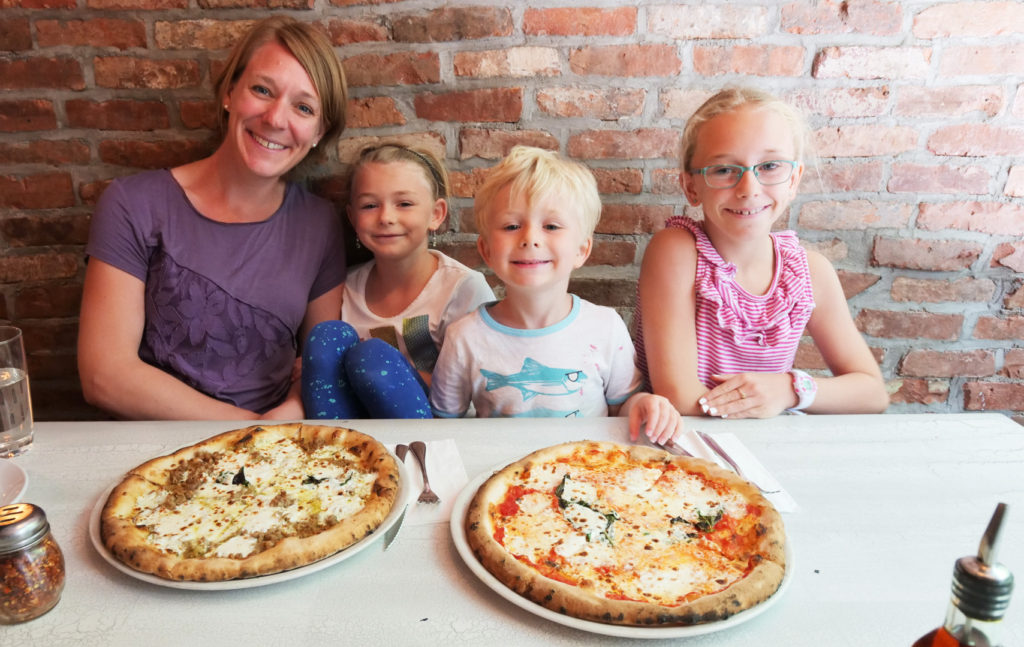 It's All About Style (and the Perfect GF Flours for the Job)
Forget the one-size-fits-all approach to gluten-free pizza. Now you'll have true options! GF or not, there are pretty much two kinds of pizza lovers: a) those who see the crust as nothing more than a delivery mechanism for the sauce, cheese, and toppings, and b) those who believe the crust is a critical part of the equation. We're resolutely in the latter category, and if you're GF like us, we suspect you'll agree: the crust matters.
Styles – The new cookbook will include recipes for a wide range of pizza styles, including: New York-style thin crust, Neapolitan, Roman, Chicago-style deep dish, Sicilian, Detroit, grandma, St. Louis, grilled, and more.
GF Flours – In contrast to our previous cookbooks, which used our signature Artisan Gluten-Free Flour Blend as a single, all-purpose flour blend for GF baking, the new cookbook uses customized flour blends optimized for each style of pizza. The results are without parallel! And our focus is on using natural GF flours and starches. NO modified starches and NO deglutinated wheat starch (which is an increasingly popular ingredient among some GF pizza flour blends and pizzerias).
Techniques – Even if you're not using a pre-made GF crust, pretty much every GF pizza recipe—including our own in previous cookbooks—requires par-baking the dough before adding any sauce or toppings. No more. We're developing fresh GF pizza doughs that get topped and put in the oven one time. It's faster, more convenient, and the pizzas are simply better. Plus, we're including recipes such as grilled and cast iron pizzas, for added options. And, in true Italian pizzeria style, we'll include options for fermented doughs that use variations of the biga method, resulting in better taste and texture in the finished pizza crusts than you've gotten before.

Flavor, Flavor, Flavor!
Great pizzas—GF or not—are about doing more than simply dropping any combo of raw toppings on them before baking. Properly preparing the toppings (in the right combinations) is crucial for achieving maximum flavor while ensuring the toppings finish cooking at the same time as the crust. The new cookbook will include:
Italian and Italian-American – With Pete's Sicilian-American heritage and Pete and Kelli's shared New York heritage, the heart and soul of this cookbook is undoubtedly classic Italian and Italian-American flavors: classic red sauce and cheese, margherita, pepperoni, peppers and onions, prosciutto and arugula, mushrooms with sundried tomatoes, etc.
World Flavors – We'll also travel the world with internationally inspired flavor combos such as Mexican, Thai, American BBQ, Hawaiian, and others.
Breakfast – College students may notoriously and stereotypically start the day with leftover cold pizza, but pizza for breakfast—properly done—can be delicious!
Dessert – Pizzas don't have to be only savory. From chocolate-hazelnut spread to pastry cream with fresh fruit, dessert pizza can totally be a thing.
Backcountry – Learn how to make from-scratch pizzas over camp stoves and cooking around the campfire, even when backpacking in the wilderness!

Allergen-Friendly Recipes
We get it… "gluten-free" is the common denominator that unites the celiac disease and broader gluten-free community. But dietary restrictions don't alway stop there. That's why we're developing gluten-free pizza dough recipes—either standard or with modification options—that are:
Top 8 Free – wheat/gluten-free, dairy-free, egg-free, tree nut-free, peanut-free, fish-free, shellfish-free, soy-free
Dairy Free – lactose- and dairy-free
Vegetarian / Vegan
Gum Free – free of xanthan and guar gums, whenever possible
Grain Free / Paleo – including a stellar cauliflower crust!
Corn Free

Beyond Pizza… Farinata, Calzone, and More
The new cookbook starts with pizza, but it certainly doesn't end with pizza. We'll also include recipes from across the broader "pizza family," such as:
Farinata (a pizza cousin based on a garbanzo bean crust)
Calzone
Stromboli
Focaccia
Flatbread pizzas
French bread pizzas
Bagel pizzas

Be a Part of the Pizza-Making Process!
We're incredibly excited about the forthcoming cookbook, and we hope you are, too! We already have hundreds of new test pizzas under our belts (and in our stomachs). Now it's your turn to get involved, if you so choose. Contact us via email or via social media and let us know what you want. What pizza styles do you miss the most since your pre-GF days? What GF pizzas are you most excited about? What flavor combos are your absolutely favorite? This cookbook grows out of our family's own pizza tradition, but it's ultimately our cookbook, and that includes you!