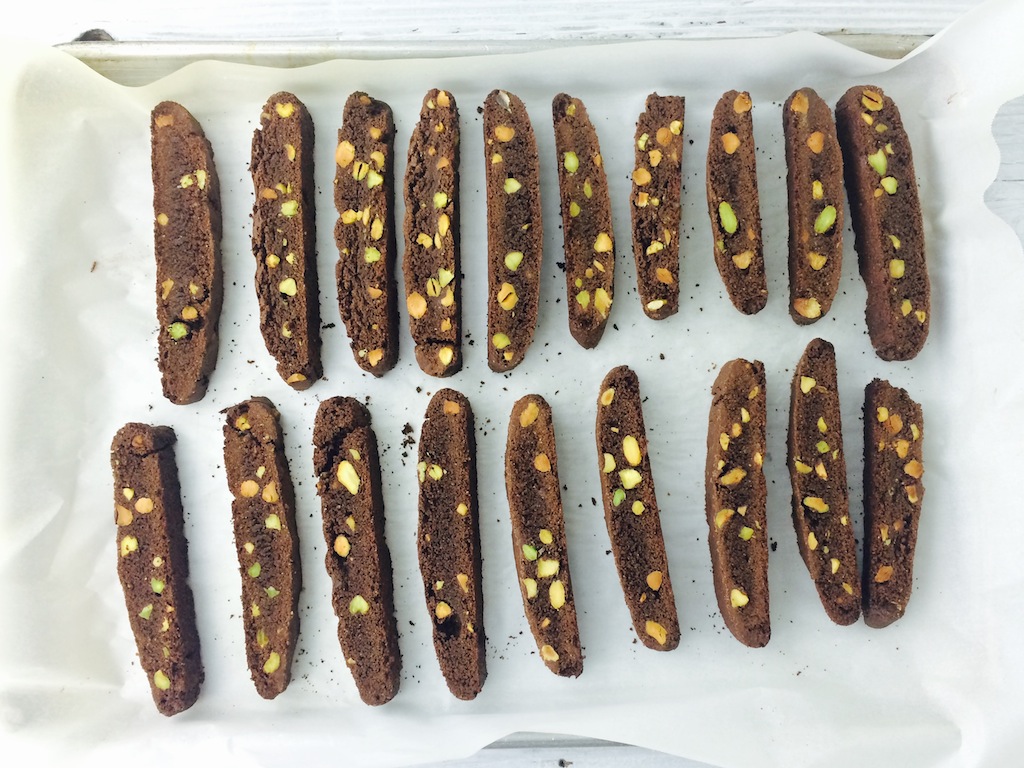 In the world of gluten-free baking, we find there are two extremes: whether it's a loaf of bread or cupcakes or cookies or whatever, you either enjoy them fresh in the first day or two or you pop them in the freezer for later consumption. Leave them out on the counter or put them in the refrigerator, however, and they go stale quickly.
But biscotti are a glorious exception. By definition they're twice baked, and it seems the longer they sit the better they get. Best of all, they're versatile and can happily bide their time in a container on the kitchen counter. Enjoy them over breakfast with a cup of coffee, have one for dessert after dinner, pop one or two into the kids' school lunches.
It's hard to believe that it's been 2.5 years since we last published a biscotti recipe … this one for orange-almond biscotti. Every couple of months they come back up in conversation: "You know, we should really make a new biscotti flavor." And then more months would slip by. Until now.
We took two popular flavors in our household—chocolate and pistachios—and after several attempts, succeeded in developing this recipe for chocolate-pistachio biscotti. Like a certain name brand potato chip, bet you can't eat just one!
Chocolate-Pistachio Biscotti
Makes ~20–25 pieces
Ingredients
1 3/4 (219 g) cups Artisan Gluten-Free Flour Blend
3/4 (60 g) cup cocoa powder
1/2 tsp GF baking powder
1/2 tsp baking soda
1/4 tsp salt
2 tsp xanthan gum
1/2 cup butter, room temperature
1 cup sugar
2 eggs
1/2 tsp GF pure almond extract
1 cup raw pistachio "meat" (shelled and whole)
Instructions
Preheat the oven to 350 deg F. Line a cookie sheet with parchment paper.
In a small bowl, combine the flour through the xanthan gum, whisk to mix, and set aside.
Cream together the butter and sugar until light and fluffy.
Add the eggs and almond extract and mix to combine.
Add the dry ingredients to the butter mixture, and mix until combined.
Add the nuts and incorporate.
Turn the dough out onto the cookie sheet and shape the dough into a long, flat log 16 inches long and 5 inches wide.
Bake for 30 minutes. Then remove from the oven and allow to cool 10 minutes on the baking sheet.
Use a serrated knife to cut the biscotti into ~20+ pieces each about 3/4 inch thick. (Take care cutting through the pistachios so you don't break the biscotti.)
Lay the biscotti on their sides on the baking sheet and return to the oven for 20 more minutes.