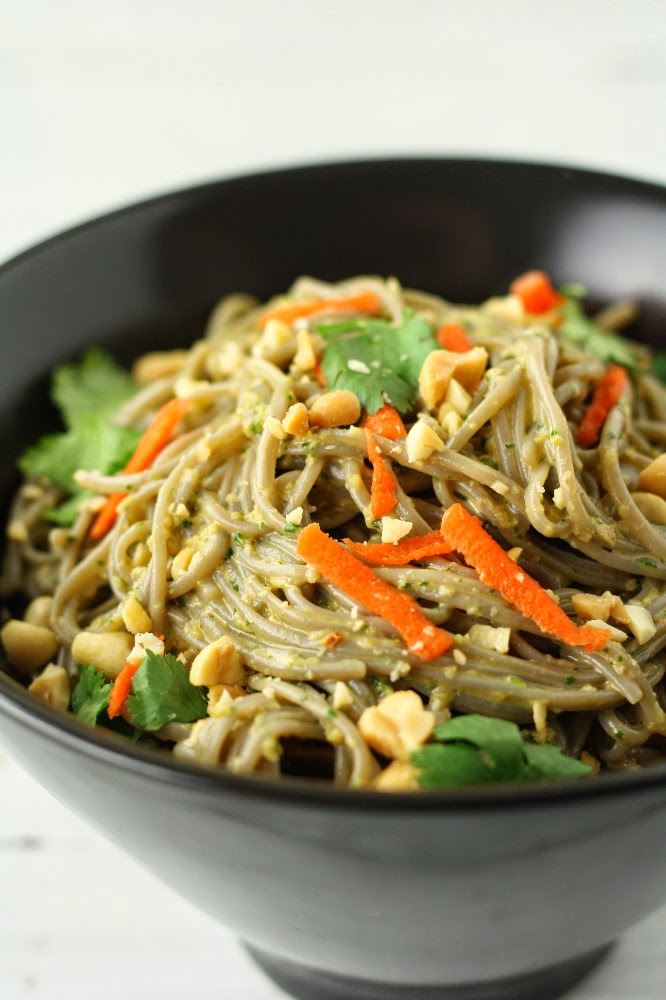 Oh Asian ingredients. Why do you tease the gluten-free community so? Your soy sauce contains not just soy but soy plus wheat. And your buckwheat noodles contain not just buckwheat but buckwheat plus wheat. Argh!
You've probably been there. Your eyes are scanning the noodle options of the Asian section of your supermarket, when they fall upon the words "buckwheat soba." What's this? you think. Buckwheat is gluten-free! So you grab a package of the soba noodles—filled with hope and optimism—turn it over, read the ingredients list, and … darn it. The noodles contain wheat. Why? Oh why?
It turns out that a gluten-free 100% buckwheat soba noodle is surprisingly hard to find.
But at the San Diego Gluten-Free Food Allergy Fest at the beginning of the month, I "discovered" just that. The company is Bgreen Food, and it offers five kinds of angel hair pasta: white rice, brown rice, black rice, millet, and … drumroll … buckwheat. The entire line is gluten-free, non-GMO, and certified organic by both U.S. and European certifying bodies. The ingredients list for the buckwheat noodles includes but a single, glorious entry: organic buckwheat flour.
For now, Bgreen is found primarily at select Asian markets throughout the American West, though I suspect that will change in a pretty big way in the foreseeable future, especially since Bgreen was a nominee for the prestigious Nexty Award at the 2014 Natural Products Expo West.
If you can get your hands on these noodles, by all means do. Or substitute other 100% buckwheat soba. Either way, this gluten-free cold buckwheat soba noodle salad is sure to satisfy.
Cold Buckwheat Soba Noodle Salad

Ingredients

For the sauce:
1/4 red onion
1/4 cup smooth peanut butter
1/4 cup packed cilantro leaves
2 tbsp GF tamari wheat-free soy sauce
2 tbsp rice vinegar
Juice of 1/2 a lime (~1–2 tbsp)
1 tbsp honey
1/4–1/2 a jalapeno, seeded
For the dish:
12 oz GF 100% buckwheat noodles
1 medium carrot, grated
1/3 cup cilantro leaves
1/4 cup chopped peanuts
Steps
1. Add all ingredients for the sauce to a food processor and process until smooth.
2. Bring a pot of water to a boil, cook the buckwheat noodles just until they're al dente, then drain and shock them in a bowl of cold water.
3. Toss together the noodles, sauce, grated carrot, cilantro, and chopped peanuts.
4. Chill in the refrigerator and serve cold.
Enjoy!
–Pete and Kelli