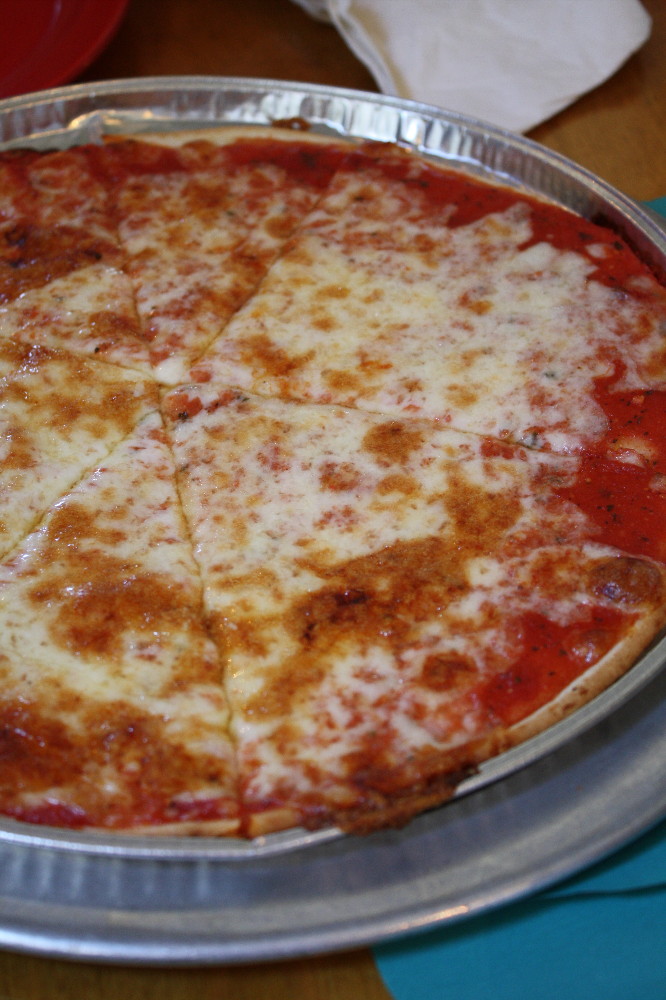 Given all the recent hubbub surrounding Domino's and the issue of gluten-free pizza, we thought it'd only be appropriate to do a pizzeria review today. I can assure you that the timing—though apropos—is purely coincidental. While the gluten-free world was debating the now-infamous Domino's Debacle, we were out for a hike.
This past Saturday we took the girls for a hike at Ninham Mountain, a modest, forested peak (more of a hill) near Carmel, NY, about halfway between where we live in the Hudson Valley and New York City. We were en route to southern Connecticut to visit friends, but couldn't resist getting out of the car for a walk in the woods.
From the trailhead, a dirt road—closed to vehicles—climbed gradually … past some rocks on which we scrambled, past a stream and lush green forest, and past an old stone-and-earth shelter built into a hillside. The summit featured a fire tower from which we enjoyed 360-degree views of the surrounding hills and lakes.
By the time we returned to our car, it was after noon and everyone was ready for something more substantial to eat than the gluten-free trail snacks we'd brought in our backpack. We're new smart phone users, having enjoyed our first iPhone for just 2 months or so. But of the few apps we've downloaded to date, one of them is Find Me Gluten Free. It's a handy tool for locating restaurants with gluten-free dining options.
When I pressed the "find restaurants around me" button, Gappy's Pizza in nearby Kent, NY came up. We decided to drive over and see what it was all about.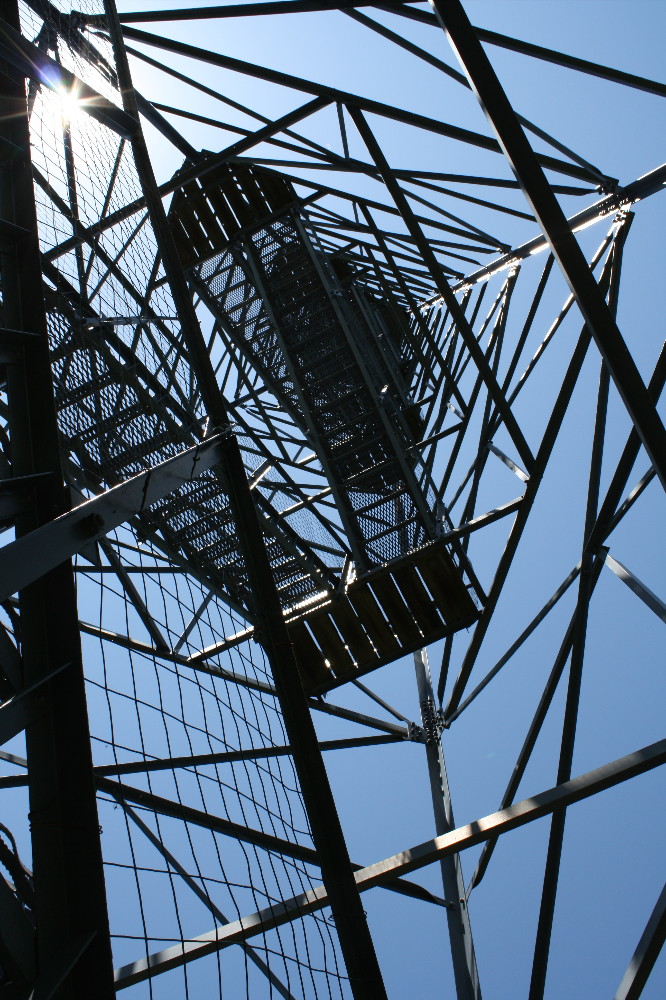 Gappy's is your classic, family-run, Italian-American joint that serves up large pizzas, pasta, and other typical dishes. No frills here. Red-and-white check curtains. Wood tables. Though the restaurant has been open since 2002, the building's clearly been around much longer.
They're working on possibly expanding their gluten-free offerings, but for now, the main thing they offer is gluten-free pizza. Like many (MANY!) pizzerias, Gappy's is an out-sourced, par-baked, thin, rice-flour-based, small, 12-inch-diameter crust. They started offering the gluten-free pizza option about one year ago, and go through about one box of crusts per week. I don't know how many crusts come to a box, but it seems to be an indication that there's regular demand from the local gluten-free community.
Gappy's has a small kitchen, and they work with a lot of flour, so I had my concerns about cross-contamination. I asked them a number of questions about food preparation and minimizing cross-contamination before we took a seat. A few days later, I called back anonymously, asked slightly different questions, and still got the same answers, which gives me a bit greater confidence in their gluten-free procedures.
"Some of our customers are highly allergic," a women from Gappy's assured me over the phone.
(That said, I didn't stand in the kitchen with the pizzaiolo and watch him make our pizzas… There's certainly an element of risk eating at a place like this. I didn't get sick, but I also wouldn't eat here if I was in the two-week window leading up to an important race. The possibility of getting sick is not worth it. Always ask questions and decide for yourself if a restaurant is right for you.)
Here's how they handle gluten-free orders, as per my two conversations with Gappy's staff:
1. Gluten-free crusts are baked on aluminum trays to prevent contact with floured surfaces, and are baked away from regular pizzas in a large shared oven.
2. The pizza maker washes his or her hands before starting to prepare a gluten-free order.
3. Clean pizza cutters and other implements are used to prepare and slice the pie.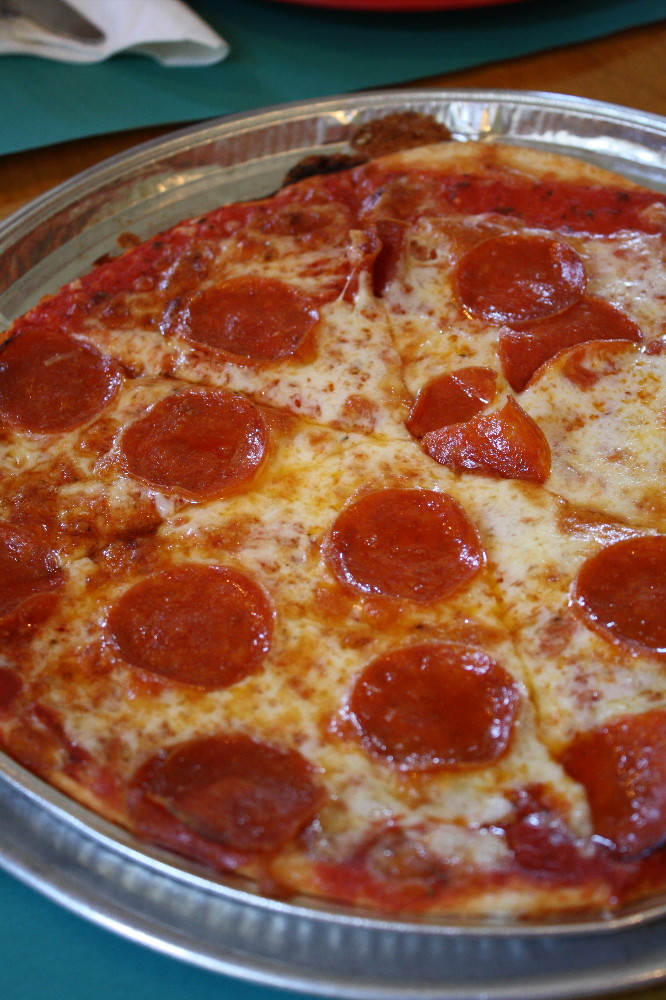 We ordered a plain cheese pizza and a pepperoni pizza. And how did they taste?
Overall, they were average. No better or worse than similar gluten-free pizzas we've had from places such as Uno's Chicago Grill.
The crust was pretty bland, as expected. However, unlike the crisp, cracker-like crusts we've had from other pizza places, the one at Gappy's was pretty soggy. The sauce tasted like it was based on tomato paste … pretty thick, with concentrated flavor. Gappy's is very generous with the cheese. You can probably see from the pictures how cheesy the pizzas were (and our server confirmed that we didn't want the extra cheesy version!). The pepperoni was oily, such that Kelli and I both took to blotting up small puddles of oil with our napkins.
But having just finished a hike, and being hungry on a warm, sunny, summer-like early afternoon, the gluten-free pizzas at Gappy's satisfied. Still, I'd take one of our homemade grilled gluten-free pizzas over Gappy's anytime.
–Pete