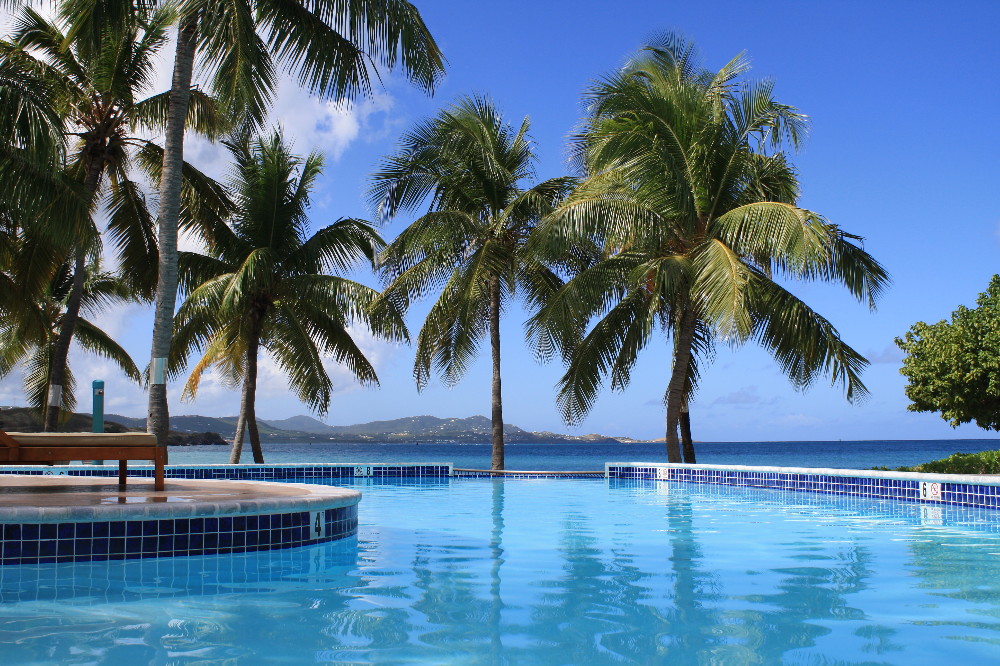 View from the Grotto Pool at the Buccaneer.
Our recent mid-January vacation to the Caribbean had been a long time coming. We had originally hoped to take such a trip back in November, but with two major book projects underway at the time—and with deadlines looming—we pushed the trip off. It would be a reward and much-needed getaway once all the heavy lifting was done.
This was our first time back to the Caribbean since the girls were born. It was also our first time traveling to the Caribbean since Kelli had resigned from Hilton. Suddenly detached from any hospitality company, the entire Caribbean was open to us. Deciding where to go was challenging, but we ultimately settled on St. Croix in the U.S. Virgin Islands.
It seemed to offer much of what we've loved about our best Caribbean trips: Beautiful beaches. Good snorkeling. Mountains and hiking. A vibrant local culture. And, we hoped, delicious gluten-free food, including fresh fish.
Such trips for us tend to balance two inclinations: (a) the desire to sit on the beach, swim in the water, and sip tropical cocktails, and (b) to get out and about on the island to adventure and explore.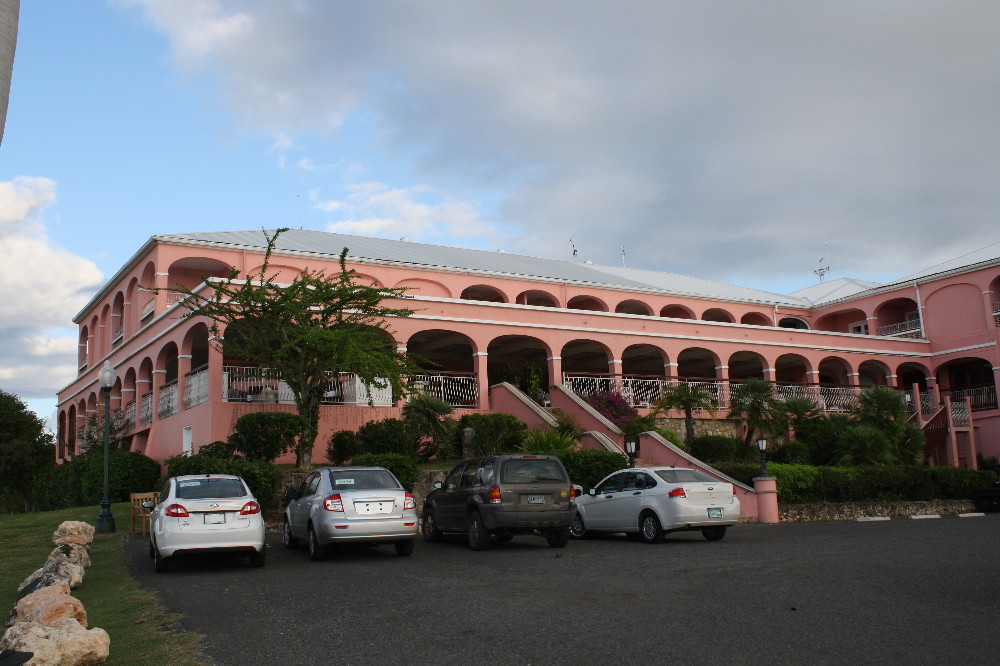 The rear of the Great House at The Buccaneer.
We chose the Buccaneer for our stay. Its reputation preceded it. Travel & Leisure named it one of the top 25 hotels in the Caribbean. Conde Nast Traveler called it one of the world's top 50 tropical resorts. Islands named it one of the world's top legendary resorts. The official accolades went on and on. Customer reviews on sites such as TripAdvisor were similarly glowing.
Just as important for us, however, was that the Buccaneer was well-versed in accommodating gluten-free needs. (It didn't hurt that the Buccaneer also won a 2011 Wine Spectator award of excellence, and that Frommer's declared the Buccaneer's the finest dining room on all of St. Croix.)
Then, weeks before our trip, I was interviewing a triathlete for The Gluten-Free Edge. She happened to be a lawyer, and previously worked for a federal judge in St. Thomas. She frequently traveled to nearby St. Croix for business. "We always stayed at the Buccaneer!" she said cheerfully. "It's fabulous. You'll love it there." We hoped she would be right!
(In this review we focus on the food. Anyone who wants more info about our overall experience at the resort, don't hesitate to shoot us an email.)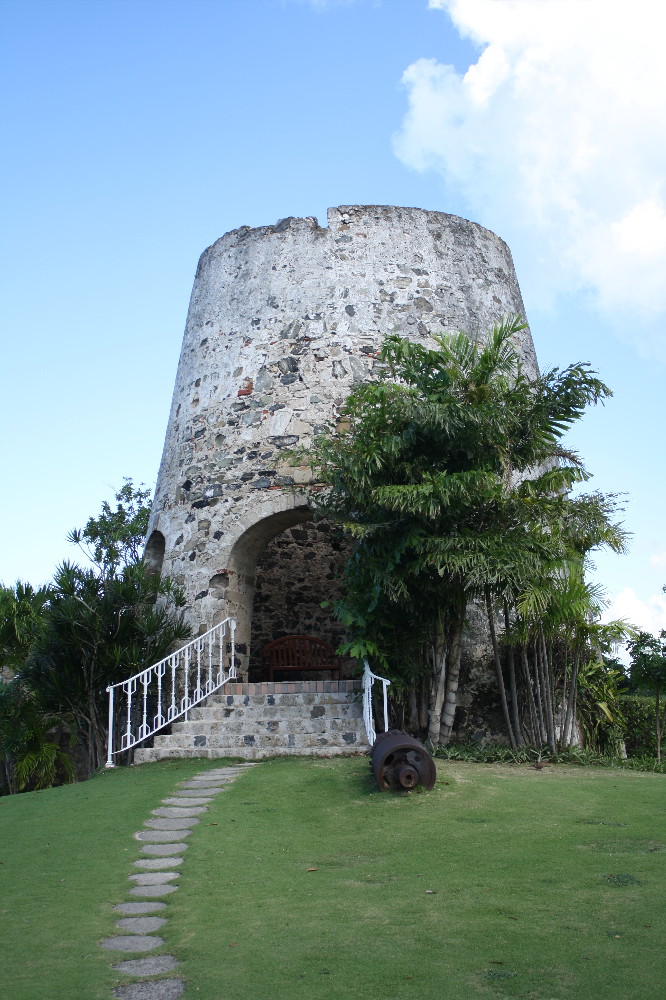 The Buccaneer's old sugar mill ruins, one of many that dot the island.
The Buccaneer offers several on-property dining options:
The Terrace – Located in the Great House, this is the resort's fine dining option.
The Martel Lounge – Adjacent to the Terrace, the Lounge offers a less expensive and more limited menu of pub fare.
The Mermaid – Located next to Mermaid Beach. Open for lunch every day, and for dinner most days.
Guest rooms—such as those in the family cottages where we stayed—have a mini-fridge, which was great for storing a few snacks we'd purchased in town. The Buccaneer also recently completed a gorgeous renovation to one of its Ocean Front Rooms, complete with a kitchenette featuring high-end countertops and brushed stainless steel appliances; great if you want to cook a few simple meals in your room.
Our first night at the Buccaneer—as we noshed on dinner at the Lounge to the sounds of live music from local musicians—I chatted with both our server and the resort's director of food and beverage. We were very impressed with their attention to detail, especially on the finer points of preparing safe gluten-free fare. Consider the following:
The menus include a number of naturally gluten-free options.
The staff overall were vigilant, going so far one night as to read the ingredients on a bottle of Worcestershire sauce to make sure a dish was indeed gluten-free. (Also, no one did a double take—as has happened at other restaurants—when we explained that we needed our food to be prepared gluten-free.)
Gluten-free menu items, such as sweet potato fries, are cooked in separate fryer oil than gluten-containing menu items, such as tempura.
Gluten-free pasta is available (boiled in separate water).
Gluten-free bread is available. We're not sure the brand, but it was definitely multi-grain bread with quinoa and flax.
Entree sauces are thickened by reduction, not by using flour.
Since almost all of the kids menu items contained gluten, we were able to request kid-sized portions of gluten-free adult entrees and appetizers.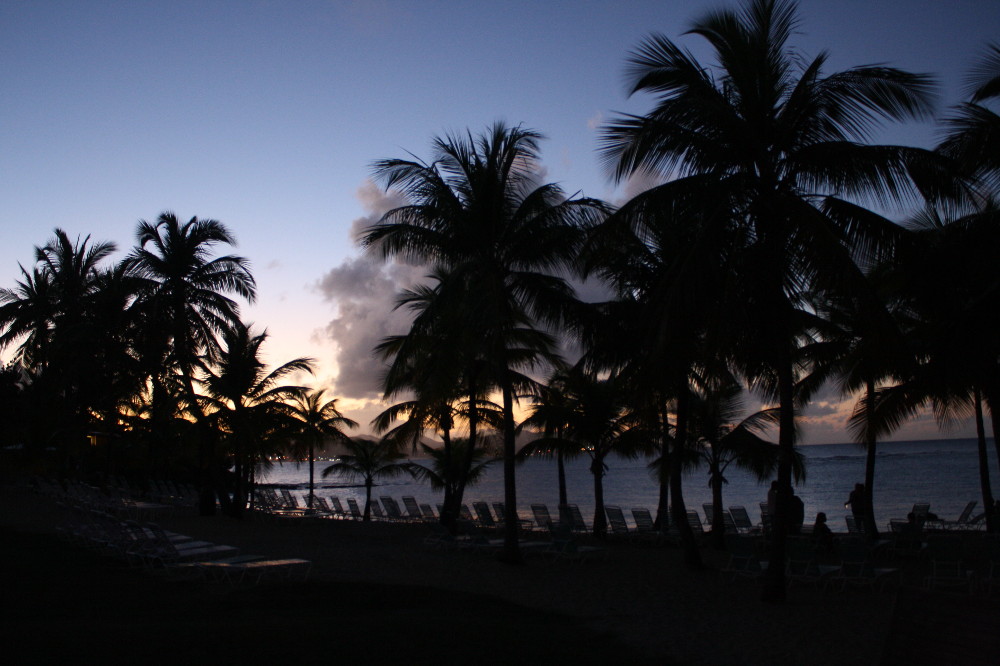 Sunset over Mermaid Beach.
And so how did the gluten-free food at the Buccaneer stack up?
First, let me say that we stayed there for 8 days (Saturday to Saturday). We ate well. And I didn't get sick once. (I cannot say this about other restaurants on the island, which you'll read about tomorrow in the second half of our gluten-free St. Croix roundup.) Major kudos to the Buccaneer.
The Lounge
The Lounge offers a variety of pub and pub-esque fare, including BBQ ribs with sweet potato fries. The BBQ ribs are done in a house-made sauce prepared by the director of food and beverage. The ribs are DIVINE. Yes, all caps were required for that one. They were so good that in our 8 days we ordered the ribs three times between us. Fall-off-the-bone tender. Meaty. Super flavorful.
(Stay tuned, No Gluten, No Problem readers! The director of F&B gave us a little insight into his recipe. We've been in the kitchen, perfecting our own version of a Crucian Island BBQ sauce—as we're calling it—and we'll be posting the recipe next week.)
I'll be honest. The ribs kind of overshadowed everything else on the Lounge menu. So much so that I can't remember anything else I ordered there, nor do my tasting notes offer any further insight. I can say that the Lounge bartender makes a mean mojito.
The Mermaid
The beach-side Mermaid, which we visited on several occasions for both lunch and dinner, offered inconsistent service and food. Lunch tended to be excellent on both counts. For example, a Caesar salad topped with grilled jerk chicken gave a distinctive Caribbean flair to an otherwise classic dish, and was delicious. Our server, noting that Marin had thoroughly enjoyed a piece of fruit plucked from the top of one of our tropical cocktails, brought her a cup of fruit to enjoy for her own.
On another day, though, dinner left something to be desired. Service was poor. We felt ignored. Our water glasses sat empty for the better part of an hour while our server refilled the glasses of diners seated at tables around us. Kelli's Mahi Creole—fresh mahi-mahi in a Creole-style red sauce—was very good. But my Linguine Vera Cruz—with gluten-free pasta, of course—was so so. It was like a bouillabaisse with a mildly spicy tomato sauce. The shrimp and fish in the dish were good; the scallops were slightly fishy; but of 4 mussels on my plate, 2 were closed (a sign they were probably dead), and of the 2 that were open, one was bad enough I didn't care to eat the second.
I will say that this sub-par experience for dinner at the Mermaid was something of an outlier on our visit, and not representative of our experience at the Buccaneer on the whole.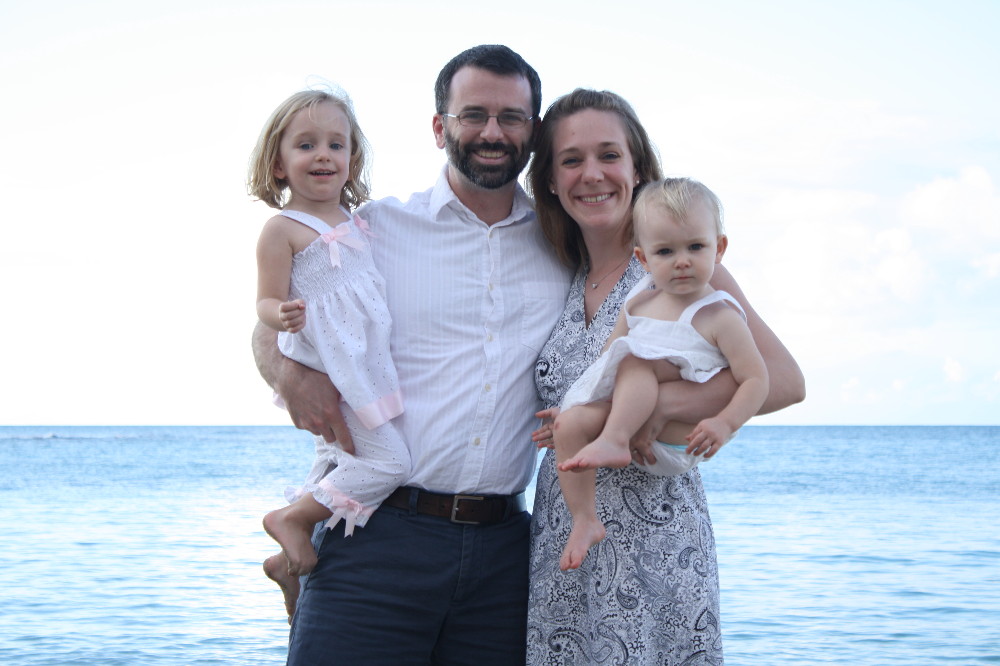 One happy gluten-free family.
The Terrace
Dinner at the Terrace was sublime. Our server consulted with the chef to prepare gluten-free versions of two of the night's specials. Kelli had a wonderful seared yellowfin tuna with wasabi cucumber salad and sriracha aioli. I had a Thai BBQ wahoo with spicy lemongrass dashi broth and sweet red and yellow peppers. Both dishes were served with baby bok choi and rice. The girls shared some of our entrees, as well as a gluten-free fungi (boiled cornmeal).
On our last night, we ate dinner at the Lounge, but ordered a dish off the Terrace menu for the girls. The gluten-free pasta came out way too al dente to the point of being grossly underdone, but our server happily sent it back and had a new batch prepared, which turned out great.
Breakfast
Breakfast was served everyday on the Terrace, in the same space that, come nightfall, gets converted to the Terrace dining room and the Lounge. Gluten-free options consisted primarily of eggs, bacon, potatoes, fungi, and copious fresh fruit. (Coffee, tea, and a variety of fresh-squeezed juices were available as well.) That was all fine, but by the morning of day 8, our taste buds were screaming for a change.
Cocktails
The beach bar at Mermaid Beach serves up a number of tasty Caribbean cocktails. Raising Cane and Caribbean Sunset are particularly good. Check out the Buccaneer's vintage cocktail menu.
Overall Impression
Despite a few disappointments—most notably a sub-par dinner one night at the Mermaid and lack of variety in breakfast options—we gave the Buccaneer high marks for doing gluten-free the right way. We ate well, without concern that we'd get sick from cross-contamination. The Buccaneer was knowledgeable, attentive, and the fact that it offered GF pasta and bread was a very nice surprise on a Caribbean island that otherwise seemed to offer little in the way of such specialty GF foods. And when the food was good—as with the ribs with sweet potato fries, jerk chicken Caesar salad, and fresh catch fish entrees such as seared yellowfin tuna and Thai BBQ wahoo—it was really good.
If your future Caribbean vacation plans ever include both "gluten-free" and "St. Croix," the Buccaneer should rate highly on your list.
–Pete