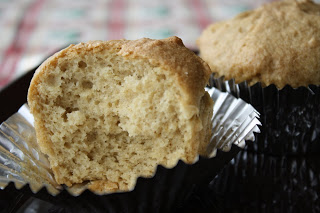 A cross-section of our vanilla gluten-free, dairy-free cupcake
It's no secret that, when it comes to gluten-free, gluten is often
not the only dietary restriction
a person faces. We know this, and you've been telling us (we often get emails about suggestions for substitutions or modifications to our recipes). For our forthcoming
Artisanal Gluten-Free Cupcakes
cookbook, we've gone to great lengths to develop and test various versions of our cakes to meet the needs of the refined sugar-free, dairy-free, egg-free and vegan communities. An appendix in the book will contain detailed recipe modifications with ingredient substitutions. But we also thought it would be useful for your gluten-free baking in general to have the following "standard" substitutions on-hand.
Refined Sugar-Free Baking
For each cup of granulated sugar called for in a recipe, replace it with 2/3 cup light agave nectar and decrease the liquid ingredients by 1/4 cup, OR replace it with 1 1/4 cups brown rice syrup and decrease the liquid ingredients by 1/4 cup.
Egg-Free Baking
We like using a combination of ground flax meal in water as a replacement for eggs. The typical ratio of water to flax is 3:1, but we prefer 4:1. Use a fork to whisk 1 tbsp ground flax meal in 4 tbsp water for each egg being replaced. Whole eggs and egg whites get replaced equally – 4 whole eggs, 2 whole eggs and 2 egg whites, and 4 egg whites would all be replaced by 4 tbsp (1/4 cup) ground flax meal in 16 tbsp (1 cup) water.
Dairy-Free Baking
This is a straightforward substitution. Sub dairy-free milk (i.e. soy or almond) 1:1 for cow's milk, and sub non-hydrogenated vegan shortening (i.e. Earth Balance vegan buttery sticks) 1:1 for butter. For buttermilk cakes, you can make a faux buttermilk by making an acidified dairy-free milk. Whisk 1 tbsp distilled white vinegar in 1 cup dairy-free milk. The acid from the vinegar "curdles" the proteins in the dairy-free milk, giving you a kind of dairy-free buttermilk.
Vegan Baking
Simply combine the substitutions for egg-free and dairy-free baking.
Happy New Year!
– Pete