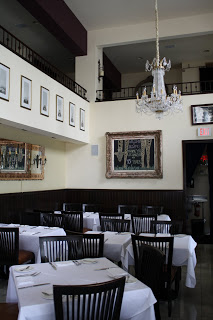 JiRaffe Restaurant, Santa Monica, CA
When you visit a major metropolitan area with a thriving, vibrant restaurant scene – New York City, Denver-Boulder, and Los Angeles immediately come to mind – you expect to find many excellent restaurants. You also expect that, from among a long list of superb restaurants, you'll find a very small handful that stand out as truly exceptional. Something sets them apart.
JiRaffe
in Santa Monica is one of those places. I recently had the kind of transcendent, soul-satisfying dining experience there that has come to me on only a handful of other occasions.
First, some context. I was in Santa Monica on a media trip, and had arranged to spend two half days with Raphael Lunetta, the chef/owner of JiRaffe. During one day, he and I went surfing in the morning. Lunetta is a former pro surfer, and is known locally around town as "the surfing chef." On the other day, we toured the famous
Santa Monica Farmers Market
– which is just blocks from his restaurant – as he introduced me to all his favorite farmers, letting me in on little secrets about who grows the best tomatoes, and what's especially good this time of year. Then, to cap it all off, we returned to JiRaffe for lunch, where Lunetta and his talented trio of sous chefs prepared a multi-course lunch with produce and other ingredients almost exclusively sourced from the farmers market.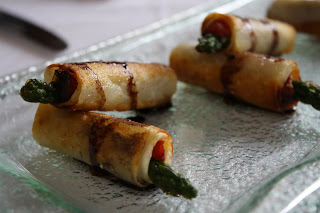 Potato-wrapped Asparagus
JiRaffe is perennially rated as one of LA's top restaurants, and Lunetta, one of LA's top chefs (in fact, he was a guest judge on Bravo's Top Chef in a previous season). It seems that everyone from Zagat to Food & Wine to the LA Times has heaped praise on Lunetta and JiRaffe. At the risk of joining the bandwagon, I add my voice to their chorus. If you eat only one meal in Santa Monica, make it JiRaffe. I'll explain why.
Lunch began with asparagus and tomato wrapped in what almost appeared to be phyllo dough. The "dough" turned out to be potato, sliced paper thin. The "wraps" were pan-fried in a little bit of olive oil (although Lunetta's primary culinary influence is French, Jiraffe notably uses much more olive oil than butter, and very little to no flour). Finally, the potato-asparagus wraps were lightly sprinkled with salt and a drizzle of balsamic reduction.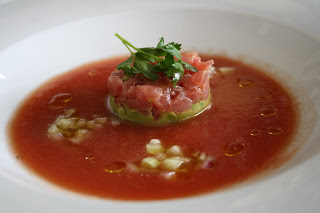 Tuna tartare
Tuna tartare followed next, with the tuna over a simply mashed avocado, and set within a fresh tomato gazpacho, complete with finely diced red onion, cucumber, and droplets of extra virgin olive oil.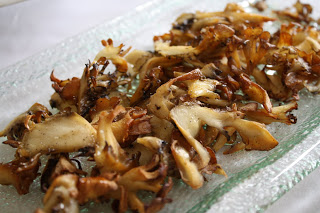 Maiitake mushrooms
Maiitake mushrooms (also spelled "maitake") were prepared with restraint, having been sliced and sauteed in a little olive oil with nothing but salt and pepper. To my palette, they tasted remarkably like a mushroom version of a kettle-cooked potato chip.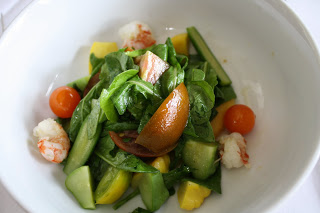 Garden salad
To cleanse the palette, a garden fresh salad followed, featuring especially several varieties of tomatoes, including green zebras, as well as a variety of baby squash.
As each course was being prepared, I had a chance to pop back into the kitchen and chat with Lunetta about his background, which had some surprising ties to the gluten-free community. One of his two sons was diagnosed with autism, and responded remarkably well to a GFCF diet (as well as other treatments). Consequently, Lunetta is quite well-versed in cooking for the needs of the gluten-free community (something his style of market-fresh cuisine leans toward anyway…). And so my contentment with the meal deepened.
Let me recap where I'd been already:
Lunetta was and is a surfer. I grew up surfing, and still love to when I have the opportunity.
Lunetta cooks locally and seasonally with over-the-top fresh ingredients procured from his farmers market. I try to do the same, to the best of my ability.
Lunetta's son is gluten-free. I'm gluten-free.
Lunetta's food is divinely good. I like to eat food that's divinely good.
I was developing a serious food crush, and as if Lunetta knew it, he hit me with a one-two knockout punch next.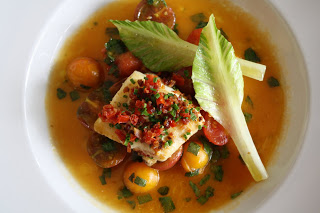 Halibut
The main course was halibut, so perfectly cooked – moist, flaky – over a bed of basil and fresh tomatoes so sweet they tasted like candy, topped with a tiny bit of bacon crumbs and chopped chives.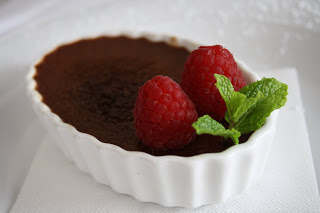 Chocolate creme brulee
And at last, a chocolate creme brulee that I struggle to adequately describe.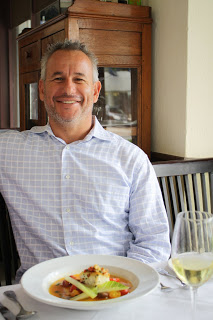 Chef Raphael Lunetta
My time at Jiraffe and with Lunetta came to a close, and I didn't have a single criticism – constructive or otherwise – to offer. This was no small thing. You've surely seen my restaurant, bakery and product reviews before. If I find fault with something, I'm not shy about telling you, the readers of NGNP. And yet, all I can do is wax poetic about Jiraffe and Lunetta.
Granted, my experience at JiRaffe certainly wasn't your typical customer-off-the-street dining experience. But what it did offer was a unique peek inside the kitchen, and a rare window into Lunetta's world, that made my experience at his restaurant that much more meaningful as someone who's gluten-free. I didn't just eat great food, and eat that food confident that I wouldn't get sick from gluten cross-contamination. I ate that food with the understanding that it was prepared by a like-minded soul who had personal ties to my particular dietary restrictions. For me, it makes JiRaffe the must-eat dining experience in Santa Monica and greater LA.
– Pete