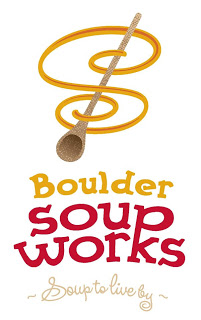 We were recently strolling the aisles of our local farmers market when we came across a booth, prominently labeled "gluten-free," offering a variety of soups. Of course, we were instantly pulled in by its tractor beam and discovered Boulder Soup Works. BSW is an organic soup company whose entire line of 5 soups is gluten-free (prepared in a dedicated kitchen). Some of the soups are also dairy-free, vegan and/or vegetarian.
First, we love the philosophy behind the company and its soups. They use organic ingredients. The chicken stock base used in some soups is Certified Humane. They use fresh, hand-cut vegetables. And the soup containers are recyclable and reusable (one was recently found storing molasses cookies in our kitchen).
Second, there's the quality and taste of the soups. We sampled the Red Lentil Dahl and the White Bean with Tomato. The RLD was divine. We loved it enough to take home two 24-ounce containers (refrigerated, just heat to serve). We weren't quite as enamored with the WBT, but it was still quite good. The ingredients label on the RLD is a good example of the kind of familiar, natural ingredients you'll find in the soups: water, followed by an all-organic list – onions, red lentils, carrots, coconut milk, vegetable base, extra virgin olive oil, and curry spice blend. That's it. Which is just the way we like it. (Nutritionally, the RLD is a little high in sodium, but that's my only – and minor – criticism.)
The BSW soups are available at the Boulder Farmers Market, as well as Denver-Boulder area Whole Foods stores. You can also eat the soups at the Oliv You & Me cafe and ModMarket in Boulder.
For those of you in the Boulder area, the farmers market runs until November 7, and BSW is making a special offer to a select few NGNP readers. Stop by the BSW booth at the farmers market, tell them NGNP sent ya, and say the magic passphrase ("Soup to Live by"), and BSW will send the first 2 or 3 readers home with a free tub of soup! (Many thanks to Kate Carroll at BSW for offering this deal.)
In addition to enjoying the soups straight up, you can also use them as a base in slightly more elaborate recipes. Try these recipes submitted to us by BSW:
Potato Leek Soup it Up
Dice a quarter pound of pancetta and toss it in a pan with some onions on high heat. Slightly brown the onions and allow the pancetta to become a little crispy. Steam two cups of broccoli florettes. Cover the bottom of two large soup bowls with pancetta, onions and broccoli. Top with sharp cheddar cheese or a smokey Gouda. Pour hot Potato Leek soup over the top and enjoy. [NGNP: I'd recommend giving the pancetta a head start, and then adding the onions. This way some of the fat from the pancetta can help the onions to saute and caramelize.]
Roasted Tomato Basil Soup it Up
Pour a tub of a Tomato Basil soup into a saucepan and reduce, simmering for about twenty minutes. Add half a cup of dry red wine, one tablespoon of extra virgin olive oil, two cups of sliced mushrooms, and/or two cups of cooked Italian sausage. Serve over rice pasta with a fresh green salad and some vino.
Red Lentil Dahl Soup it Up
Cook a cup of white rice. In a soup bowl, cover some of the rice with pieces of grilled chicken or diced smoked turkey. Pour heated Red Lentil Dahl soup over the rice and chicken, and top with chopped fresh cilantro. This warm curry is greated with a marinated cucumber salad.
If you're looking for a great, flavorful soup made with familiar, healthy ingredients, then look no further. BSW is it.
– Pete
BSW logo used with permission.