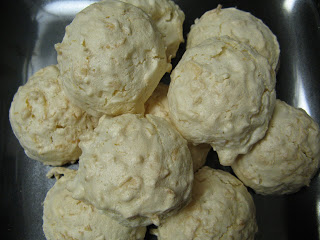 This recipe for coconut macaroons is great for two reasons: 1) it's delicious, and 2) it's naturally gluten-free. And with only four ingredients, it's delightfully simple!
Ingredients:
2 egg whites
1 tsp vanilla
2/3 cup sugar
1-2 cups flaked/shredded, sweetened coconut
Steps:
Whip the egg whites and vanilla in a mixer until soft peaks form
Add the sugar – 1 tbsp at a time – to the egg whites and vanilla while continuing to whip until stiff peaks form
Fold the coconut into the stiff egg whites (use more coconut if you like it, use less if you want more meringue)
Use a spoon or scoop to turn out small balls of the batter onto a cookie sheet
Bake in a 325-degree oven for 20 minutes until the tops are lightly brown
Enjoy!
A quick word of caution: to eliminate the possibility that gluten will find its way into this GF treat, make sure you're using a GF vanilla extract. We recommend Rodelle.
– Pete