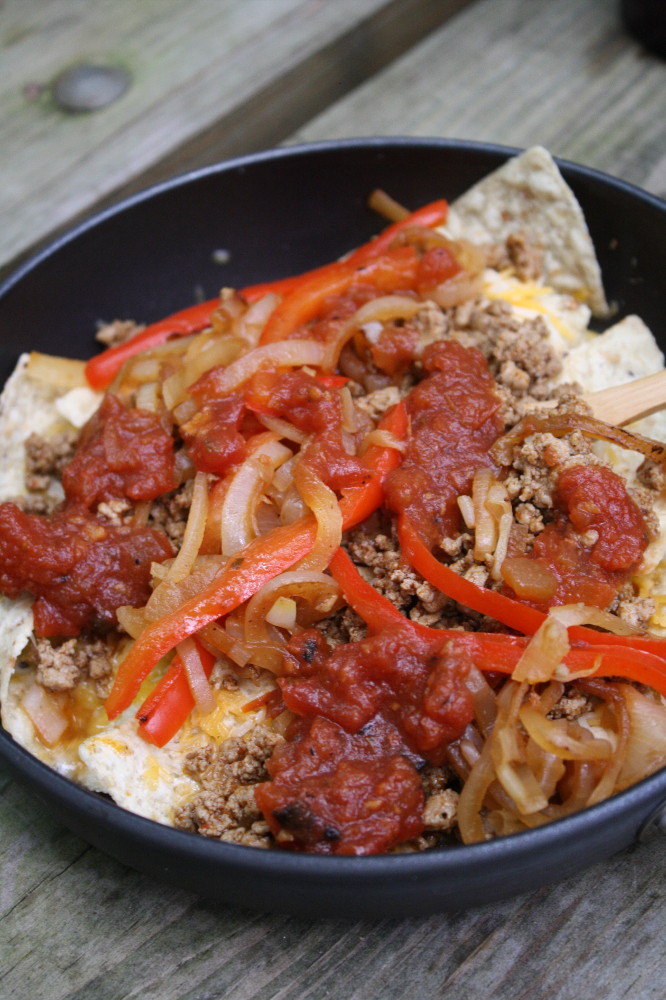 Nachos with corn tortillas, ground turkey seasoned with taco spices, peppers and onions, and fresh salsa.
Summer is in full swing, and the Fourth of July is just around the corner, which means that camping—and grilling—season has arrived. This past weekend we ushered in the season in grand style with a camping trip to Mount Monadnock in southwestern New Hampshire. We pitched our tent at the Gilson Pond area of the state park, in a convenient site that allowed us to do it "car camping" style. On Saturday we tackled the famed Mount Monadnock, often hailed as one of the most climbed mountains in the world (the crows we saw during our ascent of the White Dot trail/route certainly seemed to confirm as much). And on Sunday we took a dip in nearby Thorndike Pond. Glorious.
Back in the days when it was just us, we were mostly backcountry campers—we'd carry everything on our backs in expedition packs and hike miles into the mountains to camp in secluded valleys and climb tall peaks. Now that we have young girls, we're doing much more car camping, which allows us to bring more creature comforts from home, offering them a mellow introduction to the outdoors: toys, extra blankets, pillows.
Car camping also offers certain benefits when it comes to planning your gluten-free camping meals:
1. Since you're not limited (as much) by space and weight constraints, you can bring along larger and heavier pots and pans, knives and utensils, etc.
2. And since you can bring along a big cooler full of ice, you have portable "refrigeration," allowing you to bring along otherwise perishable goods.
If we're going to car camp, we like to take full advantage of such benefits.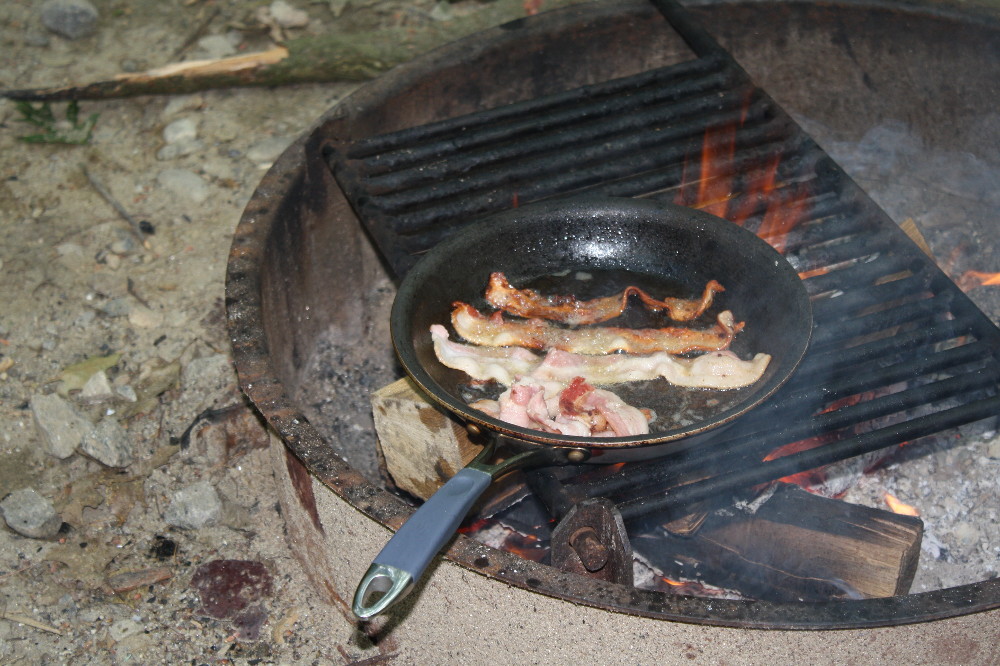 Bacon as part of breakfast.
In addition to what food to bring and what meals to plan, another important question to answer when you're gluten-free is how to safely cook that food. Sure, you could bring a camp stove from home, and do all your cooking on that. But when we have the chance, we love to cook over an open fire. Most campgrounds will have a fire ring/pit and a grill grate.
Of course, many people before you have used that same grate, and you can bet that they most certainly weren't gluten-free. So how to safely cook gluten-free foods on a potentially cross-contaminated grill? You have several options:
1. Bring aluminum foil and lay sheets across the grate. This is effective at preventing cross-contamination, but I don't like the way heat transfers through to the food.
2. Bring aluminum foil, and individually wrap each grate of the grill. This gives you effective cross-contamination protection and good access to heat from the coals, but it's tedious to set up. (On the plus side, once you've done it, it's ready to go for future meals…)
3. Bring your own grill grate. You could either use it in place of the existing one, or lay yours directly on the top of the other. This could be a full-size grill grate, or it could be a "grill basket," like you might us on your grill at home to prevent vegetables and such from falling through the grate. It's a reasonable and reusable option, though it can be bulky to transport, and messy to bring home with you in the car.
4. Do all your cooking in pots and pans. Self-explanatory, I hope.
5. Incinerate the gluten! This is our preferred method. Build a piping hot fire, and let it burn until any residue on the grill grate is blackened and charred. Scrape down the grill, and you should be good to go. (If you really want to go for broke, pour a pan's worth of bacon grease onto your fire. Be careful … that stuff is very flammable. Then stand back and watch as your grill grate is bathed in flames.)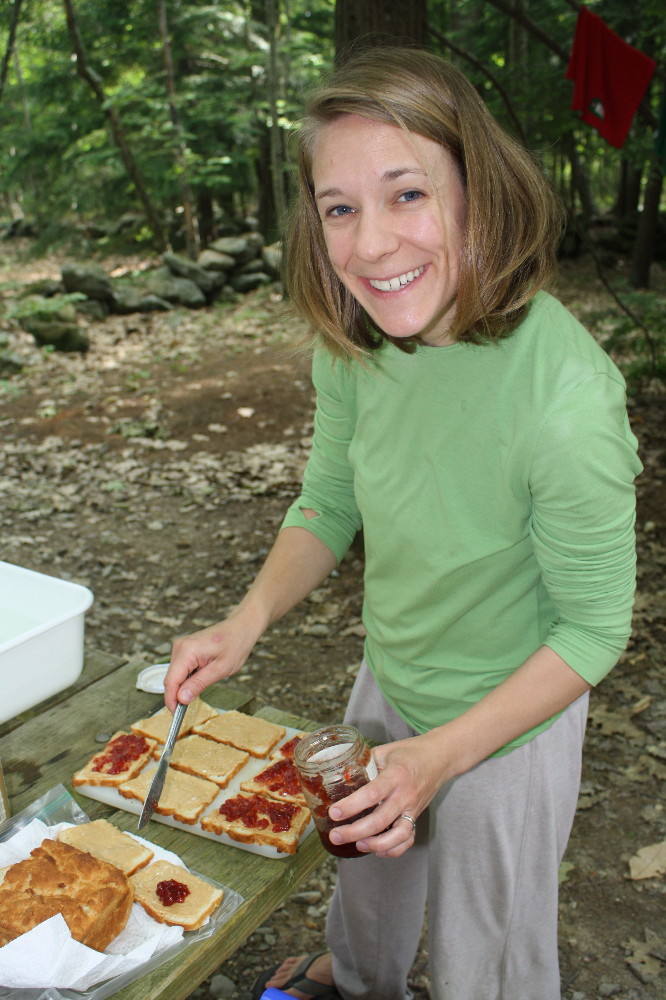 Sandwiches on homemade gluten-free bread for our climb of Mount Monadnock.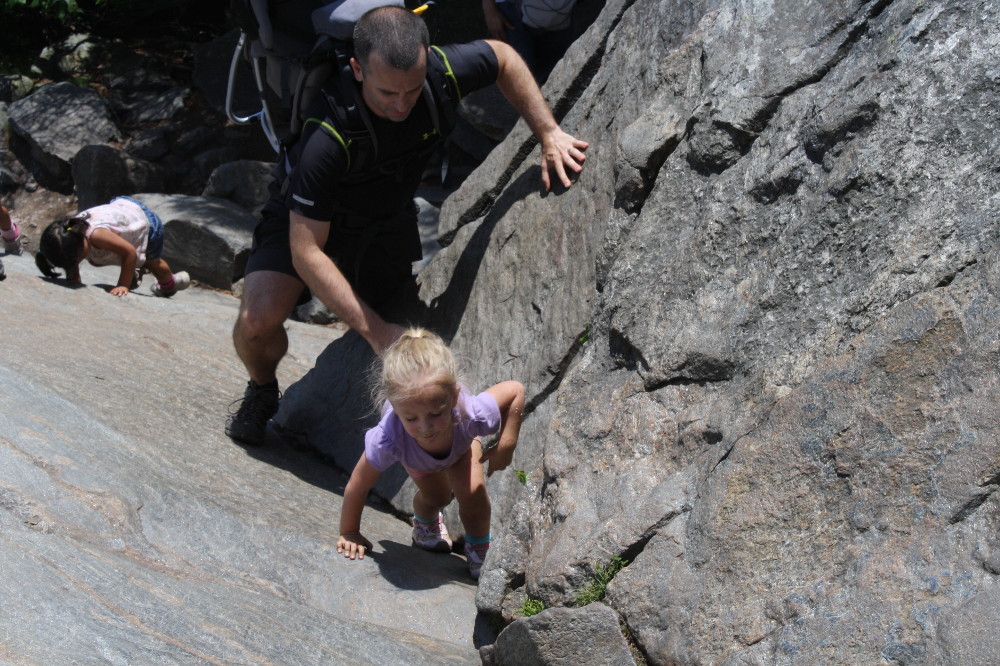 Scrambling up rocks en route to the top.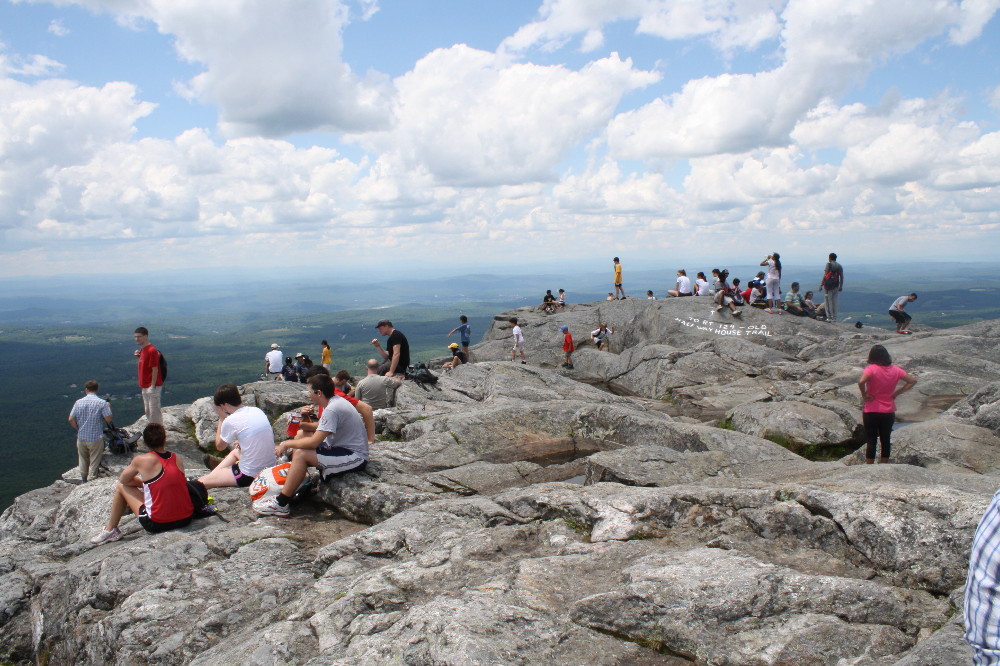 Crowds? What crowds?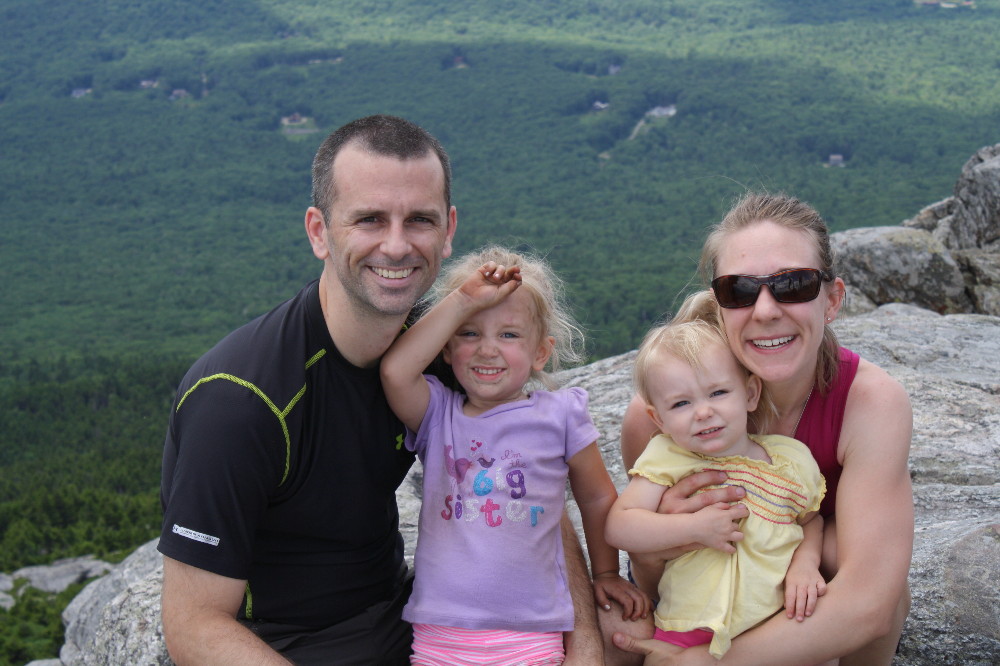 The Bronski clan.
As for the actual meal planning, the sky's the limit when you're car camping with ample cooking supplies, a cord of wood (or three), and a cooler stocked with ice and yummy food. We have our standard campfire favorites, including hot dogs, corn on the cob, and pouch potatoes. But also like to take popular dishes from home, and deconstruct them for camping.
Take, for example, nachos (in the top photo above). Normally we might make fresh corn tortillas, cook up some ground turkey with taco spices, grilled the peppers and onions, make some rice, etc. and have a hearty plate of tacos. Instead, we brought along a bag of our favorite crunchy corn tortillas and use those as our "taco shells" to pick up and eat the fixin's, which were all cooked over the open fire in a skillet.
Our menu for the weekend looked something like this:
Friday dinner = taco-seasoned ground turkey, peppers and onions, fresh salsa, corn tortillas
Saturday breakfast = bacon, scrambled eggs, fresh fruit
Saturday lunch = PB&J sandwiches on homemade GF bread, fresh fruit, chocolate
Saturday dinner = grilled hot dogs on toasted bread slices, corn on the cob, s'mores
Sunday breakfast = bacon, GF pancakes
We also had plenty of water, juice, naturally gluten-free hard cider, a 6-pack of homebrew gluten-free beer, and snacks.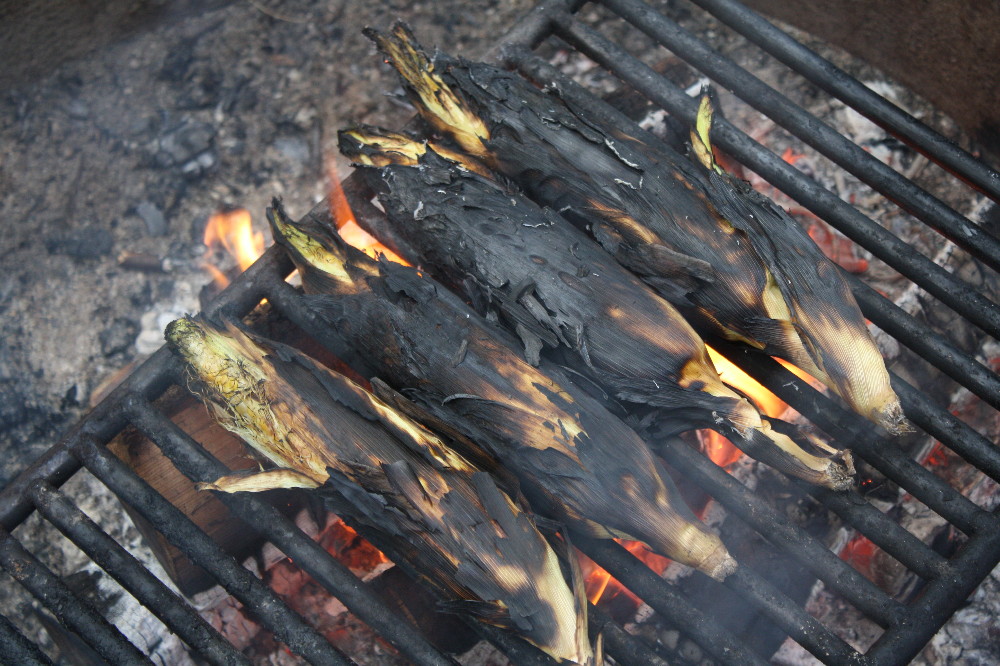 The corn looks horribly charred, but…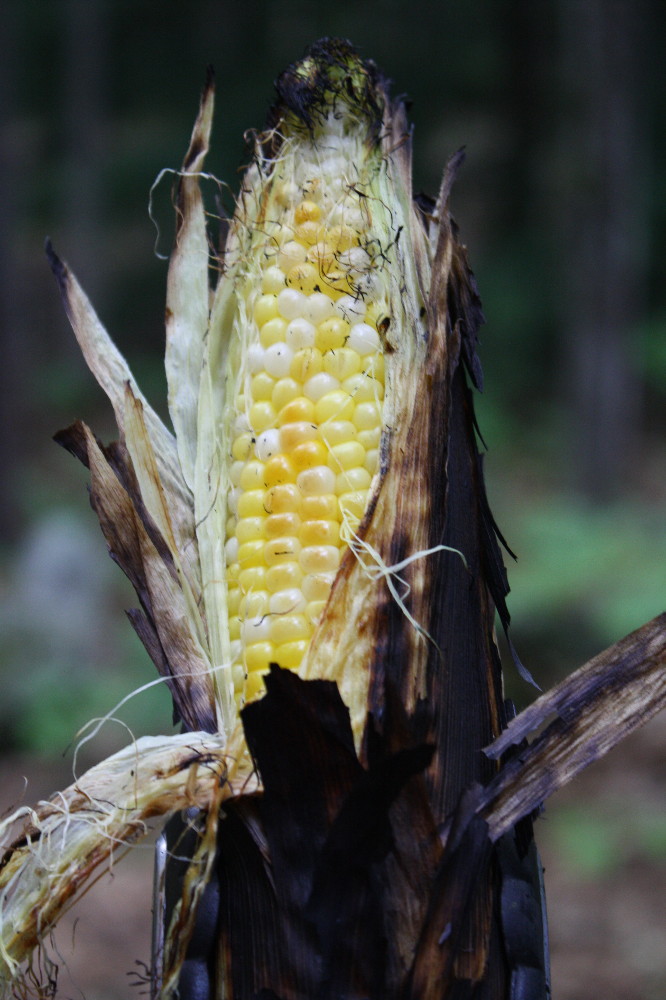 It's perfectly cooked on the inside.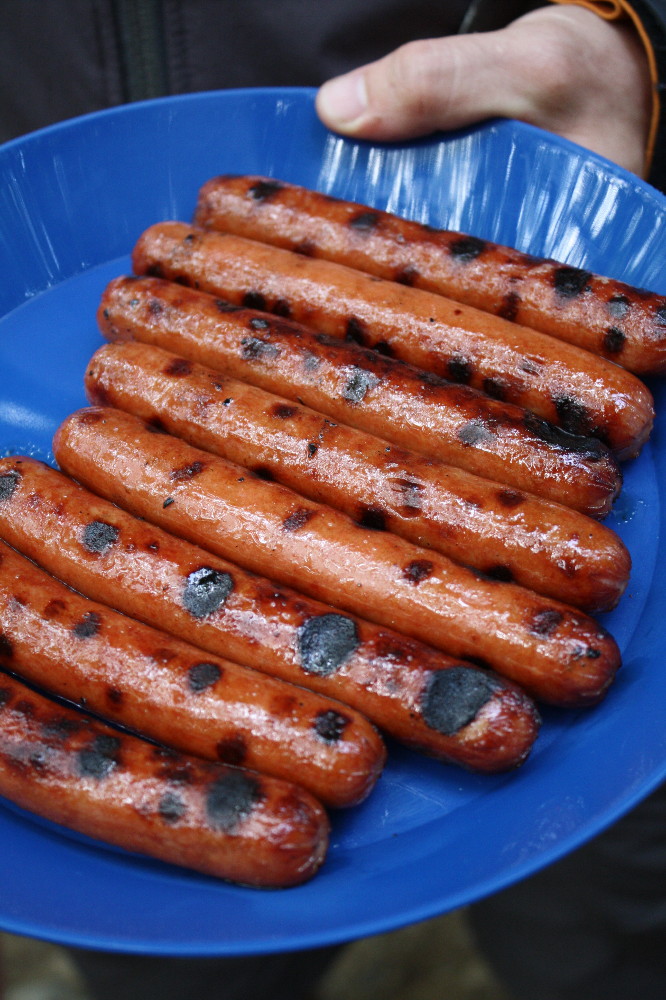 Hot dogs, anyone?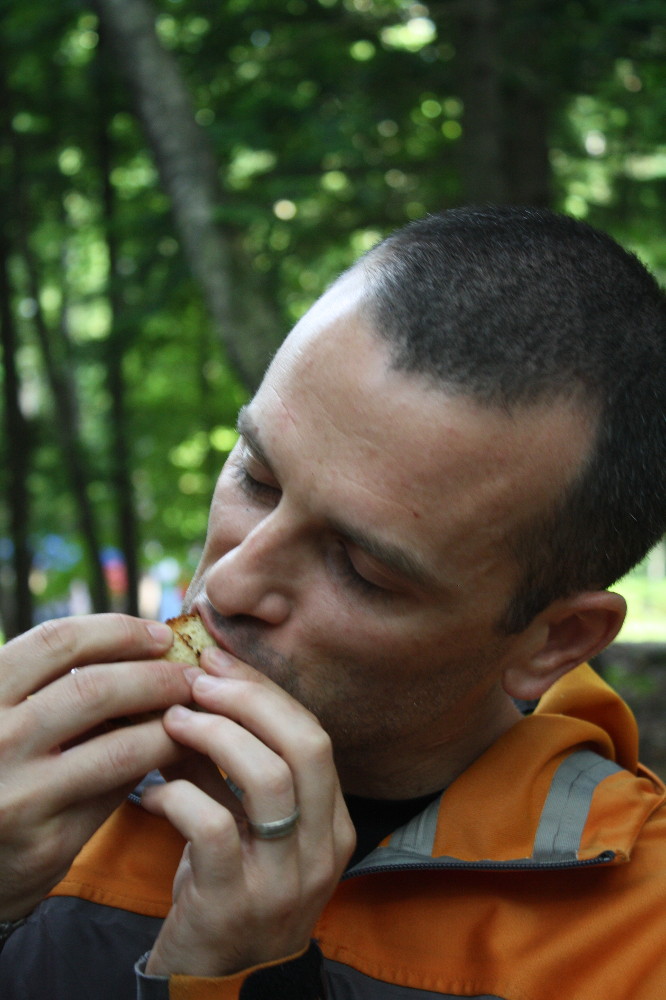 Why yes, don't mind if I do! On toasted, sliced gluten-free bread "toasted" directly over the fire…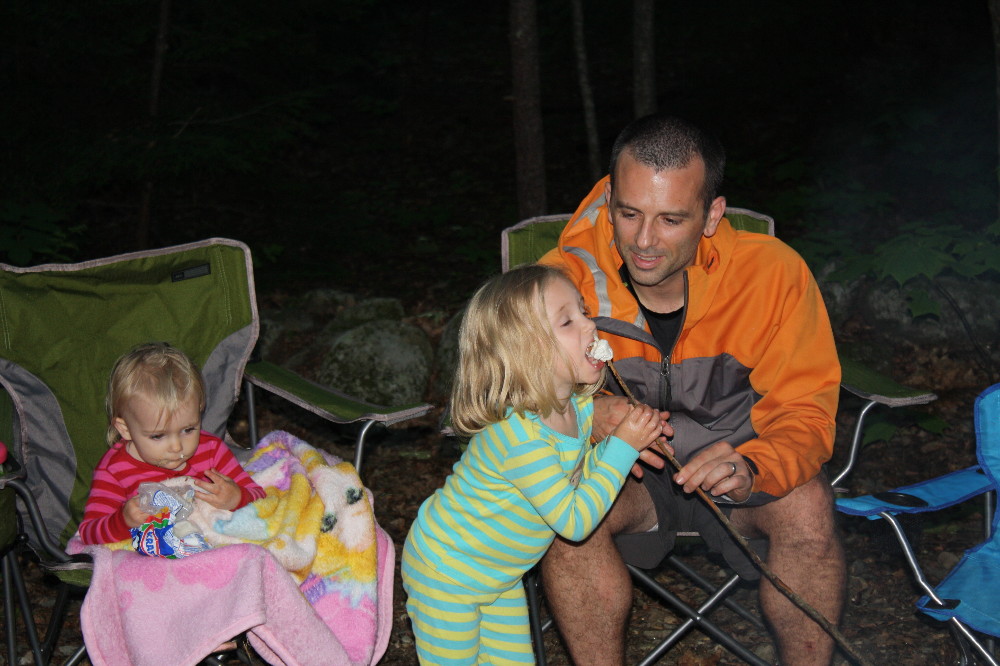 Roasted marshmallows and gluten-free s'mores. A must for any camping trip.
This upcoming weekend we'll be headed into the forest once again, but this time there won't be any camping or hiking/scrambling up a mountain. Team Bronski is headed to Finger Lakes National Forest, where I'm racing in my next ultramarathon of the season, the Finger Lakes Fifties trail run. Full race report to come next week!
–Pete
P.S. My Gluten-Free Edge coauthor Melissa has a post on gluten-free "Backcountry Nutrition for Peak Performance" over on her blog, Gluten-Free for Good. Check it out for more great info!