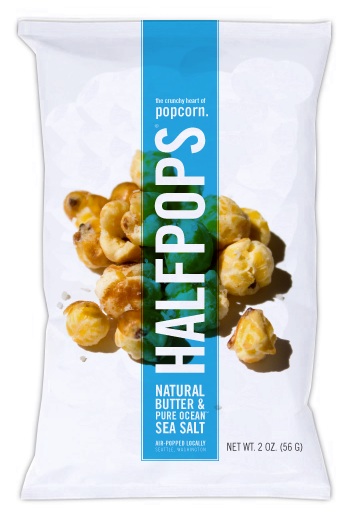 For as long as we've been together, Kelli and I have been fond of road tripping. In the early days of our relationship, that meant making the 4-hour drive to her hometown of Ithaca, NY; or the 5-hour drive to the Adirondack Mountains; or the even longer drive to the Presidential Range in northern New Hampshire. When we moved to Colorado, it took the form of long drives across Wyoming's Red Desert; or out I-70 to Grand Junction and Colorado's Western Slope; or even 2,000 miles back to New York one year, when a blizzard shut Denver International Airport days before Christmas, and we didn't want to miss the holiday with family.
Back then, snacks on such road trips tended to be defined by foods that otherwise weren't a part of our diet. We ate them exclusively on road trips. It eventually became a strong association. Take Corn Nuts. It's been years since I've had them. We tend not to eat that type of snack food these days.
But I can't tell you how many small bags of Corn Nuts we went through on drives to and from our then-home in New Jersey and Kelli's hometown in upstate New York. These days, when we gas up the car, if the stop happens to require popping in to the station's mini-mart, seeing the ubiquitous racks of Corn Nuts recalls those days way back when.
And what do Corn Nuts have to do with today's product review? All will be revealed in a moment.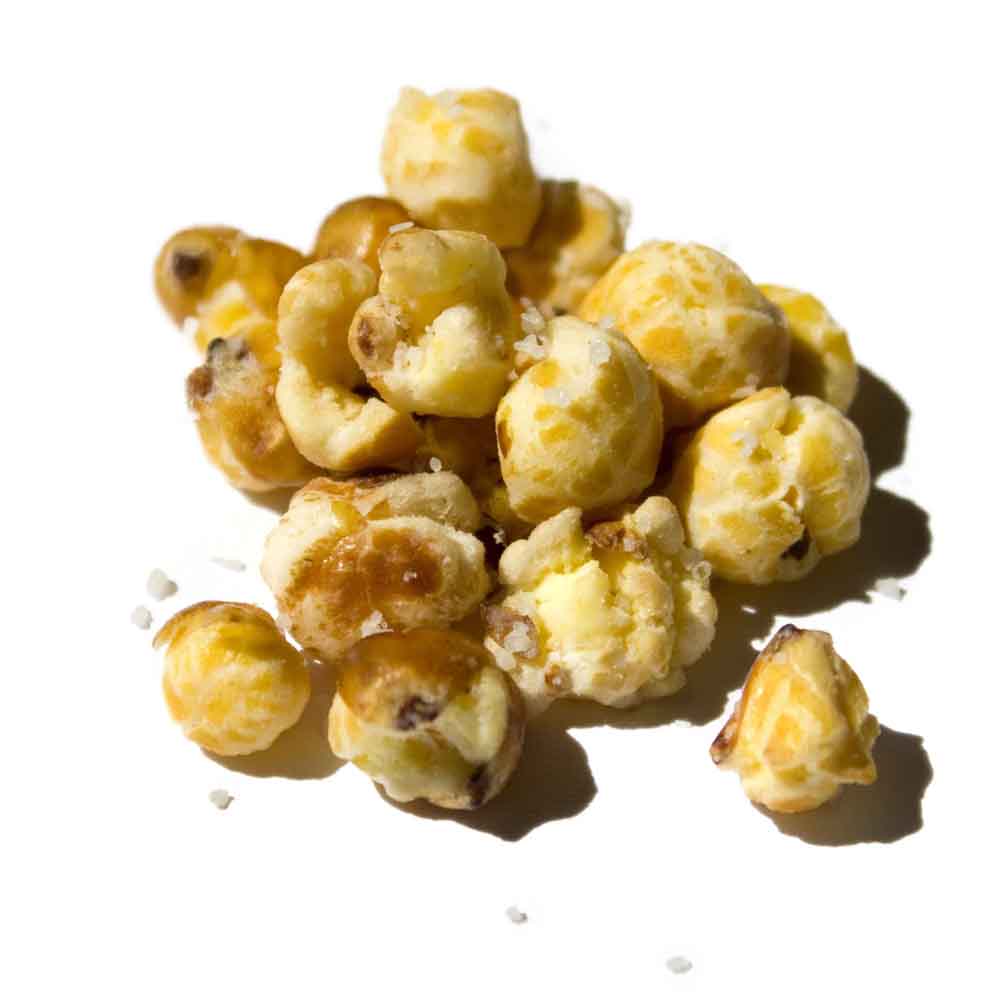 A new company called Halfpops recently contacted us, offering to send gratis samples for us to review. Described as partially popped popcorn (hence, half-popped), we were willing to give it a try. Though we don't eat Corn Nuts these days the way we used to, we're known to pop a fresh batch of popcorn from time to time, and sometimes even make it with a little sugar in the Belgian style (which tastes remarkably like kettle corn). How would we like these Halfpops, we wondered?
For now, the company offers two flavors: Natural Butter & Pure Ocean Sea Salt and Natural Aged White Cheddar. (New flavors are currently in development, and they're asking consumers to vote! The options are Natural Kettle Corn, Natural Chipotle & Lime, and Natural Jalapeno Aged Cheddar Cheese. Kettle Corn currently holds a sizeable lead over the other flavor options.)
Halfpops are certified gluten-free by the Gluten-Free Certification Organization, which gives a comforting and stringent third-party verification of the products' GF status. Yeah for Halfpops earning GFCO certification!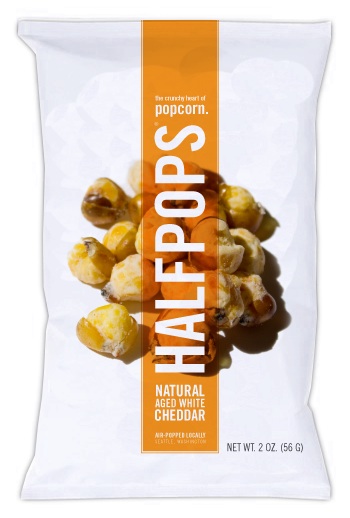 Another plus is the simple ingredients labels on the two Halfpops flavors we sampled. The Natural Butter & Pure Ocean Sea Salt flavor contains just popcorn, canola oil, butter, and sea salt. That's it. Similarly, the Natural Aged White Cheddar contains popcorn, canola oil, cheddar cheese, whey, dry buttermilk, and sea salt.
Given that the popcorn is air-popped, I was a bit dismayed to see canola oil as the second ingredient. I'd prefer to see no oil, or at least an oil other than canola. I suspect they might use some oil to help the salt and other flavorings stick to the Halfpops. The flavors also tend to be just a touch too salty for my taste. The first bites are delicious, but after eating enough, it tends to saturate the palate.
But Halfpops are undoubtedly tasty. And their texture? That's where the Corn Nuts come in. If true light, fluffy popcorn and hard crunchy Corn Nuts had a love child, Halfpops would be their hybrid offspring. Halfpops are both chewy and crunchy. Because they're harder to chew, we've found they're unsuitable for Charlotte, who's still waiting on some of her molars, and who tends to choke on the Halfpops. But Marin and Kelli and I all enjoy them.
If you're looking for a new twist on a familiar gluten-free snack (popcorn), Halfpops are worth a look.
And, you can do just that in today's giveaway! As I've said in previous posts, our review policy is to only accept as much complimentary product samples as we need to do a review. Surplus gets passed along to you, our beloved readers! Halfpops sent us way more product than we need, so we're going to give away 4 bags (two 2-ounce bags of each flavor) to one lucky blog reader. Just leave your name and a tidbit about your favorite popcorn snack in the comments. We'll choose one winner at random and let you know who that person is at the end of next week!
–Pete
Images courtesy Halfpops.