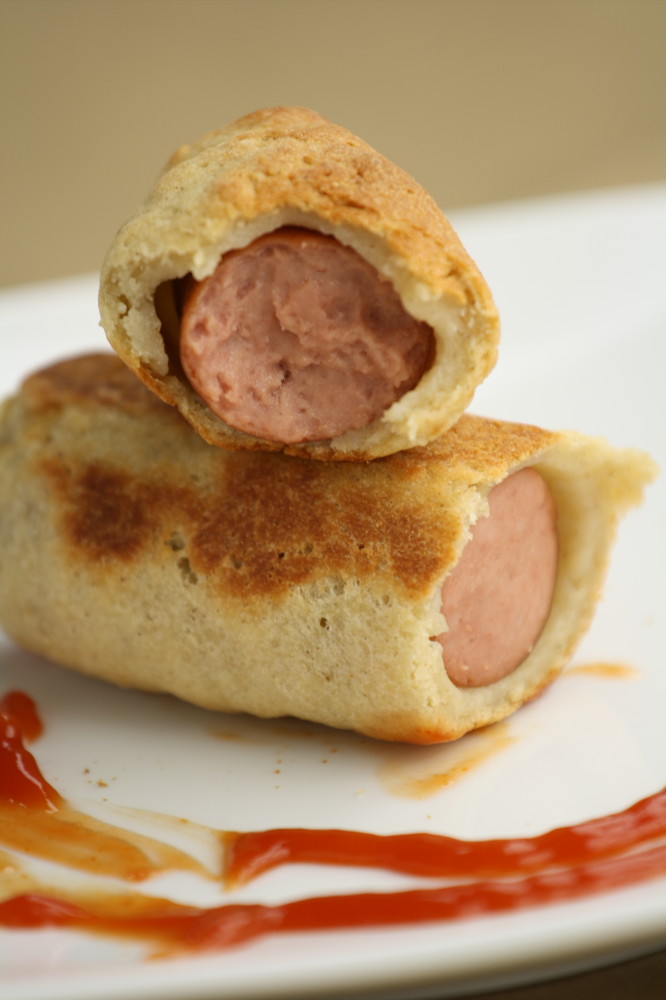 Back when Kelli and I first started dating, in early 2003, we did our fair share of camping and rock climbing on the weekends. There was nothing like spending the day up on the cliff, and then retiring to a tent and campfire in the forest later that evening. It was then that she introduced me to hot dogs wrapped in dough. Not pigs in a blanket. We're talking full-on hot dogs encased in doughy goodness.
We'd skewer them lengthwise onto long sticks and patiently hold them over the fire, rotating them every so often to ensure even browning on all sides. Before wrapping her hot dog in dough, Kelli would even partially split the dog down the middle and fill it with a bit of cheese.
Fast forward to late 2004. By then we'd moved to Boulder, Colorado. And wouldn't you know it? A local bagel shop offered bagel dogs. A hot dog, wrapped in bagel-like dough, cooked to golden brown. Divine. For my money, I'll take a bagel dog—campfire cooked or not—over a plain white hot dog bun any day.
When it came time to trim our Christmas tree earlier this month, Kelli had the brilliant idea to make bagel dogs as part of our hors d'ouerves. Our tree trimming party with drinks and appetizers has been a tradition for as long as we've been together. In many years, pigs in a blanket makes an appearance on the menu. It's one of the only times of the year when we make them, and I always look forward to it.
Hot dogs—full sized or mini—are one of my guilty pleasures. (Ask my college roommates about how I'd eat my way through a pack of 8 or 10 hot dogs, plus buns, in the course of a single evening pulling an all-nighter…) To this day, as healthy as I often try to eat, I can't resist a good hot dog. For that reason we don't keep them in the fridge too often. If I know they're there, I'll want to go and eat them. I might be addicted.
All of that said, when we made these bagel dogs for our tree trimming party they totally hit the spot. The girls loved them. Kelli loved them. And I especially loved them. And the best part is, they're super simple to make. Choose your favorite hot dog. Add a basic pizza dough recipe. Form the bagel dogs and bake them. Bada bing, bada boom. Done.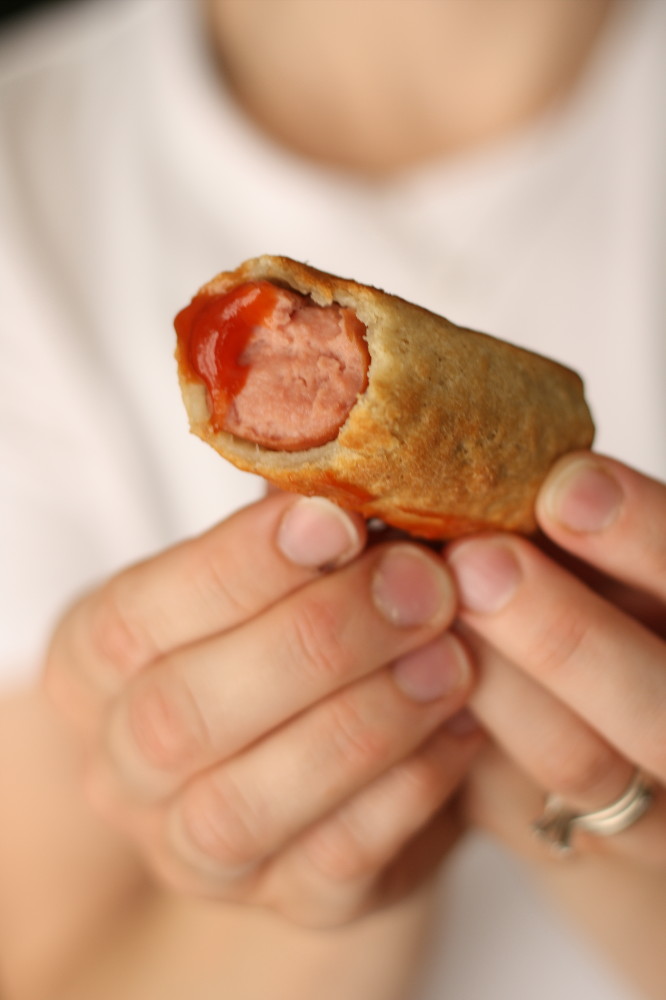 Bagel Dogs
Makes 4
For the pizza dough
175g warm water (3/4 cup)
1 tbsp honey (or sugar)
2 1/4 tsp active dry yeast
1 tbsp olive oil
175g Artisan Gluten-Free Flour Blend (about 1 1/3 cups plus 1 heaping tbsp)
1 tsp xanthan gum
1 tsp salt
4 GF hot dogs (we used turkey dogs, but take your pick!)
Olive oil
Steps
1. Preheat the oven to 350 deg F.
2. Combine the warm water, sugar, and yeast. Give the yeast about 5 minutes to really activate.
3. In a separate bowl, whisk together the flour, xanthan gum, and salt.
4. Add the olive oil to the yeast mixture. Then add the dry ingredients. Mix well to form a dough ball. Drizzle lightly with olive oil and roll around to coat evenly on all sides.
5. Divide the dough evenly into 4 pieces. Wrap each hot dog in a piece of dough, and place on a lightly greased cookie sheet or baking pan.
6. For a puffier dough, give it 20 or more minutes to rise. If you're impatient, as we were this time around, pop them strain into the oven.
7. Bake for 20 minutes, turning after 15 minutes or so to help brown evenly.
Enjoy!
This recipe is: gluten-free, dairy-free, egg-free, peanut-free, tree-nut-free, fish-free, shellfish-free.
Note: To make this recipe refined-sugar-free, use honey to activate the yeast.
– Pete