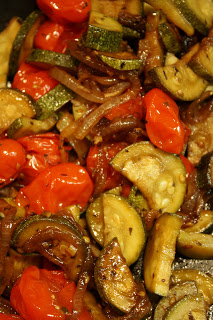 Italian Vegetable Medley
Ingredients
1 tbsp olive oil
1/2 red onion, sliced
1 garlic clove, minced
2 zucchinis, cut in half lengthwise, and then sliced into 1/4-inch cross-sections
1 cup whole grape tomatoes
1 tsp dried basil
1 tbsp Balsamic vinegar
Steps
1. Saute the onions in the olive oil, until they begin to soften.
2. Add the garlic and saute until fragrant.
3. Add the zucchini, grape tomatoes, dried basil and Balsamic vinegar, and saute until the zucchini are soft.
4. Toss and serve.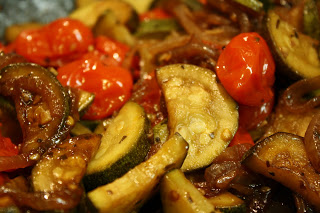 Today's Friday Foto is pretty much self-explanatory. Not much to be said about it. It's an easy and flavorful way to load up your dinner plate with a nice complement of veggies, and pairs well with a variety of meals. We recently made this Italian Vegetable Medley to accompany fish, but you can come up with all sorts of ideas… try tossing it with GF pasta, or putting it over some grilled chicken. You won't be disappointed!
– Pete