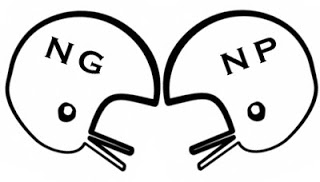 Today we're unveiling a new segment here at No Gluten, No Problem: Versus.  Usually, when we do a product review, we choose one company, and we review a comprehensive suite of their offerings.  But for Versus, we're changing the rules of the game.  Instead, we're choosing a specific product category – in this case, chicken nuggets – and reviewing two or more companies in a head-to-head face off.  We'll tell you how they compare, and we'll declare a winner.
We'll have companies square off in five categories:
1. Taste and Texture – Enough said.
2. Integrity of Ingredients – Does it read like a chemistry kit?  Is it made with familiar ingredients we'd likely have in our own pantry?  Are there trans-fats or artificial sweeteners?  Are plant-based ingredients organic?  Are animal-based ingredients certified humane?  You get the idea.
3. Gluten-free Goodness – Is it made in a dedicated facility?  If not, is it tested to a certain gluten ppm threshold?  What cross-contamination procedures are in place?  Does the company support Celiac and gluten intolerance organizations?
4. Company Ethic – This is a catch-all category that captures other things that are important to us, like a company's environmental commitment and their social philanthropy.
5. Overall – Most importantly, who's the winner?
Despite the fact that all three companies' nuggets are frozen foods that you either re-heat or cook, their offerings tasted remarkably different.  The Ian's chicken nuggets are made with a kind of chicken filling that's then breaded.  The filling is made with chicken meat, canola oil, corn flake crumbs, water, potato flakes and sea salt.  The result is a chicken nugget that feels pasty in the mouth.  It's a weird texture that's contrasted by a quite crunchy breading.  Also, the use of corn in both the chicken filling and in the breading give the nugget the corniest taste of the three.  Applegate Farms also goes the route of a chicken filling that's breaded.  Theirs is made of chicken, water, cornstarch, salt and oregano.  Its taste and texture are both better than Ian's, and reminds me of frozen chicken nuggets I once ate as a kid on Long Island.  Finally, we come to Bell & Evans.  Bless their souls, they make their chicken nuggets from whole pieces of chicken breast meat.  The difference is profound.  On the counts of both taste and texture, B&E wins this category for me, hands down.
On a superficial level, all three companies do a pretty nice job with their ingredients.  Nothing is too foreign or unfamiliar.  Ian's uses boneless, skinless chicken, corn (corn meal, corn flakes, cornstarch, etc.), evaporated cane juice, potato, sea salt, and canola oil.  They boast of using no refined sugars and no hydrogenated oils.  Similarly, Applegate Farms uses chicken, corn, salt, rice, tapioca, spices, and vegetable oil.  Finally, Bell & Evans uses whole chicken breast meat, salt, rice, corn, xanthan gum, evaporated cane juice, non-hydrogenated oil, yeast, egg and spices.  Again, nothing out of the ordinary.  Good news.
On the topic of humanely raised and slaughtered chickens, the story changes a bit.  Apart from noting that they use "no skin" from the chickens in their nuggets, Ian's doesn't say much about the topic.  Which is either a gross oversight, or a sign that it's not something they want to talk about.  Applegate Farms and Bell & Evans, on the other hand, are almost two peas in a pod in this realm.  Both companies boast of their chickens' minimal stress environment, fresh air and sunlight, no overcrowding, room to roam, constant access to fresh water, and a vegetarian diet comprised of corn, soy and vitamins.  I was tempted to give the nod to Applegate – for their explicit discussion of humane slaughter, and for their commitment to sustainable agriculture with integrated/cyclical practices (such as using chicken poop to fertilize on-site or nearby farm fields).  On the other hand, I was also tempted to give the nod to Bell & Evans – their commendable practices have made them a chicken supplier to both Chipotle (and the company's Food with Integrity program) as well as Whole Foods.  That's no small accomplishment.  It's a tie between Applegate and B&E on this one.
All three companies – which all make both gluten-free and glutenous products – offer up something to love in the gluten-free goodness category.  The Ian's website has a very handy
allergen search page
, which allows you to filter their products by different allergens (wheat, gluten, dairy, vegetarian, etc.).  This is a handy feature.  (However, it does lack an allergen search option for corn, one of the Top Eight allergens.)  The company tests its gluten-free chicken nuggets to a level of 2.5 ppm to ensure against cross-contamination, and they use a different "Red Banner" on their packaging to distinguish gluten-free foods from the company's traditional product lines.  Applegate Farms, meanwhile, has a great
gluten-free info page
on their website, which addresses both some big picture questions about gluten, as well as specific ways the company ensures its products are gluten-free (gf chicken nuggets are tested before they leave the facility, and they're held until test results are verified and the food is "cleared" as gluten-free).  Like Ian's, Bell & Evans uses differentiated product packaging – gluten-free chicken nuggets are sold in a black box, versus the company's traditional blue box.  B&E also tests its chicken nuggets to a max allowable gluten level of 10ppm, well below the internationally accepted standard of 20 ppm.  Like Applegate, Bell & Evans has a good
gluten-free info page
on their website.  Everyone's a winner in this category.
Each company has nice things to say about their respective environmental commitment.  For example, Ian's uses eco-friendly recycled content packaging and was certified as carbon neutral.  Bell & Evans touts their recycling program, use of eco-friendly cleaners, and their wastewater treatment facility.  But this category goes to Applegate Farms for their support of small family farms and sustainable agriculture.
At the end of the day, it all comes down to a few basic questions: Which one tastes the best?  Which one is the best for your body?  Which one is the best for your soul?  Depending on your priorities, one of those questions may be more important than another.  My guess is that, for the average NGNP reader, what you really want is a tasty product, and if you can get some benefits with respect to questions 2 and 3, well that's an added bonus.  For me, the clear winner is Bell & Evans.  Their chicken nuggets were head and shoulders above the others.
– Pete