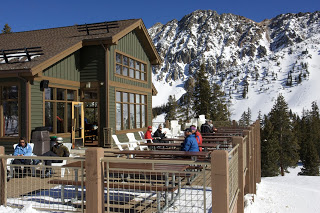 On a recent Friday a few weeks ago, I attended a media day hosted by Colorado Ski Country USA at Arapahoe Basin. About a dozen writers and editors, along with many reps from the state's esteemed ski areas, convened on the mountain for a day of business conducted on skis. (All business meetings should be so fun…)
As lunch time neared, we retired to Black Mountain Lodge, which sits mid-mountain beneath its namesake Black Mountain and Lenawee Ridge, just a stone's throw from the cannon ski patrollers use to launch explosives onto the upper mountain to mitigate avalanche danger. (The view from the deck is truly stunning – one of the best in Colorado.)
To my partial surprise and great delight, as I neared the front of the line to order from the grill, a small printed sign noted that they offered gluten-free hamburger and hot dog buns. I had already resigned myself to ordering a burger sans bun, but lo and behold, a burger with bun was on the menu for the GF crowd. Waiting for my burger to grill, I carefully eyed the rest of the operation, trying to gauge the potential for cross-contamination. (The last thing I needed was getting sick on the mountain that afternoon…) The french fries, for example, are cooked in the same oil as breaded chicken fingers, so the standard side was out. I grabbed a bag of potato chips instead.
I loaded up my burger with the fixin's: lettuce, red onion, tomato, a bit of ketchup. Then I took my first bite, and… the bun splintered into pieces. It was dry and crumbly, and it took considerable effort for me to eat the burger on the bun without it all falling apart in my hands. Bummer.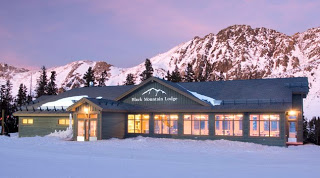 Later that afternoon, I sat down with Certified Executive Chef Chris Rybak to get the skinny on gluten-free on-mountain dining at A-Basin. Rybak was formerly the chef at the acclaimed four-star restaurant, Alpenglow Stube at nearby Keystone Resort, before coming over to head up dining operations at A-Basin.
It turns out that the gluten-free dining options are new this ski season, unveiled Fall 2009. Interestingly, the motivation to add GF options didn't come so much from the skiers themselves, but rather from Rybak and resort staff. For example, Kim T, A-Basin's social/new media director, has Celiac Disease and was part of an employee push for more dining options. Rybak, for his part, has a friend with gluten intolerance, and has always been interested in catering to as many guests as he can…whether their dietary restriction is gluten, or meat, or whatever.
While the effort is still a work in progress, there are already plenty of options. At Black Mountain Lodge, you can order a GF hot dog on a GF bun, or a hamburger, or grilled portobello mushroom, or a tuna sandwich. Since the fries are off-limits, you can substitute a small Caesar salad (with no croutons, of course). At the base lodge, you'll also find gluten-free pizzas, as well as prepackaged gluten-free cookies and brownies. (The buns and pizza crusts are sourced from Deby's Gluten Free Bakery in Denver. It's surprising the bun was so disappointing, since Deby's delicious pizza crust is used not only at A-Basin, but also at BeauJo's.)
All in all, though, it's a great effort that's much appreciated. It's nice to have options, and I commend A-Basin for taking the step to help meet the needs of GF guests (even if my hamburger bun took the wind out of my sails a bit…).
Looking ahead, the one big thing A-Basin is working on is getting the word out. Apart from that one small sign I saw at Black Mountain Lodge, there was little to tell me – at the ski area, or on their website – that GF dining options were available. If you weren't in the loop, you could very easily miss out. And so improved signage at the ski area dining facilities, as well as info posted on the website, will help to raise awareness.
Photos courtesy of Arapahoe Basin.
– Pete